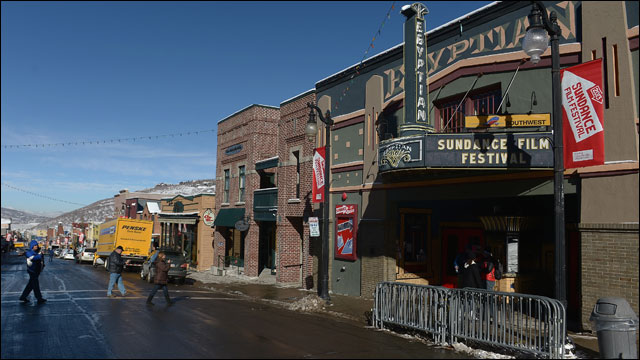 In this brave new indie world of VOD, shifting release windows, RED cameras and social media marketing, the strongest current running through this year's Sundance Film Fest is decidedly old-fashioned: Everybody wants to discover something new.
When the reels start spinning in Park City, acquisitions execs from some 40 companies will be seeing the vast majority of the fest's 119 feature films for the first time, due to an unprecedented scarcity of private buyers' screenings and DVDs this year. The reason for that, most distributors agree, is that none of Sundance 2013's available titles is so obviously commercial that it warranted a pre-fest push.
The exception was Apple-founder biopic "Jobs," which Open Road agreed to distribute in a service deal after producers aggressively shopped it in search of a theatrical release. The Sundance closing-night pic stars Ashton Kutcher, who appears among a broad, if not overly starry, crop of name actors.
So many movies with strong — just not A-list — casts portends a rapid pace of dealmaking, just not many big ones.
"The movies that have cast and look good are usually not that great," said Dustin Smith, VP of acquisitions and business affairs for Roadside Attractions. "It's the ones that come out of nowhere, like 'Beasts of the Southern Wild' and 'Winter's Bone,' that make the biggest impact. It really is a surprise festival where careers are made."
Established names are also well-represented, from Joseph Gordon Levitt (who wrote, directed and stars in competish title "Don John's Addiction"), Rooney Mara ("Ain't Them Bodies Saints"), Jessica Biel ("Emanuel and the Truth About Fishes") and Shailene Woodley ("The Spectacular Now"). Sundance is stuffed with up-and-coming talent this year — there's just no consensus cast-driven commercial pic that has the big distributors licking their chops.
That leaves things wide open for a Sundance breakout, and though some names have been on the wind (Kaya Scoledario, who co-stars with Biel in "Emanuel," keeps coming up on the actors' side, while "Saints" director David Lowery is also frequently mentioned), the consensus among buyers is that there is no consensus. Yet.
"I've heard a lot of excitement about new talent," said festival director John Cooper, in his third year of programming the fest with Trevor Groth. "New is always exciting — the whole idea of possibility seems to be real. It seems to me like people are coming with slates to fill and open minds."
It's not as if Cooper and Groth shaped the fest to be that way. In fact, they don't really set out to shape it at all — the fact that eight of the 16 competition directors are women, for example, is 100% organic to the process, the duo said. They sift through some 12,000 submissions, pick the films they feel best represent the mission, and let the chips fall. No one knew about the 50-50 gender split until the process was complete.
Their picks also include 50 first-time filmmakers, a beefy number of freshman efforts in year when distributors seem to be in talent-scout mode.
"John and Trevor and the team are thoughtful and smart, and servicing no agenda other than the Sundance agenda, which ultimately helps the marketplace," said Kevin Iwashina, managing partner of Preferred Content.
Indicative of this year's discover-something-new craze is a noticeably increased interest in the Next section, where shoestring first-timers are being featured for a fourth year in a row.
"I'm really happy about the interest in the 'Next' category," Groth said. "People are still kind of getting their heads around what it is, what separates it from the rest of the program. It started out as a place to put great low-budget films, but has evolved from that. A lot of it has to do with from kind of films that popped out of that section in the past … they had this sort of fierce, singular attitude."
There were so many films that worked for the category this year, in fact, that Cooper and Groth expanded it from eight titles to 10, including "A Teacher," which is getting some of the strongest pre-fest buzz despite its low profile and tiny budget. The grapevine has been alive with chatter about star Lindsay Burdge, who plays a schoolteacher who has an affair with a student, and first-time feature director Hannah Fidell.
It's just one of several films in the festival this year that turn on sex and sexuality — with pics like "Interior Leather Bar" and docu "Kink" as evidence — another anomaly of Cooper and Groth's process.
"I'm just trying to use this entire experience in order to make the next film," said Fidell. "I like that the theme of this year's Sundance is sexuality and I'm excited to see how female directors are dealing with this topic."
Another topic that everyone at Sundance is dealing with: the maturation of VOD.
"Whereas last year the discussion around VOD was about its economic viability and consumer acceptance, this year Ultra-VOD and day/date theatrical is perceived as a strong alternative for North American distribution," Iwashina said.
As long as there are movie theaters, filmmakers will always have the bigscreen top of mind . But everyone agrees the days of VOD being a dirty word are long over.
"I'm a big believer in going to the theater; I like the experience," said Lake Bell, whose comedy "In a World," her first feature, premieres Sunday. "That said, I'm incredibly open to different ways of putting a film into the world. I'm aware that things are changing at a rapid pace; to be overly traditional is not wise because audiences will never see it."