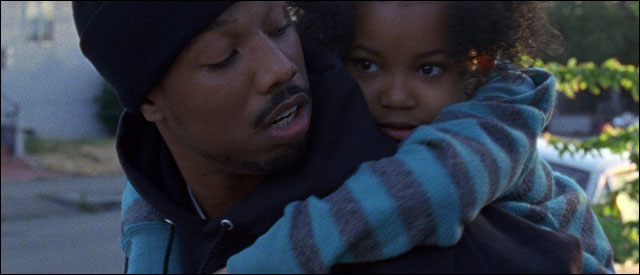 PARK CITY, Utah — "Fruitvale," writer-director Ryan Coogler's emotional, fact-based drama about the last day in the life of 22-year-old Bay Area shooting victim Oscar Grant, scored a double victory at the Sundance Film Festival on Saturday night, winning the grand jury prize and the audience award for U.S. dramatic features.
An early audience favorite that was scooped up for distribution by the Weinstein Co., "Fruitvale" is the first picture to sweep the top two prizes in the dramatic competition since 2009's "Precious" (then titled "Push: Based on the Novel by Sapphire").
In another double-fisted win, "Blood Brother," helmer Steve Hoover's study of American activist Rocky Braat's work on behalf of an AIDS-afflicted community in India, swept the grand jury prize and audience award for U.S. documentaries.
This marks the first time that both a U.S. drama and a U.S. documentary have scored the top two prizes in their respective categories since 2006, when "Quinceanera" and "God Grew Tired of Us" were the big winners.
By contrast, no entry in the World Cinema competitions drew more than one award. Grand jury prizes were presented to "Jiseul," Muel O's dramatization of a 1948 massacre of civilians by the South Korean army, and "A River Changes Course," Kalyanee Mam's study of the crippling effects of deforestation, overfishing and debt on present-day Cambodia.
Aud nods for international features were voted to "The Square," Jehane Noujaim's documentary about the ongoing Egyptian Revolution, and "Metro Manila," Sean Ellis' drama about a Filipino family's move from the rice fields to the titular city.
In a U.S. dramatic competition where a notable eight of 16 films were directed by women, two female filmmakers came away with prizes: TV writer Jill Soloway drew the directing award for her dark comedy "Afternoon Delight," while actress-helmer Lake Bell received the Waldo Salt screenwriting prize for "In a World … ," a comedy set in the world of Hollywood voice talent. An equivalent screenwriting prize in the World Cinema category was given to Barmak Akram for "Wajma (An Afghan Love Story)," about the fallout of a Kabul girl's unwanted pregnancy.
For American docs, the directing award was given to Zachary Heinzerling for "Cutie and the Boxer," his chronicle of the 40-year marriage of boxing painter Ushio Shinohara and his wife, Noriko. World Cinema helming honors were voted to Georgian helmer Tinatin Gurchiani for "The Machine Which Makes Everything Disappear," her documentary about a casting call in her native country, and Chile's Sebastian Silva for his drug-fueled road-trip movie "Crystal Fairy and the Magical Cactus & 2012."
Multiple special jury prizes were presented in the U.S. competitions. In the dramatic field, actors Miles Teller and Shailene Woodley drew laurels for their performances in James Ponsoldt's high-school drama "The Spectacular Now," while Shane Carruth and Johnny Marshall were cited for their sound-design work on "Upstream Color," which Carruth also wrote and directed. Jacob Kornbluth's "Inequality for All" and Joe Brewster and Michele Stephenson's "American Promise" shared the special jury awards for U.S. documentary.
The World Cinema special jury prizes went to "Circles," Serbian helmer Srdan Golubovic's multistranded drama, and "Pussy Riot: A Punk Prayer," Mike Lerner and Maxim Pozdorovkin's pic about the titular Russian band's recent travails.
Bradford Young drew a cinematography prize for two films he lensed in the dramatic competition, David Lowery's "Ain't Them Bodies Saints" and Andrew Dosunmu's "Mother of George." Richard Rowley for "Dirty Wars" (U.S. docu); Michal Englert, "Lasting" (World Cinema dramatic); and Marc Silver and Pau Esteve Birba, "Who is Dayani Cristal?" (World Cinema documentary) also received lensing honors.
Documentary editing awards were given to Matthew Hamachek for his work on Dawn Porter's "Gideon's Army" (U.S.) and Ben Stark for his work on Ben Stark's "The Summit" (international)."This Is Martin Bonner," Chad Hartigan's Reno-set tale of an unlikely friendship between two lost souls, won the audience award in the festival's Next category devoted to edgy, low-budget fare.
The Sundance Institute/NHK Award for emerging filmmakers was presented to helmer Kentaro Hagiwara for his upcoming debut, "Spectacled Tiger." A past recipient of the prize, Cherien Dabis, directed this year's dramatic competition entry "May in the Summer."
As announced on Friday, the $20,000 Alfred P. Sloan prize, presented annually to a film that focuses on science/technology as a theme, was given to Andrew Bujalski's Next entry "Computer Chess," a 1980-set comedy about a weekend-long tournament for chess software programmers.
Announced earlier in the week, the Sundance Institute/Mahindra Globe Filmmaking Award for emerging independent filmmakers was presented to Aly Muritaba, "The Man Who Killed My Beloved Dead"; Eva Weber, "Let the Northern Lights Erase Your Name"; Jonas Carpignano, "A Chjana"; and Sarthak Dasgupta, "The Music Teacher."J
The awards ceremony was hosted by Joseph Gordon-Levitt, whose directing debut, "Don Jon's Addiction," screened in the Premieres category and was acquired by Relativity Media during the fest.
And the winners are:
Grand Jury Prize (Dramatic): "Fruitvale"
Grand Jury Prize (Documentary): "Blood Brother"
Audience Award (Dramatic): "Fruitvale"
Audience Award (Documentary): "Blood Brother"
Directing (Dramatic): Jill Soloway, "Afternoon Delight"
Directing (Documentary): Zachary Heinzerling, "Cutie and the Boxer"
Waldo Salt Screenwriting Award (Dramatic): Lake Bell, "In a World … "
Cinematography (Dramatic): Bradford Young, "Ain't Them Bodies Saints" and "Mother of George"
Cinematography (Documentary): Richard Rowley, "Dirty Wars"
Editing (Documentary): Matthew Hamachek, "Gideon's Army"
Special Jury Prizes (Dramatic): Miles Teller and Shailene Woodley, "The Spectacular Now" (acting) and Shane Carruth and Johnny Marshall, "Upstream Color" (sound design)
Special Jury Prizes (Documentary): "Inequality for All" and "American Promise"
World Cinema Grand Jury Prize (Dramatic): "Jiseul"
World Cinema Grand Jury Prize (Documentary): "A River Changes Course"
World Cinema Audience Award (Dramatic): "Metro Manila"
World Cinema Audience Award (Documentary): "The Square"
Best of Next Audience Award: "This Is Martin Bonner"
World Cinema Directing Award (Dramatic): Sebastian Silva, "Crystal Fairy & the Magical Cactus and 2012"
World Cinema Directing Award (Documentary): Tinatin Gurchiani, "The Machine Which Makes Everything Disappear"
World Cinema Screenwriting Award: Barmak Akram, "Wajma (An Afghan Love Story)"
World Cinema Cinematography Award (Dramatic): Michal Englert, "Lasting"
World Cinema Special Jury Prize (Dramatic): "Circles"
World Cinema Editing Award (Documentary): Ben Stark, "The Summit"
World Cinema Cinematography Award (Documentary): Marc Silver and Pau Esteve Birba, "Who Is Dayani Cristal?"
World Cinema Special Jury Prize (Documentary): "Pussy Riot: A Punk Prayer"
Alfred P. Sloan Feature Film Prize: "Computer Chess"