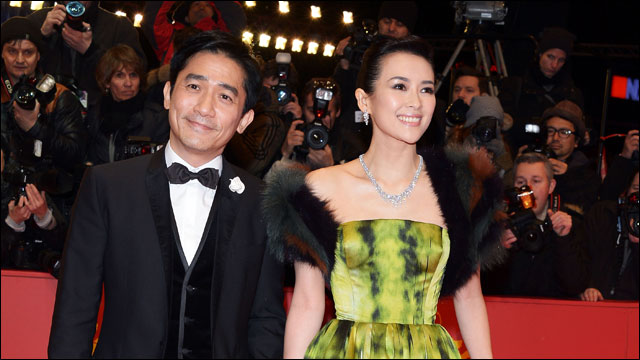 Above: 'The Grandmaster' stars Tony Leung Chiu Wai and Zhang Ziyi attend the 63rd Berlinale International Film Festival at Berlinale Palast.' (Photo by WireImage)
BERLIN — The Berlin Film Festival got off to a powerful start on Thursday with Wong Kar Wai's philosophical actioner "The Grandmaster," starring Tony Leung Chiu Wai as the legendary martial arts master Ip Man.
As if on cue, the snow began falling as this year's guests walked down the red carpet outside the Berlinale Palast. Jane Fonda, repping fest sponsor L'Oreal and decked out in sequins and fur-trimmed cape, Isabella Rossellini, "Grandmaster" star Zhang Ziyi and a bevy of German film stars in evening wear raised the fest's glamour quotient, although a topless political demonstrator from the feminist group Femen, protesting female genital mutilation, climbed over the barrier and threw herself onto the red carpet, causing a small ruckus before she was carried away by security.
On hand not only as director of "Grandmaster" but also president of this year's international jury, Wong was joined on the red carpet by fellow jury members Tim Robbins, Danish director Susanne Bier, Germany's Andreas Dresen, cinematographer Ellen Kuras, Iranian filmmaker Shirin Neshat and Greek helmer-producer Athina Rachel Tsangari, who will select the winners of this year's Golden and Silver Bears.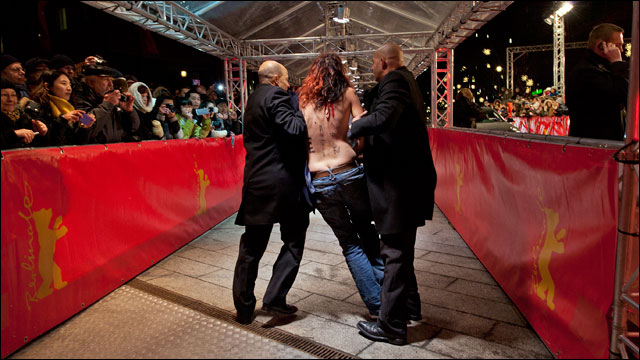 Above: Activist of the Ukrainian women rights group 'Femen' is arrested by security after protesting half naked against genital mutilation close to the red carpet at the opening night of the Berlin fest (Photo by WireImage)
The fest's deep political streak was alive and well inside the theater, where fest director Dieter Kosslick continued his long campaign of support for Iranian filmmaker Jafar Panahi, whose film "Closed Curtain," shot during the director's house arrest in Tehran, is screening here in competition.
"I have asked the Iranian government, the president and the culture minister, to allow Jafar Panahi to attend the world premiere of his film at the Berlinale," Kosslick said.
Germany's own culture minister, Bernd Neumann, spoke of the massive loss German culture, in particular the film industry, suffered as a result of the Nazi regime, which took power 80 years ago — an anniversary underscored by this year's Retrospective. The showcase looks at the legacy of filmmakers who fled Europe after the rise of the Nazis, among them Billy Wilder, Michael Curtiz, Fritz Lang and Robert Siodmak.
After a few years of grumbling about the Berlinale lineup, festgoers seem upbeat about this year's slate, peppered with high-profile auteurs and buzzy newcomers. Among the cinematic highlights of the 63rd Berlinale are Steven Soderbergh's "Side Effects"; Tom Hooper's "Les Miserables"; Gus Van Sant's "Promised Land"; Rob Epstein's "Lovelace," starring Amanda Seyfried; Joseph Gordon-Levitt's directorial debut, "Don Jon's Addiction"; Richard Linklater's "Before Midnight"; Juliette Binoche starrer "Camille Claudel, 1915" from Bruno Dumont; and George Sluizer's newly finished 1993 drama "Dark Blood," featuring the late River Phoenix.
Over the next 10 days the Berlinale is expecting to host industryites including Matt Damon, Jude Law, Anne Hathaway, Catherine Deneuve, Isabelle Huppert, Binoche, Shia LaBeouf, Amanda Seyfried, Geoffrey Rush, Jeremy Irons, Rupert Grint, Anita Ekberg, Charlotte Rampling, Donald Sutherland and Nicolas Cage.
German-language cinema is repped by such highly anticipated works as Ulrich Seidl's "Paradise: Hope," the third part of his Austrian trilogy about three female family members and their individual attempts to quench unfulfilled desires, Thomas Arslan's Western "Gold," starring Nina Hoss ("Barbara") as a German immigrant who embarks on a journey to Canada's Yukon territory during the Klondike Gold Rush, and Stephan Lacant's "Free Fall," described as a modern-day "Brokeback Mountain."
Confidence and optimism were already permeating the fest's business venues before the European Film Market even opened today, with a slew of international deals already announced.