Producer Veit Heiduschka of Vienna-based Wega Film not only helped launch the cinematic career of Oscar-nominated helmer Michael Haneke but also continues to play an instrumental role in defining new Austrian cinema.
One of Austria's most prominent industry figures, Heiduschka actually grew up in East Germany before leaving the communist country in 1956 and heading first to West Germany, then to Austria.
Since he launched Wega Film in 1980, the company has produced more than 80 feature films and TV movies, giving a forum to local helmers as well as international filmmakers.
Heiduschka's longtime collaboration with Haneke has become one of the most fruitful and successful relationships for the company, which has produced nearly all of the acclaimed director's films, from his first theatrical feature, the 1989 drama "The Seventh Continent," and 1992's "Benny's Video" to his most recent works, among them "The Piano Teacher," "Hidden," "The White Ribbon" and "Amour."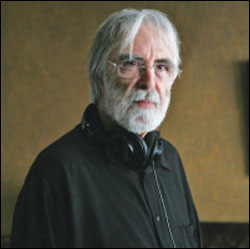 While Haneke already had years of experience working in television by 1987, he was unable to persuade any of the TV producers he knew to back his first theatrical project. He then approached Heiduschka with his screenplay for the family drama "The Seventh Continent." Heiduschka liked the screenplay, produced the film and the two filmmakers have remained close partners ever since.
"It was a good collaboration," says Heiduschka. "I liked his types of films, although they were not easy to sell. The term 'arthouse' did not really exist at that time and we didn't know exactly how to sell them. We were fortunate that Pierre-Henri Deleau of the Directors' Fortnight in Cannes liked 'The Seventh Continent,' and we were immediately in the Directors' Fortnight."
Heiduschka hopes to again partner with Berlin-based X Filme and Les Films du Losange in Paris on Haneke's as yet unnamed next project, which the writer-director is penning. "Never change a winning team," he quips.
Heiduschka and his crew at Wega Film, who include producer Michael Katz, are also working with a new generation of filmmakers, among them Umut Dag and Henning Backhaus.
Wega produced Dag's 2012 Berlinale Panorama screener "Kuma," about the trials and tribulations of a Turkish immigrant family in Vienna, as well as his upcoming project, "Risse im beton" (Cracks in the Concrete), about an ex-con who, upon his release, sets out to find his troubled teenage son.
Backhaus' debut feature, "Local Heroes," about a young musician whose hopes of making it big are suddenly altered by a stroke of fate, premiered last month at the Max Ophuls Film Festival in Saarbrucken, which showcases works by young filmmakers.
Human dramas, the types of films made by the likes of Haneke and now Dag, have become Heiduschka's specialty.
"These are the films I like to make — psychological stories, stories about people. I particularly enjoy stories about current issues that get under your skin. I used to say every film should break a taboo because that gets under people's skin and it interests them, but there are hardly any taboos left today."
Wega Film has not focused only on psychological dramas, however. A regular partner on international co-productions, Wega teamed with Germany's Bavaria Film on "Die geliebten schwestern" (The Beloved Sisters), Dominik Graf's upcoming 18th-century drama that explores the troubled but passionate three-way love affair between literary giant Friedrich Schiller and sisters Caroline and Charlotte von Lengefeld. The two companies also co-produced Oliver Dieckmann's 2011 holiday-themed family pic "When Santa Fell to Earth."
Likewise, Wega joined Berlin's Ziegler Film and a slew of European co-producers on Jo Baier's 2010 historical epic "Henry of Navarre" and co-produced Juraj Herz's 2010 World War II drama "Habermann" with Karel Dirka's Munich-based ArtOko Film.
Wega was all set to start production on Dag's "Risse im beton" at the end of February but had to push the date back due to the happy interruption brought on by the five Oscar nominations for "Amour."
As a result, Heiduschka is taking his entire team to Los Angeles. "It's not that often that a film receives so many nominations, and all of our employees have a share in the success of Wega Film. They have been at Wega Film for many years and they also deserve to go to L.A. It would be wonderful if we could take them all into the Kodak Theater, but we won't get that many seats. I'd love to have seven seats, but it's not possible."
RELATED LINKS
• Austrian pics rock at Berlinale