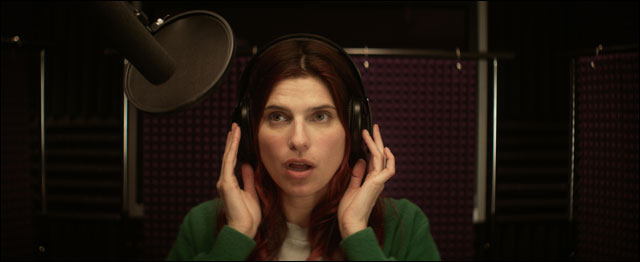 One of the funniest conceits of the comedy "In a World …" is that Lake Bell's character, a struggling vocal coach who longs to break into the competitive clique of Hollywood voiceover, secretly whips out her microcassette recorder whenever someone with a peculiar accent is nearby.
Obsessively poaching bits of speech for a personal sound library seems plausible for a left-of-center character in a quirky Sundance movie. It also happens to be the real-life behavior of the "In a World …" writer, director and star.
"I obsessed over being a voiceover artist as a kid," Bell told Variety. "I loved the idea of a blind voice. Without judgment of the visual, you could be anything. I collected accents with a dictaphone, and had boxes and boxes of cassettes of accents … it was just something I was reeeally into."
SUNDANCE REVIEW: "In a World …"
So much so that Bell eventually came to Hollywood to pursue her dream of doing voiceover.
"I had no success at all," Bell said. "The voiceover community is such a clique. They're very, 'You can't just roll in here with a demo tape, kid.'"
As Bell's film and television career took hold, she did manage a few VO gigs here and there. But when the time came to write and direct her first feature film, she went back to what she knew, calling on her industry friends to star in her take on the obscure slice of Hollywood.
The result is one of the finds of the fest. According to Variety's review: "To call Lake Bell a magnetic, intelligent, blithely screwball leading lady in the Carole Lombard tradition might be selling her short. With 'In a World … ,' a rollicking laffer about the cutthroat voiceover biz in Los Angeles, she proves herself a comedy screenwriter to be reckoned with."
Pic premiered Sunday at the Library to big laughs and warm buzz, and the motley cast of actors she assembled — including Demitri Martin, Rob Corddry, Michaela Watkins, Ken Marino and Alexandra Holden — conducted one of the truly funniest Q&A sessions in Park City. The cast also piled praise on their first-time feature director, painting her as a meticulous and hands-on leader with a collaborative spirit and boundless wit.
Bell cops to an obsessive side — a technical glitch delayed the start of the premiere for a moment, though her worst-nightmare-coming-true proved mercilessly brief — but she says the Sundance experiene (she was here last year with her short "Black Rock") has been entirely positive.
"The very mission statement of Sundance is to be welcoming and generous to the filmmaker," she says. "It's at a different level than any other festival."
And who knows — Bell's voiceover work in "In a World …" was credible enough that she might just get her big break yet.
Pic, which has buyers circling but is still seeking distribution, screens today at Eccles at 3:30 and again Saturday, 9 a.m. at the Egyptian.