Year's int'l box office sets record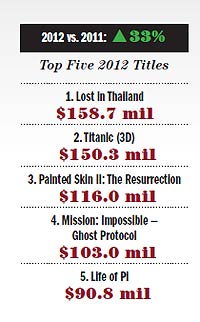 China
China was clearly the international market of the year in 2012, overtaking Japan for the first time to become the No. 1 grossing foreign territory. Its $2.7 billion cume (vs. Japan's $2.29) was 33% ahead of 2011's $2.03 billion.
The year saw Hollywood films outperform Chinese titles, most likely due to the decision by the Chinese government in February to allow an additional 14 foreign films — all in Imax or 3D formats — to be exempt from the existing 20-film quota. Local films, which had accounted for 53.6% of China's box office in 2011, fell to 47.6% last year, with 227 local pics taking in an estimated $1.28 billion.
China has the largest number of 3D screens in the world, at nearly 7,500, and rapidly growing. Accounting firm Ernst and Young predicts that by 2020, China will overtake the U.S. as the No. 1 box office market worldwide.
A recent report from China's State Administration of Radio, Film and Television revealed that for the first six months of 2012, revenues from imported films increased 90.4%. At the time, local films accounted for just 35% of the Chinese market share.
However, the second half of the year kicked off with China's local film protection month (June 28-July 27), when imported films cannot be released. That helped local 3D pic "Painted Skin II: The Resurrection" nab $116 million, making it, briefly, the highest-grossing Chinese film of all time. It lost that distinction in December to low-budget comedy "Lost in Thailand, which opened Dec. 12, and by year's end had found $158.7 million. (Thanks to additional 2013 B.O., the film now trails only "Avatar" in the territory.) "The totals for "Lost in Thailand" are even more remarkable considering that the $4.8 million film is not in 3D, and the pic faced heavyweight competition like Jackie Chan's "CZ12," which took $96 million through Jan. 1.
Market Notes
*Top Hollywood release of 2012 in China was the 3D re-release of "Titanic," which delivered more than half its $292 million international box office in the territory ($150.3 million), making it the No. 1 market in the world for the title (the pic grossed $57.9 million in the U.S.). Seventy-six foreign titles accounted for 52.4% of box office ($1.4 billion), up from 46.4% in 2011.*China also proved to be the No. 1 international market for "Mission: Impossible — Ghost Protocol" ($103 million; a 2011 release that didn't bow in China until 2012), "Life of Pi" ($90.8 million), "The Avengers" ($87.9 million), "Men in Black 3" ($77.3 million), "Journey 2: The Mysterious Island" ($58.4 million), "Battleship" ($48.3 million) and "The Amazing Spider-Man" ($47.9 million).
* Further growth potential is enormous. According to Screen Digest, per capita cinemagoing in China stands at 0.3 films per year. In comparison, Hong Kong annual per capita moviegoing is at 3.1, Korea 3.3 and Singapore 4.2. The figure in China could grow swiftly: In the first 10 months of 2012, 439 cinemas opened, adding 2,549 screens, improving the country's total screen count to 13,259.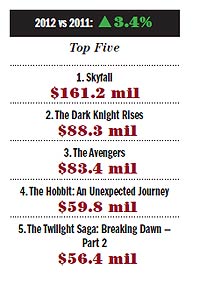 U.K./Ireland
It would normally sound like an overstatement to say a single film saved a market's yearly box office, but for the U.K./Ireland, "Skyfall" did just that. On Dec. 30, the Bondpic became the market's first film ever to surpass £100 million ($160.9 million). It's the highest-grossing movie of all time in the territory, and boosted a final quarter that had always figured to be strong, but outstripped all expectations.
In fact, the Blighty B.O. had been tracking 6.4% below 2011 at the close of the third quarter. And while the final stanza included such strong releases as "The Hobbit: An Unexpected Journey" ($59.8 million) and "The Twilight Saga: Breaking Dawn — Part 2" ($56.4 million), it was "Skyfall" that ensured a record-breaking haul of $1.88 billion for the year, up 3.4% ($63.5 million) on 2011.
Outside of Bond, the strongest homegrown movies came at the beginning of the year, with "The Woman in Black" ($33.6 million), "The Best Exotic Marigold Hotel" ($32.2 million), "The Pirates! Band of Misfits" ($26.5 million) and "The Iron Lady" ($15 million). Late-year success came from comedy "Nativity 2: Danger in the Manger," which delivered $14.1 million following its Nov. 23 launch.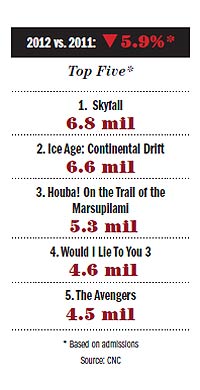 France
France saw annual admissions drop 5.9% in 2012 to 204.3 million from 2011's 217.1 million. Despite a strong January, in which admission sped out 10% ahead of the same month for 2011, and a positive second quarter, filmgoing lost ground as the year played out.
Local pics sold 82.3 million tickets, off 7.7% from 2011, repping a 40.2% market share, compared with 45.3% for U.S. imports, both down only about half a percentage point from the previous year. Non-U.S. imports made up the difference, gaining in share, from 13.2% in 2011 to 14.5% last year.
One high-profile disappointment was local fourth-quarter release "Asterix and Obelix: God Save Britannia," which despite finishing the year as the third-biggest local title and eighth among all films (largely thanks to a 3D upcharge), sold just 3.76 million tickets. The previous installment in the franchise, 2008's "Asterix at the Olympic Games" drew almost 9 million admissions.
Twelve titles sold more than 3 million tickets during 2012, up from 9 in 2011, but well behind the 10-year high of 16 in 2010. There were 90 films selling more than 500,000 tickets in 2012, compared with 105 in 2011, the lowest number since 2007.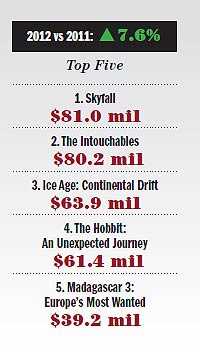 Germany
A strong first half of the year and strong finish more than offset a poor summer and slow third quarter to take German box office over Euros 1 billion for the first time in any calendar year. Box office closed at Euros 1.006 billion ($1.3 billion), 7.6% ahead of 2011, although due to the weaker euro, U.S. dollar figures were actually slightly down on 2011. Admissions were up 4.5% year-to-year, but still trailed 2009 totals, as well as those of 10 years ago.
French phenomenon "The Intouchables," the highest grossing non-English language film at the international box office, opened Jan. 5, and wound up selling 8.7 million tickets — more than a million better than box office champ "Skyfall" (7.5 million admissions, but $800,000 ahead of "Intouchables" at the B.O.). The top-grossing local film was comedy sequel "Turkisch Fur Anfanger," 12th at the box office, with $21.6 million, on sales of 2.3 million tickets (the 10th-best admissions total).
It was a poor year for local productions, with only four delivering more than one million admissions, compared with eight in 2011. Total admissions for the top 10 local titles, which included "Cloud Atlas," family film "Funf Freunde" and comedy "Woman in Love," fell 58% to 9.6 million from 15.2 million in 2011.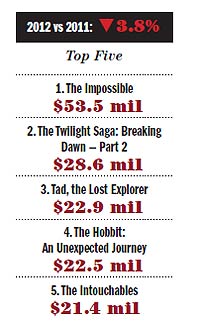 Spain
A tough economic climate saw Spanish box office and admissions finish with lower overall numbers for 2012 vs. 2011, but a clutch of strong local performers delivered the best results in 27 years for Spanish films in the market.
"The Impossible," the territory's No. 1 film for the year, and the highest-grossing Spanish film of all time locally, led a fourth-quarter surge that saw B.O. fall just 3.8%, to $779.8 million, and ticket sales drop 4.9% to 90.97 million. Strong November/December showings for 3D titles "Hotel Transylvania" ($14.5 million) and "The Hobbit" ($22.5 million) narrowed a third-quarter box office deficit that had been 6.4%, and 6.1% for admissions. (First-quarter numbers were far worse, off 18.3% and 17.6% from 2011).
Local titles claimed a 17.9% market share, with a box office of more than $140 million. Three local titles made it into the year's top 10, with "The Impossible" and "Tad, the Lost Explorer" ranking 1 and 3, respectively. "I Want You" placed ninth with $15.2 million. "The Body" delivered $4 million in 11 days, after opening Dec. 21. Many local films underperformed due to the country's crippling recession and a September sales-tax hike of 21% on movie tickets.The final installment in the "Twilight" franchise was the year's top-earning U.S. title, further adding to the strong fourth quarter. "The Intouchables" also claimed a top-five position, outstripping Hollywood hits including "The Avengers" ($21 million) and "Ice Age: Continental Drift" ($18.4 million).
Russia
Russian box office is on target for another record-breaking year, with box office hitting $1.3 billion
But Hollywood films remain the strongest force at the Russian B.O.: "The Hobbit," which bowed Dec. 20, took in $5.6 million over the last weekend of the year, for a cume of $27.2 million. "Ice Age: Continental Drift," "Madagascar 3" and "The Avengers" were dominant.
The top-grossing Russian film was "Ivan Tsarevich and the Gray Wolf," from Nashe Kino, which took a total of $20 million. The last weekend of 2012 — a key release window for many films aimed at the Russian holiday period — saw locally produced cartoon "Three Warriors on Distant Shores" (the same producers as "Ivan Tsarevich") top $6.1 million.
Fears over the strength of Russian films at the domestic box office — where overall share for local fare has dropped from 25% five years ago to less than 13% today — are likely to drive government policy changes in 2013. Proposals to introduce quotas for Russian films, and force foreign films to pay a value-added tax on box office receipts starting in 2014, have been floated in parliament.
Italy
Italy's box office was down 7.9%, falling to $783.7 million. Admissions were off 9.8% to 90.8 million. Local sequel "Welcome to the North" was the highest-grossing title of the year with $35.2 million from 4.3 million admissions, although it failed to match 2010's original "Welcome to the South" (the local adaptation of French blockbuster "Welcome to the Sticks) which sold 4.9 million tickets. "Madagascar 3: Europe's Most Wanted" was second locally, with $27.4 million from 3 million admissions.
Europe
Elsewhere in Europe, Netherlands saw box office rise a slim 0.6% in 2012 to $301.5 million, although due to exchange rates, U.S. dollar figures were down. Admissions were also lower, slipping 1% to 28.95 million from 2011's 29.26 million. "Skyfall" topped the B.O. with $22 million, ahead of "The Intouchables" ($9.8 million). The top local performer was romantic comedy "Alles is Familie" (Family Way), which finished 9th for the year ($6.3 million).
Austria delivered $167.5 million in 2012, as box office improved 3.3% on 2011. Admissions rose slightly (by 0.6%) to 16.1 million. "Ice Age: Continental Drift" was the year's top title, with $9.5 million on just under 950,000 admissions.
Australia
Box office tracked ahead of 2011, despite a weaker summer and early fall that had all but squandered a 9.3% year-to-year rise at the close of April. A strong final two months dominated by "Skyfall" (released locally Nov. 22) and "Breaking Dawn — Part 2" (Nov. 15) brought a final surge that saw 2012 finish 2.3% ahead of the previous year, at $1.15 billion; however, the result remained a fraction (0.1%) below that of 2010. Local films rarely play a major role at the Australian box office, but even so, 2012's top local hit, "The Sapphires" ($15 million, No. 23 for the year), was well behind 2011's "Red Dog," which barked up $21.9 million and slid into the year's top 10. Nevertheless, "The Sapphires" managed to land at No. 14 among Australia's all-time highest local earners.
New Zealand
New Zealand box office was up 5.8% over 2011. Mirroring Australia, "The Avengers" was the top earner, at $6.9 million. Hot on its heels was homegrown blockbuster "The Hobbit: An Unexpected Journey," which delivered $6.5 million over its 20 days in release at the close of the year. "The Hobbit" was tracking ahead of all three films in Peter Jackson's "Lord of the Rings" trilogy at the same stage: 6.6% ahead of the 20-day gross of "The Fellowship of the Ring," 11.6% ahead of "The Two Towers" and 1.4% better than "The Return of the King."
Japan
After a dismal 2011, when northern Japan was hit by an earthquake and subsequent tsunami, and theaters closed by the hundreds, the Japanese B.O. came charging back.
Eiren, the industry org that monitors box office locally, will not release its official figures for 2012 until the end of the month, but the numbers were clearly better than last year for Japanese pics: B.O. is expected to total $2.29 billion for the year, compared with $2.07 billion in 2011.
In contrast with 2011, when no domestic title passed the 5 billion yen mark ($57 million) that confers local megahit status, four reached that milestone in 2012, led by "Umizaru 4: Brave Hearts," with $84 million.
This fourth pic in a series based on the real-life exploits of Japanese Coast Guard divers was followed by "Thermae Romae" ($68 million), a time-travel dramedy set in Japan and ancient Rome; "Bayside Shakedown 4: The Final" ($67 million), the last in a four-installment series about cops in Tokyo's trendy bay area; and "Evangelion: 3.0 You Can (Not) Redo" ($57 million), the latest in the long-running TV, video and feature sci-fi toon series.
Eleven domestic pics scored more than 3 billion yen ($34 million), compared with only eight last year.
"Mission: Impossible — Ghost Protocol," with $61.5 million, led foreign box office hits, followed by "Resident Evil: Retribution" ($43.6 million), "The Avengers" ($41 million), "Men in Black 3" ($36.6 million) and "The Amazing Spider-Man" ($36 million).
By contrast, the last installment in the "Harry Potter" series finished with $110 million in 2011. The lack of a similar hit series in 2012 resulted in a relatively anemic showing for Hollywood pics. Market share for all foreign films in Japan in 2012 is estimated to have declined to 40%, from 45% in 2011.
Meanwhile, the arthouse sector continued to decline as theater owners, faced with shrinking auds and the expense of converting to digital, opted to close their doors instead. The top foreign indie release was "The Intouchables," whose $15 million take was boosted by its Grand Prix win at the 2011 Tokyo Film Fest.
— Robert Mitchell with Nick Holdsworth in Moscow and Mark Schilling in Tokyo