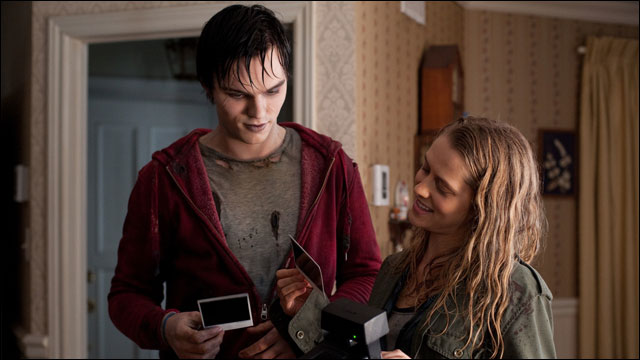 Starved of PG-13-rated fare for most of last month, teens should help fuel Summit's zombie-themed comedy "Warm Bodies" to a potential $20 million domestic debut, even with the Super Bowl eating into Sunday box office returns.
Opening at more than 3,000 Stateside engagements, "Bodies" has little new competition, and certainly none that directly targets its core teen demo. Warner Bros.' R-rated Sylvester Stallone actioner "Bullet to the Head" isn't expected to hit $10 million, while Lionsgate's geezer action-comedy "Stand Up Guys" — toplining Al Pacino, Christopher Walken and Alan Arkin — also seems fated to a single-digit opening, bowing at just 659 locations.
Quentin Tarantino's "Django Unchained" should have another solid weekend internationally. The pic, which is distributed overseas by Sony, has hauled in more than $111 million.
"Warm Bodies," a quirky zomcom starring Nicholas Hoult and Teresa Palmer, has been relatively well-received by critics. More modest expectations peg the pic in the low-to-mid teens, however.
Last weekend, domestic three-day totals slipped behind 2012 for the first time this year. That slump is likely to continue, as two teen-targeted pics that played on Super Bowl weekend last year — "Contraband" and "The Woman in Black" — jockeyed for first place in the low-$20 millions each.
Holdovers should provide some support, especially Paramount's soph-sesh holdover "Hansel and Gretel: Witch Hunters" and the Weinstein Co.'s steady awards player "Silver Linings Playbook." As of Wednesday, "Witch Hunters" had cumed $24 million domestically, while "Silver Linings" reached $71.4 million.
It should be a relatively quiet weekend on the specialty front as well. Sony Pictures Classics launches Oscar-nominated docu "The Gatekeepers" at three locations in New York and L.A. Foo Fighters lead man-turned-director David Grohl's docu "Sound City," about the famed Van Nuys, Calif., recording studio, launches Friday via Variance Films at 15 playdates.
"Warm Bodies," based on the Isaac Marion-penned novel from "50/50" helmer Jonathan Levine, led Thursday ticket sales with 33%, according to Fandango.
If the film reaches $20 million and manages to play solidly through Valentine's Day, it should easily recoup its low-$30 million budget. Summit's exposure is even lower (not accounting for P&A costs), thanks to significant foreign pre-sales, according to sources.
Summit pushed the pic at last year's Comic-Con, targeting fans of the book. The studio kickstarted the marketing campaign to coincide with the pre-Thanksgiving theatrical release of the "Twilight" finale.
After "Warm Bodies," there's no teen-targeted films in the marketplace until Warner Bros. launches young-adult novel adaptation "Beautiful Creatures" on Valentine's Day. That bodes well for the Summit pic's playability for almost two weeks.
Meanwhile, "Bullet to the Head," which co-stars Jason Momoa and Christian Slater, marks the first top-billing role for Stallone outside "The Expendables" franchise since 2008's "Rambo." The film's marketing campaign has highlighted Stallone's decades-spanning career as an action star. Lionsgate tried a similar campaign with Arnold Schwarzenegger's "The Last Stand." That pic's dismal $7 million Stateside opening still looks to outdo "Bullet."
The market's only other recent PG-13-rated film, Universal's "Mama," enters its third weekend with more than $50 million domestically. With an overseas cume of $2.8 million, U expands the film this weekend to Mexico, where it should do solid business.