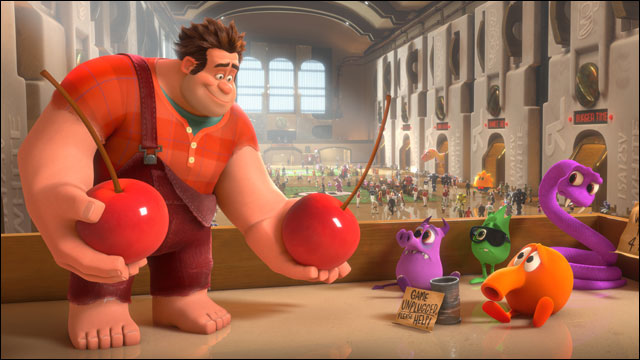 Disney wrecked it at the 40th Annie Awards on Saturday, taking home 10 trophies, including the top prize for "Wreck-It Ralph," one of five honors for its animated feature.
It was a show that spread a lot of love around the animation studios. DreamWorks Animation picked up six Annies, mostly for its "Dragons: Riders of Berk" TV skein, which nabbed four. Nickelodeon had three wins, while Laika/Focus Features and Disney sibling Pixar picked up two apiece.
The win for "Wreck-It Ralph" raises the speculation of whether it will go on to snare the granddaddy prize on Feb. 24.
The Annies and the Oscars have had a long history of anointing the same pic with their trophies, however, recently the winners have ping-ponged every other year.
Last year, "Rango" rode into the sunset with both kudos, but the year before saw DWA's "How to Train Your Dragon" win the Annie, with the Oscar going to Pixar's "Toy Story 3."
In this year's charge to the Academy Awards, there has been no clear favorite. So far this awards season, the wins have been spread around between "Ralph," Disney's "Frankenweenie" and Laika/Focus Features' "ParaNorman." Pixar's "Brave" picked up the Golden Globe and DWA's "Rise of the Guardians," which isn't among the Acad nominees, was a fave among various critics groups.
In addition to its feature win, "Wreck-It Ralph" picked up honors for helmer Rich Moore, voice actor Alan Tudyk, music and writing.The show, hosted by film critic Leonard Maltin, thesp Seth Green (an Annie winner for "Robot Chicken") and voice actors Maurice LaMarche and Rob Paulsen at UCLA's Royce Hall, was a raucous affair with good-natured frustration over Teleprompter problems, miscued nominee clips and wardrobe malfunctions.
Moore took the stage to accept his helming award with a wink at some of the kudocast's technical difficulties. "I'm a little worried," he said. "I gave my speech to the Teleprompter guy."
Laika topper Travis Knight picked up the character animation nod for "ParaNorman," which also saw Heidi Smith take home a trophy for character design. Before the ceremony, Knight said he was pleased with auds' reception of the film. "To have people respond in a positive way is a great thing, and the critical recognition on top of that is deeply rewarding," he said. "It's not why we do this, but it's sure nice to have."
The night's other winners included Disney's "Paperman," John Kahrs' marriage of traditional and computer animation, which won for animated short.
Disney-Marvel's superhero extravaganza "The Avengers" took home a trophy for animated effects in a live-action production, with the award going to Industrial Light & Magic. The tiger in Fox 2000's "Life of Pi" scored an Annie for Rhythm & Hues for character animation in a live-action production.
"Dragons: Riders of Berk" led the TV categories, winning TV production for children, helming (John Eng), music and storyboarding.
Other TV winners included the "DC Comics Special" of "Robot Chicken," which was named the top general audience TV production. The "A Tooth on the Looth" episode of "Bubble Guppies" won for TV production for preschool children. Top prize for videogame went to Sony's "Journey."
"South Park" co-creator Trey Parker picked up a writing Annie for the episode entitled "Jewpacabra." Kristen Schaal won a voice acting award for Disney TV's "Gravity Falls: Tourist Trapped."
There were also a special surprise for Annies founder June Foray. The voice-acting legend received the Dallas Film Festival's Texas Avery Animation Award for lifetime achievement, which until Saturday had never been given outside of Texas. The trophy is inspired by Avery's wolf from "Red Hot Riding Hood," which featured Foray's voice as a cigarette girl.
Other special awards went to independent animator Oscar Grillo, filmmaker Terry Gilliam and Disney vet Mark Henn, who were honored with the Winsor McCay Award, which recognizes lifetime achievement in animation. A humble Grillo took the stage saying that "at least 123" others deserved the award more than he did. Gilliam, who was not present, sent a video in which he sarcastically said "Gilliam was a cheap little thief" and that he "died during the filming of 'Monty Python and the Holy Grail'" so he was going to accept on behalf of the deceased.
Disney communications exec Howard Green received the June Foray Award for charitable contributions to animation. Toon Boom Pipeline received the Ub Iwerks Award for technical advancements.
The Annie Awards were presented at Royce Hall on the campus of UCLA.