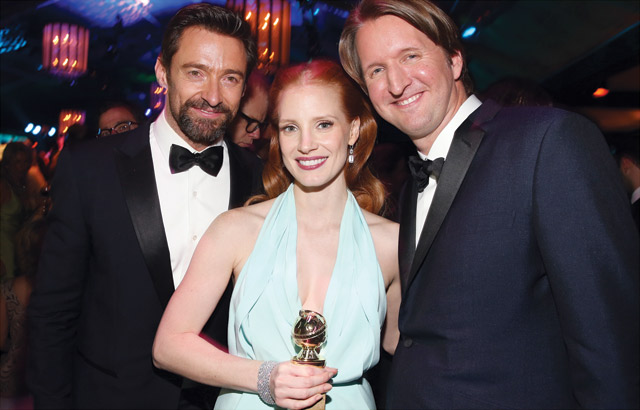 Above: Hugh Jackman and Tom Hooper flank Jessica Chastain at the NBCU party.
PHOTO GALLERY: Click here for pics from the Golden Globes after-parties.
There's one way to warm up during an uncommonly chilly Golden Globes evening: Dance.
On Sunday night after the awards, a number of guests took advantage of the boogying space at the 20th Century Fox fete. Outside the Beverly Hilton, the management had laid blankets on its plush patio furniture, but some partygoers preferred to huddle around the heat lamps instead. Inside, Jim Gianopulos greeted guests and schmoozed with attendees including Ang Lee and composer Mychael Danna, a winner for "Life of Pi."
Rupert Murdoch and wife Wendi Deng made the rounds, as did Leslie Moonves and Julie Chen, who exulted with the "Homeland" team on their repeat victories.
Heat lamps, as well as candles, were also in heavy use at the NBC/Universal/Focus Features/E! party at the BevHilton. The bash celebrated the night's big winner, U's "Les Miserables," with Anne Hathaway and Hugh Jackman joined by "Les Mis" cohorts Amanda Seyfried, Tom Hooper and Sacha Baron Cohen. Girl group the Saturdays performed for a crowd that also featured Globes winner Jessica Chastain.
At the Weinstein Co.'s party, a row of waiting photographers snapped away at Bill Murray, Chris O'Dowd, Carmen Electra and Peter Ramsey. Quentin Tarantino and Jessica Alba passed like two ships in the night: The "Django" director exited just after 10 p.m. as Alba glided in to pose with stylist and former Rachel Zoe protege Brad Goreski. Ryan Kavanaugh and Harvey Weinstein must have settled their feud, as Kavanaugh enjoyed a cigarette on the party's patio.
Over at the Warner Bros. bash, the glass was more than half full. "It's not about what we didn't win or didn't get nominated for," Globes winner Ben Affleck said in reference to his recent Oscar omission for directing. "We have fucking plenty to be thankful for tonight!" Affleck toasted his "Argo" victory with pic's producer George Clooney and younger brother Casey Affleck, as guests like Al Roker and Benedict Cumberbatch danced the night away across the bar. Also on hand were Ewan McGregor, Jodie Foster and Mel Gibson.
HBO has the rep for throwing some of the best awards-show parties, and nowhere was that more evident than Sunday night at the BevHilton. Guests waited as much as 30 minutes in line to get inside, where mini crab cakes and tuna tartare helped take some ladies' minds off their aching feet. Jeff Garlin, Seth MacFarlane, Hayden Panettiere, Alexander Skarsgard and Allison Williams were among the guests, but none drew a bigger crowd than Kobe Bryant, who was swarmed by fans.
(Cynthia Littleton, Erin Maxwell and Stuart Oldham contributed to this article.)
PHOTO GALLERY: Click here for pics from the Golden Globes after-parties.