By an uncanny coincidence, two films based on the 'Snow White' fairy tale landed noms in the Oscar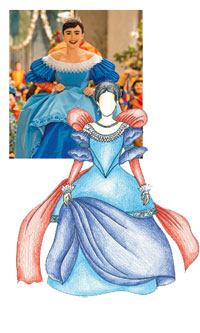 race for achievement in costume design: "Mirror Mirror," which showcased outfits by the late Eiko Ishioka, and "Snow White and the Huntsman," with costumes by Colleen Atwood. The pics take two very different approach to the same classical story.
Just before she died in January 2012, Ishioka completed work on the largely comedic "Mirror Mirror," capping a body of work that spans stage, screen, print graphic design — and designing costumes for the 2008 Beijing Olympics. In the "Snow White" tale she clothes a storybook world of opulent balls and wedding parties with hundreds of larger-than-life gowns and frilly tunics that bring to mind candied confections and taxidermy.
"The word subtle did not exist in her vocabulary," says Tarsem Singh, who helmed "Mirror Mirror" and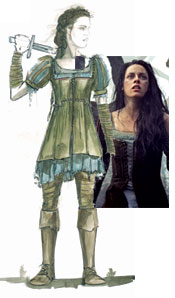 worked with Ishioka on several other films, including "Immortals."
Ishioka won an Oscar for 1992's "Bram Stoker's Dracula." Her humorously imagined frippery in "Mirror Mirror" stands in contrast to the intense, battle-ready gear of the more action-packed "Snow White and the Huntsman," for which three-time Oscar-winner Atwood created more than 2,000 costumes. This Snow White, played by Kristen Stewart, and her companions slog through swampy, enchanted wilderness to evade trolls and the queen's henchman.
The costumes also reflected the motivations of the film's beauty-obsessed evil queen, played by Charlize Theron, whom Atwood enrobes in one painstakingly constructed haute couture dress after another, each foreshadowing death and decay. Early on she wears a wedding dress trimmed with a skeletal collar, and later a cape made from the feathers of carrion-devouring ravens. "Wherever she goes death follows her," Atwood says.
On "Mirror Mirror" Singh asked Ishioka to portray the queen, played by Julia Roberts, as someone who would go to absurd lengths to preserve and celebrate her beauty. Seventeen people were required just to move her wedding dress.
The Snow White coincidence at this year's Oscars doesn't end here. Costume designer Paco Delgado, nommed for "Les Miserables," worked on another adaptation of the fairy tale, "Blancanieves," Spain's foreign-language submission this season.
Eye on the Oscars 2013: Costumes, Art Design & Makeup
Don we now our dark apparel | Makeup for a land of make-believe | 'Snow White' tale lands double costume noms