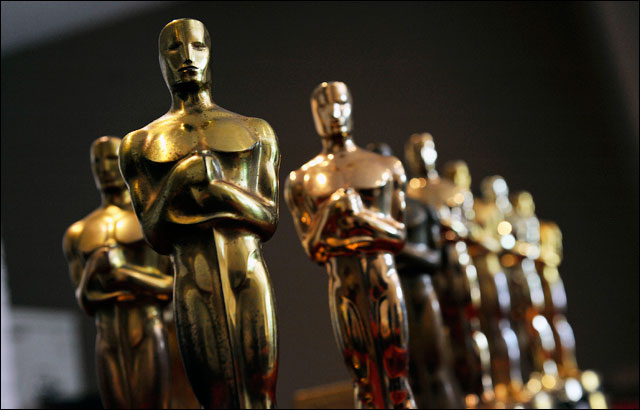 When the nominations for the 85th annual Academy Awards are revealed at 5:30 a.m. Thursday, the hopefuls that are left out may be tempted to blame the electronic voting system introduced to AMPAS members this winter.
But while there may be some grousing over whether potential fate-changing votes were lost, surprises became a part of the Oscar noms long before online ballots were even imagined. Attributing any unexpected noms this time around to the vagaries of the voting system is best left to the conspiracy theorists.
In any case, it is intriguing to speculate about the nominees. Few categories have a clear favorite, and all offer uncertainty on the margins.
For the grand prize of best picture, this will be the second year of guessing not only which films will be nominated but how many. Anywhere from five to 10 are possible thanks to the rules change instituted by the Academy in 2011.
Though predictions are a dangerous game, the prevailing sentiment is that six pics — "Argo," "Les Miserables," "Life of Pi," "Lincoln," "Silver Linings Playbook" and "Zero Dark Thirty" — are safe, leaving such films as "Amour," "Beasts of the Southern Wild," "The Best Exotic Marigold Hotel," "Django Unchained," "The Master," "Moonrise Kingdom" and "Skyfall" vying for the uncertain number of remaining slots.
For those with the highest of ambitions, a best-picture nomination won't be enough. However many slots there are for top pic, there will only be five in the critical category of director. So even if their films are well positioned for noms, helmers like Directors Guild nominees Ben Affleck ("Argo"), Kathryn Bigelow ("Zero"), Tom Hooper ("Les Miserables"), Ang Lee ("Pi") and Steven Spielberg ("Lincoln"), as well as Paul Thomas Anderson ("The Master"), David O. Russell ("Silver") and Quentin Tarantino ("Django") will be in suspense until the Oscar nom announcement.
Excitement also circles the acting noms, even in the lead actor category, in which pundits have practically anointed Daniel Day-Lewis champion. There aren't enough spots to also include everyone among the oft-praised Bradley Cooper ("Silver Linings"), John Hawkes ("The Sessions"), Hugh Jackman ("Les Miserables"), Joaquin Phoenix ("The Master") and Denzel Washington ("Flight"), let alone others operating more under the radar: Affleck ("Argo"), Richard Gere ("Arbitrage") and Jean-Louis Trintignant ("Amour"), for example.
In lead actress, Jessica Chastain of "Zero" and Jennifer Lawrence of "Silver" have been ballyhooed, but contenders for the remaining noms include Marion Cotillard of "Rust and Bone," Helen Mirren of "Hitchcock," Emmanuelle Riva of "Amour," Quvenzhane Wallis of "Beasts," Naomi Watts of "The Impossible" and Rachel Weisz of "The Deep Blue Sea."
It's also crowded in supporting actor, where Philip Seymour Hoffman ("The Master") and Tommy Lee Jones ("Lincoln") could theoretically join multiple nominees from "Argo" (Alan Arkin, John Goodman) or "Django" (Leonardo DiCaprio, Samuel Jackson, Christoph Waltz), not to mention contenders including Javier Bardem ("Skyfall"), Robert De Niro ("Silver") and Matthew McConaughey ("Magic Mike," "Bernie").
Supporting actress offers some of the best potential for the unexpected. Amy Adams of "The Master" and Helen Hunt of "Sessions" made a lot of noise early; Sally Field of "Lincoln" and Anne Hathaway of "Les Miserables" have made the most lately, while Judi Dench ("Skyfall"), Ann Dowd ("Compliance"), Nicole Kidman ("The Paperboy") and Jacki Weaver ("Silver") lurk.
The potential best-pic nominees nicely populate the adapted and original screenplay categories, meaning that each race could offer an interesting mix of heavyweights and aspirants. In adapted, Stephen Chbosky ("The Perks of Being a Wallflower"), Tom Stoppard ("Anna Karenina") or Benh Zeitlin and Lucy Alibar ("Beasts") could find themselves vying with Tony Kushner ("Lincoln"), David Magee ("Pi"), Russell ("Silver") or Chris Terrio ("Argo"). In original screenplay, there aren't many sure things in a group that includes Paul Thomas Anderson ("The Master"), Wes Anderson and Roman Coppola ("Moonrise") and Mark Boal ("Zero") as well as Ava DuVernay ("Middle of Nowhere"), John Gatins ("Flight"), Ben Lewin ("Sessions"), Craig Zobel ("Compliance") and Tarantino.
All the other categories offer similar mysteries. The twist is that, after the intense rush to see and weigh in on the potential nominees, voting on the winners won't even begin for another month and won't conclude until Feb. 19.
That's a relative eternity in the awards process.