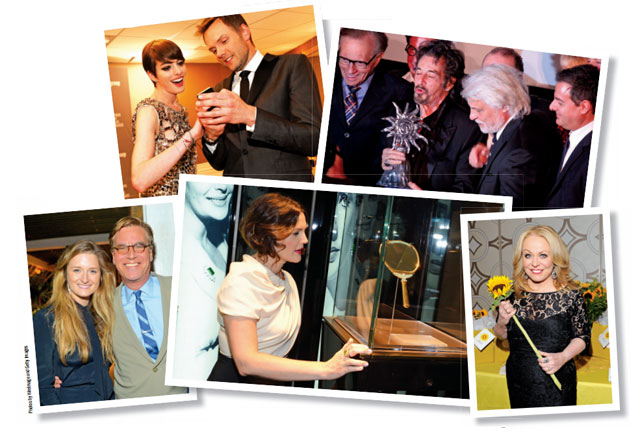 These days in Hollywood, one weekend is not enough. There are just too many parties and luxury suites, and three days is insufficient to go to them all. Which explains why the celebrations start earlier and earlier every year. How else can all the brands, charity groups, guilds and assorted publicity seekers share the heat?
The Writers Guild Awards started off the week of the Academy Awards with a bang, holding its annual kudos Sunday.
That same night, the Los Angeles Italia — Film, Fashion and Art Fest kicked off a weeklong celebration by giving Al Pacino its inaugural Jack Valenti Award, with a big opening-night party at the Chinese Theater, followed by an intimate dinner at Trastevere at Hollywood & Highland, attended by Pacino, festival chair Rick Nicita and WB's Courtenay Valenti (Jack's daughter), who presented the actor with his trophy. The event also honored the Pat Solitano family, i.e., "Silver Linings Playbook," with awards going to Oscar contenders David O. Russell, Jennifer Lawrence and Robert De Niro.
Monday night brought in Vanity Fair, which produced a series of events all week, beginning with its Vanities Calendar Celebration at Chateau Marmont, hosted by Olivia Munn. Montblanc also gave a cocktail pour that night, in the penthouse of the Beverly Wilshire Hotel, where it set up a VIP lounge for the rest of the week, showcasing its high-end products including watches and writing instruments.
Tuesday was jam-packed with fetes. Bulgari turned its Rodeo Drive shop into a museum, showing off eight iconic pieces of the Italian designer's jewelry once owned by Elizabeth Taylor. Julianne Moore, Drew Barrymore, Adrien Brody and Paul Haggis took in those breathtaking pieces. Meanwhile, the 15th Annual Costume Designers Guild Awards were handed out over at the Beverly Hilton, where Anne Hathaway received the org's Lacoste Spotlight Award. Later on, Freida Pinto joined forces with Vanity Fair and L'Oreal to throw a bash at Teddy's in the Hollywood Roosevelt Hotel.
And Los Angeles Italia gave out a couple more awards to Oscar contenders, Quentin Tarantino and Christoph Waltz for their work on "Django Unchained."
By Wednesday, the crowds were really starting to form at two annual events that raise funds for good causes. The Art of Elysium, along with major sponsor Ciroc Ultra Premium Vodka, presented their sixth annual Pieces of Heaven Art Auction at the Ace Museum, auctioning off work from such artists as Ansel Adams, Shepard Fairey, Kelly Wearstler and David Arquette, who made the scene along with Jason Statham, Justin Bartha and Jayma Mays.
Global Green held its 10th annual Pre-Oscar Party at the Avalon, where Willie Nelson and his sons kept the eco-minded crowd singing along while sipping sustainable wines from Napa's Cade Estate and Ehlers Estate wineries. The bash usually draws a slew of bold-faced names. The org's events manager, Nina Storm, explains why: "We certainly are able to get talent to our event, because so much talent is in town during Oscar week. And we also get the benefit of being one of the parties that is covered by a lot of media during Oscar week. So it's a really ideal time for us to get our message out there." Proceeds from the event went to Superstorm Sandy victims.
Vanity Fair was back again with two events Wednesday night, honoring the cast of "Silver Linings Playbook" with a dinner at Chateau Marmont and the "Les Miserables" cast with a cocktail party at Eveleigh restaurant; all the usual suspects attended.
On Thursday, things really heated up, first with the Essence Black Women Luncheon, which honored Oprah Winfrey, Alfre Woodard, Gabrielle Union, Mara Brock Akil, Naomie Harris and Quvenzhane Wallis at the Beverly Hills Hotel, and later on with Vanity Fair's Beauty Luncheon with Lancome and Clarisonic at the Argyle Salon & Spa.
When night fell Thursday, there were dueling parties all over town. Over on the Westside in Santa Monica, the Irish contingent gathered at Bad Robot for the annual Oscar Wilde: Honoring Irish in Film Awards. That fete is all about making things happen, as Trina Vargo, the producer and president of the U.S.-Ireland Alliance, elaborates.
"The purpose of the event has always been the same, to get people in the room who are over from Ireland in the film and entertainment business, so that they can meet other people in L.A. who are in the business, and hopefully new relationships, collaborations, business will come from that."
That most likely happened, as plenty of heavy hitters turned up, including honorees Colin Farrell, Michael Burns and makeup artist Michele Burke.
In West Hollywood, Gerard Butler, Paul Haggis, Donna Karan and Madeleine Stowe gathered at the Sunset Tower Hotel for the annual Hollywood Domino & Bovet 1822 Pre-Oscar Gala and Tournament, which benefited Artists for Peace and Justice. And at a private residence nearby, ICM held its annual bash to honor the tenpercentery's 2012 nominees, including Waltz, Alan Arkin, Jacki Weaver and Wallis.
The gifting started early in the week too as Suzanne De Laurentiis launched that part of the fun with her swag suite at the Century City Hyatt on Saturday. "I always do mine the week before," she says, "because doing it a couple days before the Oscars makes it very hard to get the availability of the celebrities." Her suite benefitted the Melanoma Foundation.
Roger Neal, the granddaddy of them all, held his Style Hollywood Oscar Suite for three days, from Tuesday to Thursday at L'Ermitage Hotel. "We started this suite thing 17 years ago," Neal says proudly. "We started out with Stuart Weitzman, giving shoes to stars. Then it just evolved for me into a beauty and couture suite."
There was more pampering to be had Wednesday evening, first poolside at the Beverly Wilshire, where the Spa Oscar Party drew droves of pretty women, then many moved on to the W Hotel Westwood. And the big Oscar weekend hadn't even started yet!
Oscar's Big Weekend 2013
Oscar's big weekend starts the Sunday before | Stylists to the stars keep it classic for Oscars | The party guide | The suite life of Oscar weekend