For a handful of Oscar-nominated actresses, they have been scene and believed.
Or to put it more precisely, audiences and voters have witnessed these ladies breakout scenes over and over again during awards season, and sometimes dating back to the beginning of last year. Yet, instead of these moments blending into a homogenous clip reel, they continue to stand out and impress.
Whether it's Anne Hathaway's rendition of "I Dreamed a Dream" in "Les Miserables"; Quvenzhane Wallis staring down a pack of grizzly Aurochs in "Beasts of the Southern Wild"; Helen Hunt stripping down to serve as a sex surrogate in "The Sessions"; or Jennifer Lawrence forcefully explaining why Bradley Cooper's character brings more luck when he's with her in "Silver Linings Playbook," these scenes are etched in movieogers minds. The question, however, is whether those moments will have any sway Oscar voters?
"The Academy definitely seems to gravitate toward performances that have some sort of hook," says Fandago's Dave Karger. "In many cases the hook is one or two killer scenes because things like that simply make it easier for a voter to remember the performance."
Those moments are memorable, according to lead actor nominee Philip Seymour Hoffman ("The Master"), because they are very hard to deliver successfully.
"Certain roles just ask more of you and if you show up for it, you should rightfully be given the attention you deserve," he says. "Anne Hathaway had to do something that is very difficult and she did it very well … a scene that is highly difficult. If they pull it off, they deserve everything they get."
Bruce Cohen, the Oscar-nominated producer for "Silver Linings Playbook," argues that those scenes come about from the perfect combination of the right actress for the right part performing material that serves the film and feels organic. In the case of Lawrence's breakout speech, it wasn't in the original screenplay but director-writer David O. Russell added it after Lawrence was cast.
Russell, Cohen says, wanted the words to fit how the actress played the role of the tough-but-emotionally-scarred Tiffany Maxwell.
While these moments might be seared into the minds of Academy voters, Oscar campaigners must be careful how heavily they rely on them.
"The danger is that out of context, your killer scene can come off the wrong way," Karger says. "Last year, at the end of 'The Descendants' campaign, they really used that George Clooney death bed speech scene a lot in the TV ads. I don't think it worked out of context. I think it actually hurt the campaign."
Moreover, not everyone is convinced that a breakout scene is a key element to garnering Academy accolades.
"There are movies and roles that are defined by that signature moment and there are others where the intensity is so great and the performance so memorable that you can't distill the incredible acting down to just one or two scenes," says Steve Elzer, senior VP of media relations at Columbia Pictures, which distributed "Zero Dark Thirty." "I think if you ask five different Academy members which scene or scenes they remember most when thinking back on Jessica Chastain in 'Zero Dark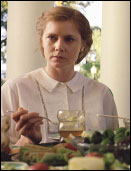 Thirty,' I think you will get five different answers. It is that kind of motion picture."
Hoffman also says the work from his "Master" co-star and supporting actress nominee Amy Adams isn't about "some special moment."
"Amy plays a role that you might not have paid as much attention to if it wasn't Amy," he says. "She brings a special quality, an intensity."
Ultimately, Cohen believes the show-stopping scene may be emblematic of a strong performance, but that Oscar ballots are usually filled out with a more holistic view.
"Academy members take the job of voting for the Oscars extremely seriously," he says. "In the performance categories, you watch every performance and ignore the campaigning and hype. You vote for the performance that you truly believe is Oscar worthy."
LEAD ACTRESS >>
Kids and elders compete in a race that is both international and four-quadrant

SUPPORTING ACTRESS >>
Songs, surrogate sex and the highest spouse in the land share category