Not many films have faced as many makeup challenges as Peter Jackson's "The Hobbit: An Unexpected Journey": hundreds of characters, fantasy worlds and creatures, heaps of prosthetics, constant integration with CGI and vfx, and the first-time use in a major motion picture of 48-frames-per-second technology, which drastically alters the look of the finished film, making it smoother and, some say, more realistic and subject to greater scrutiny.
And that's not even considering that it comes on the heels of one of the toughest acts to follow in cinema history: "The Lord of the Rings" trilogy, also helmed by Jackson, of which "The Hobbit" is a prequel, set 60 years earlier.
Perhaps the most daunting test of all was the creation of makeup for the pic's 13 dwarf characters, all of whom featured highly detailed makeups and unique, distinctive hairstyles.
"Having (to deal with makeup) for 13 dwarves was a mammoth task for prosthetics," says makeup department head Peter King. "We had many stages of preparation: drawings, sculptures of them all, then pulling our first prosthetics out of the molds, and doing our first tests with hair, beards, and wigs. After King arrived at the dwarves' final looks, a template was set for 266 days of filming over 18 months of principal photography, handled by a 37-person makeup and hairstyling team. New Zealand-based special effects and prop house Weta Workshop created the prosthetics. WW founder Richard Taylor supervised the work.
But the task didn't end with the 13 main characters' primary makeups. "Apart from our 13 dwarves, (we had to make up) 13 stunt doubles, 13 scale doubles, eight or nine scale stunt doubles, as well as a similar number of photo scale doubles in the distance in masks," says King.
Eleven makeup vehicles were required to carry out this work during production. "We started at 4 a.m. (in order to begin) shooting at 8 a.m. Putting on prosthetics, plus beards and wigs, took an hour-and-a-half for each character."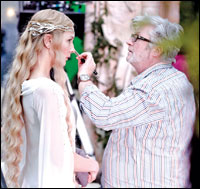 King worked with a wig-making team in England and an international prosthetics team run by prosthetic makeup artist Tami Lane in New Zealand to streamline the process of preparing the dwarves. "We had a team of 16 people who did the prosthetics," says Lane, whose crew had to handle 187 performers on the biggest shooting days. "The 13 dwarves were each assigned to one artist who did the hero makeups and stunt doubles."
Lane worked with Taylor's artists to make technical suggestions. "We had a T-piece — forehead and combined nose," Lane says of the dwarf prosthetics. "We were using encapsulated silicone. I didn't feel lace eyebrows would be good enough, so I had all of my artists hand-punch the eyebrows every day."
The use of 48 frames-per-second cinematography on the Red Epic camera also required adjustments, especially in the matter of color. "There were color shifts in the camera — sucking the reds out," says Lane. This challenged several departments, including art and costumes as well as makeup. "We had to figure out a whole new way of painting the pieces, to put the proper levels of red back into them." she adds. "With the 48 frames, you are under a microscope constantly. There is no room for a bad day."
Eye on the Oscars 2013: Costumes, Art Design & Makeup
Don we now our dark apparel | Makeup for a land of make-believe | 'Snow White' tale lands double costume noms