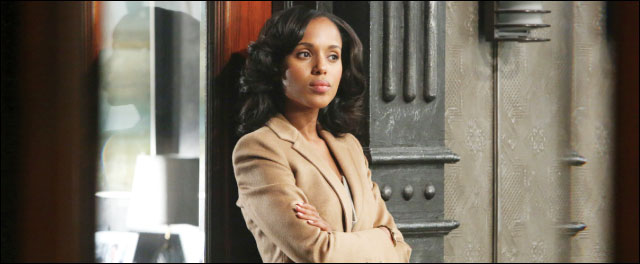 Kerry Washington settles the question once and for all: What's the greater honor, speaking at the Democratic National Convention or appearing on "The Bill Maher Show"?
"Well, for me," the politics-savvy thesp begins with a laugh, "I take my appearances on 'Bill Maher' very seriously. I never want to perpetuate the stereotype of the uninformed artist. But there is nothing I've ever experienced like speaking at the convention. There's no way to wrap your head around how big that room is and what it takes to get ahold of their hearts and minds and ears and hold it. I'm often on stage as other people, but to really step out there and be vulnerable on stage …." She pauses. "It's also the most backlash I've ever received."
Washington won't name the media outlets that fed the backlash over her memorable "We the People" speech, but it "took days" before she could go online again.
The racist and sexist tweets shocked her. "The words 'we the people' has become a more inclusive statement throughout history," she says. "And for me that is related to my work as an artist, because so much of my job is telling stories about other human beings. Everybody deserves to have their stories told … and that shared humanity is at the center of both my activism and my art."
It's also why Washington is receiving the NAACP President's Award, chosen by org's prexy and CEO Benjamin Todd Jealous, who called the actress a "modern trailblazer," not only for her activism and early support of Barack Obama but also for her recent acting assignment: "For the first time in 40 years, we have a black woman playing the leading role in a primetime drama on network television."
Washington, for her part, isn't quite sure when she became aware of making network TV history with her starring role on ABC's "Scandal," an assignment that follows her recent portrayals in film ("Django Unchained") and on Broadway (David Mamet's "Race"). "I just knew I hadn't see it on network TV in my lifetime, although actresses like Regina King and Anika Noni Rose have been doing it on cable in a fantastic way. I was born after 'Julia' with Diahann Carroll was on the air."

RELATED LINKS
• NAACP Image Award nominees crossover with Oscar