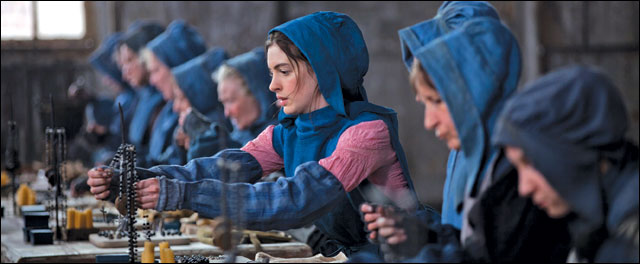 Two of this year's Oscar nominees for achievement in costume design — Tom Hooper's "Les Miserables" and Steven Spielberg's "Lincoln" — are period films set in times of conflict and destruction.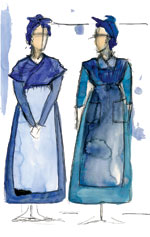 Reflecting that dark ambience, the costumes in those pictures are deliberately worn and tattered to match the bleakness of their era. As both films have large casts and hundreds of extras, creating and distressing those garments was, in each case, a massive task.
Spanish costume designer Paco Delgado didn't merely design and build every piece of clothing worn by the masses of bedraggled 19th century French beggars, prostitutes, prisoners and revolutionaries in the epic bigscreen adaptation of the musical "Les Miserables," he also destroyed them a little — sometimes a lot.
On the production's busiest days, Delgado had as many as 20 people (led by chief costume breakdown artist John Cowell) attacking fabrics with cheese graters, sandpaper, bleach, paint and other devices, both mechanical and chemical, to make the clothing look appropriately dirty and distressed.
"Sometimes we had to age hundreds of costumes in a week," recalls Delgado, who made approximately 1,500 outfits and rented 2,200 more to clothe the 4,500 actors and extras in the film. "I'd walk into the aging department and see people with blowtorches and sandblasters."
The techniques used by costume designer Joanna Johnston to dress the Civil War-era milieu in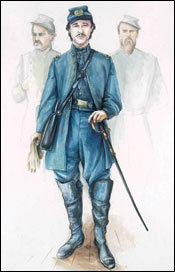 "Lincoln" were less heavy-handed. For instance, sometimes cut fabric would be washed before it was sewn together, then washed again.
"That immediately takes the newness out of a garment and gives it a lived-in look," says Johnston, who worked with Spielberg on five previous films, three of which were set in wartime: "Indiana Jones and the Last Crusade," "Saving Private Ryan" and "War Horse."
The military uniforms in "Lincoln" were manufactured in Poland, then shipped to London for an initial round of distressing by a six-person breakdown crew, then sent on to the filming location in Virginia, where a four-person team led by head textile artist Steve Gell applied the final stages of wear and tear.
The film focuses more on the machinations of Washington, D.C., politicians than on Civil War battles. Most of the clothes for the principals were created in Virginia, using period-correct heavy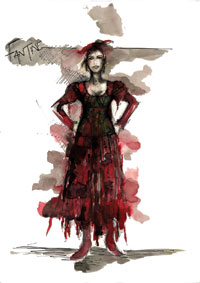 wool fabric from London and various cottons, silks and linens; costumes for background players were rented in Los Angeles and London.
"The average politician in the House of Representatives might have had two frock coats and a couple of shirts," says Johnston, who dressed 140 actors with speaking parts for the film, along with approximately 4,000 extras. "People had a coat for 10 years probably, and when it wore out, they had another one made."
The poor Parisians in "Les Mis" held on to their garments even longer. The story spans the period from 1815 to 1832, but many of the styles come from decades earlier.

"There was a huge second-hand market in Paris at the time and all these clothes were handed down from rich people to the less affluent, then to poor people," Delgado says. "The prostitutes were so poor, they were wearing fashions from years earlier."
The lavender muslin dress worn by a homeless Fantine, played by Anne Hathaway, ages from scene to scene as the character is worn down by poverty, prostitution and disease.
"We made six or seven versions of it," says Delgado. "She was in a muddy environment, so we added things that look like mud on the dress and used bleach, so little by little it got more pale and dirty. We also did a lot of peeling and made holes."
Johnston also used character-specific touches. Historic accounts describe political operative William Bilbo, played by James Spader, as a messy eater, so she added faux food stains to his clothes. She read that Lincoln sometimes had ink stains on his shirt, but applied only a little on the cuff. "You don't want too much because it could be annoying," she says."We wanted (the costumes) to be believable without drawing attention."
Eye on the Oscars 2013: Costumes, Art Design & Makeup
Don we now our dark apparel | Makeup for a land of make-believe | 'Snow White' tale lands double costume noms