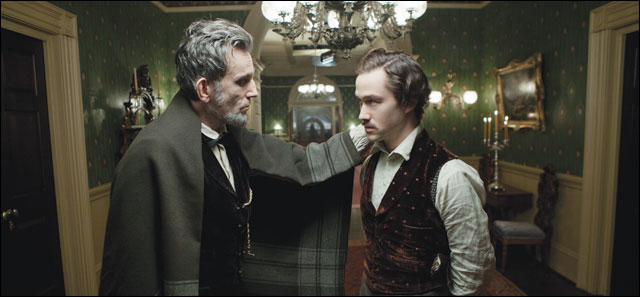 "Lincoln" received a record-setting 18 noms; honoree Judd Apatow takes home an inaugural award.
Since its founding 18 years ago, the Broadcast Film Critics Assn. and its annual awards show, the Critics' Choice Movie Awards, have, "gone from strength to strength, and always broken new ground," says BFCA co-founder Joey Berlin, and this year sees "several firsts."
The 270-plus members will honor writer-producer-director Judd Apatow with the inaugural Critics' Choice Louis XIII Genius Award, for excellence in the cinematic arts. (Apatow's latest film "This Is 40," is nominated for three Critics' Choice Movie Awards.)
And after being on VH1 for five years, the show is moving to the CW, "a much bigger network," Berlin notes.
While the show started out small, it has grown considerably in recent years, and the move represents "a homecoming of sorts, as we used to be on the WB network, which helped launch the CW," reports Berlin, who has exec-produced the show since its inception.
"And Bob Bain Productions, who've done many of our shows, are back doing this year's. So we're working with some of the same people again, and it's a great showcase for us."
And after several years at the Palladium, the kudofest itself moves to a different venue, Barker Hangar at the Santa Monica Municipal Airport.
"We needed to relocate because of growing numbers and the sell-out nature of the show," Berlin says. "It was hard to get everyone in the room. Now, we can have more tables, and the cocktail reception and red carpet events (are) all in the same venue."
The BFCA, which has been involved with various charities since its inception, including Heifer Intl., has also unveiled several additional award categories, "including our first-ever fan-voted award for Favorite Film Franchise, where the voting takes place on celebrity and BFCA member web sites" Berlin says.
"The 10 nominees will be the greatest film franchises of all time — and a lot of them are well represented this year, what with 'Spider-Man,' 'The Dark Knight' and 007."
In terms of categories, the BFCA has frequently led the way in awarding such art forms as animation — "we recognized that long before the Oscars" — and this year it is adding a sci-fi/horror movie' award, "another area we feel has been unjustly overlooked for too long by most other awards shows."
At this year's ceremony, the org will honor Apatow with the inaugural Critics' Choice Louis XIII Genius Award, named for a cognac.
"A great portion of my success is a result of my collaboration with my wife, Leslie, who is a great actress and a really insightful partner in everything we do," Apatow told Variety. "She's been so funny and so brave in all of her performances and her behind the scenes ideas and encouragement is responsible for so many of the high points of our films. She was the one who always said to me, 'There are no good roles for women. I read all these scripts and nobody is writing great comedy from the female perspective.' It definitely pushed me to try harder, to find writers and actresses who could carry films — in all of our movies just to think more deeply about our female characters and think that they were equally important as the male characters."
The Critics' Choice Movie Awards will be broadcast live today, also known as Academy Award nomination day.
"It's great timing for us, as the world will be watching that morning and we've always been the most reliable predictor of the Oscars," adds Berlin. "If you want to get an Oscar nomination, the single best thing you can do is get a Critics' Choice Award nomination."
Stephen Schaefer contributed to this report.
AND THE NOMINEES ARE. . .
PICTURE
"Argo"
"Beasts of the Southern Wild"
"Django Unchained"
"Les Miserables"
"Life of Pi"
"Lincoln"
"The Master"
"Moonrise Kingdom"
"Silver Linings Playbook"
"Zero Dark Thirty"
ACTOR
Bradley Cooper — "Silver Linings Playbook"
Daniel Day-Lewis — "Lincoln"
John Hawkes — "The Sessions"
Hugh Jackman — "Les Miserables"
Joaquin Phoenix — "The Master"
Denzel Washington — "Flight"
ACTRESS
Jessica Chastain — "Zero Dark Thirty"
Marion Cotillard — "Rust and Bone"
Jennifer Lawrence — "Silver Linings Playbook"
Emmanuelle Riva — "Amour"
Quvenzhane Wallis — "Beasts of the Southern Wild"
Naomi Watts — "The Impossible"
SUPPORTING ACTOR
Alan Arkin — "Argo"
Javier Bardem — "Skyfall"
Robert De Niro — "Silver Linings Playbook"
Philip Seymour Hoffman — "The Master"
Tommy Lee Jones — "Lincoln"
Matthew McConaughey — "Magic Mike"
SUPPORTING ACTRESS
Amy Adams — "The Master"
Judi Dench — "Skyfall"
Ann Dowd — "Compliance"
Sally Field — "Lincoln"
Anne Hathaway — "Les Miserables"
Helen Hunt — "The Sessions"
YOUNG ACTOR/ACTRESS
Elle Fanning — "Ginger & Rosa"
Kara Hayward — "Moonrise Kingdom"
Tom Holland — "The Impossible"
Logan Lerman — "The Perks of Being a Wallflower"
Suraj Sharma — "Life of Pi"
Quvenzhane Wallis — "Beasts of the Southern Wild"
ACTING ENSEMBLE
"Argo"
"The Best Exotic Marigold Hotel"
"Les Miserables"
"Lincoln"
"Moonrise Kingdom"
"Silver Linings Playbook"
DIRECTOR
Ben Affleck — "Argo"
Kathryn Bigelow — "Zero Dark Thirty"
Tom Hooper — "Les Miserables"
Ang Lee — "Life of Pi"
David O. Russell — "Silver Linings Playbook"
Steven Spielberg — "Lincoln"
ORIGINAL SCREENPLAY
Paul Thomas Anderson — "The Master"
Wes Anderson & Roman Coppola — "Moonrise Kingdom"
Mark Boal — "Zero Dark Thirty"
John Gatins — "Flight"
Rian Johnson — "Looper"
Quentin Tarantino — "Django Unchained"
ADAPTED SCREENPLAY
Stephen Chbosky — The Perks of Being a Wallflower
Tony Kushner — "Lincoln"
David Magee — "Life of Pi"
David O. Russell — "Silver Linings Playbook"
Chris Terrio — "Argo"
ANIMATED FEATURE
"Brave"
"Frankenweenie"
"Madagascar 3"
"ParaNorman"
"Rise of the Guardians"
"Wreck-It Ralph"
ACTION MOVIE
"The Avengers"
"The Dark Knight Rises"
"Looper"
"Skyfall"
COMEDY
"Bernie"
"Silver Linings Playbook"
"Ted"
"This Is 40"
"21 Jump Street"
ACTOR IN A COMEDY
Jack Black — "Bernie"
Bradley Cooper — "Silver Linings Playbook"
Paul Rudd — "This Is 40"
Channing Tatum — "21 Jump Street"
Mark Wahlberg — "Ted"
ACTRESS IN A COMEDY
Mila Kunis — "Ted"
Jennifer Lawrence — "Silver Linings Playbook"
Shirley MacLaine — "Bernie"
Leslie Mann — "This Is 40"
Rebel Wilson — "Pitch Perfect"
SCI-FI/HORROR MOVIE
"Cabin in the Woods"
"Looper"
"Prometheus"
FOREIGN-LANGUAGE FILM
"Amour"
"The Intouchables"
"A Royal Affair"
"Rust and Bone"
DOCUMENTARY FEATURE
"Bully"
"The Central Park Five"
"The Imposter"
"Queen of Versailles"
"Searching for Sugar Man"
"West of Memphis"
RELATED LINKS
• Reviewers throw curveballs