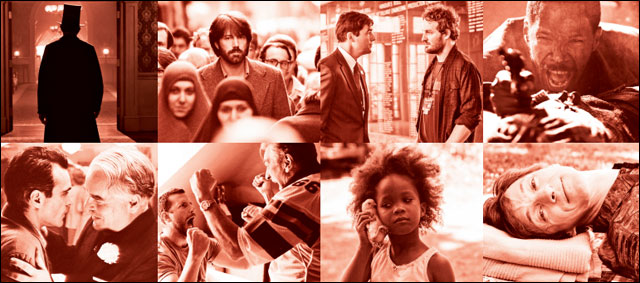 American films with major noms for Oscars and BAFTAs include "Lincoln," "Argo," "Zero Dark

Thirty," "Django Unchained," "The Master," "Silver Linings Playbook," "Beasts of the Southern Wild" and "The Sessions."
The most striking aspect of this year's nominations for the British Academy Film Awards is that they don't feel especially British.
In fact, the BAFTA nominations announced Jan. 9 bear a remarkable similarity to the Oscar nods unveiled a day later. Most comparable categories are either identical or vary only by a single nomination. Only leading actress and director have a wider divergence.
Both kudofests have a predominantly U.S. accent this year, thanks to the very American tone of "Lincoln," "Argo," "Zero Dark Thirty," "Django Unchained," "The Master," "Silver Linings Playbook," "Beasts of the Southern Wild" and "The Sessions."
That's counterpointed by four international hybrids: the Franco-Austrian intimacy of "Amour," the Franco-British pomp of "Les Miserables," the Asian fusion of "Life of Pi" and the Anglo-Hollywood slickness of "Skyfall."
"Les Miserables," with its London stage origins, British creative team, French setting, international cast and studio funding, is the U.K.'s leading contender. But BAFTA voters can't be accused of hometown bias, given that its nine nods are closely tracked by eight Oscar nominations.
BAFTA members, a quarter of whom are U.S.-based, did rally with slightly more patriotism behind "Skyfall," with eight nods compared to five at the Oscars. But that wasn't enough to propel the Bond movie to a BAFTA best picture or director nomination for Sam Mendes, as had been widely predicted.
Their expected warmth for the veteran Brit cast of "The Best Exotic Marigold Hotel" also failed to materialize, and they slammed the door on a slew of smaller U.K. indie hopefuls.
The nominations for British film include four international pics backed by Hollywood studios — "Anna Karenina" and "Les Miserables" (Universal), "Skyfall" (MGM/Sony) and "Marigold Hotel" (Fox Searchlight) — plus "Seven Psychopaths," an independently financed Hollywood comedy whose London-born director Martin McDonagh defines himself as Irish, not British.
This partly reflects a weak year for British indie cinema, though a good one for the U.K.'s Blueprint Pictures, which produced "Marigold" and "Psychopaths."
It might also reflect the change two years ago when BAFTA switched to deciding the British film prize by chapter vote, rather than by jury. Fears that this would exclude smaller arthouse pics seem borne out by this year's nods.
BAFTA voters were more impressed by the output of the French film industry, with directing, acting and screenplay nods for "Amour" and an acting nod for "Rust and Bone" to go with their nominations for foreign film, where blockbuster "The Intouchables" also figures. This Gallic trio faces two Scandi rivals — Denmark's "The Hunt" and Norway's "Headhunters."
Bristol-based Aardman's Oscar-nominated "The Pirates! Band of Misfits" couldn't squeeze into BAFTA's three animation slots, taken by the Scottish-accented "Brave," the London-made "Frankenweenie" and "Paranorman."
Nonetheless, there are some signs of home voting, if fewer than previous years. BAFTA's minor deviations from the Oscar consensus almost all favor either British talent or work in British movies. These include nods to Helen Mirren ("Hitchcock"), Judi Dench ("Skyfall"), Javier Bardem ("Skyfall"), cinematographer Danny Cohen ("Les Miserables"), editor Stuart Baird ("Skyfall"), production designers Dennis Gassner and Anna Pinnock ("Skyfall"), costume designer Beatrix Aruna Pasztor ("Great Expectations"), and the effects team of "The Dark Knight Rises."
In lead actress, Mirren and Marion Cotillard ("Rust and Bone") replace Oscar nominees Naomi Watts ("The Impossible") and Quvenzhane Wallis, whose "Beasts of the Southern Wild" found significantly less favor with BAFTA than Oscar.
More intriguingly, only two helmers, neither American nor British, are nominated on both sides of the Atlantic — Michael Haneke for "Amour" and Ang Lee for "Life of Pi." While the Oscars went for Steven Spielberg, Benh Zeitlin and David O. Russell in the other slots, BAFTA picked three different Americans — Ben Affleck, Quentin Tarantino and Kathryn Bigelow.
Russell's "Silver Linings Playbook" is the biggest loser in the BAFTA nods compared to the Oscars, also missing out in supporting actor, supporting actress and editor. Spielberg's omission suggests that although "Lincoln" leads the BAFTA nods with 10 and Daniel Day-Lewis is a strong contender for a fourth acting win, its support might not run deep.
On the other hand, the presence of Affleck and Bigelow in the director list suggests that "Argo" and "Zero Dark Thirty" have enthusiastic fans at the BAFTAs, with Affleck also nominated for lead actor.
Tom Hooper is a notable absentee from the director nominees, voted by BAFTA's directing chapter, which has a history of snubbing its compatriots in favor of foreign auteurs. Hooper didn't win the BAFTA for "The King's Speech," though he did subsequently take the Oscar for director.
Overall, with this year's BAFTA and Oscar nominations so closely aligned, the big question is whether that lockstep will continue in the awards themselves, or whether BAFTA will reassert its distinctively British personality at the Feb. 10 ceremony in London's Royal Opera House.
BAFTA Awards 2013
BAFTA and Oscars: Separate and almost equal | Diverse debuts energize BAFTAS | BAFTA's Rising Star kudo takes femme turn