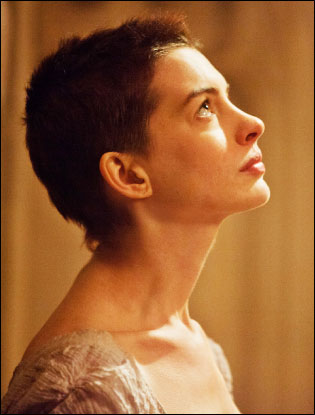 Why she will win: It's impossible not to affected by Hathaway's turn as the picked-upon Fantine. She was wowing auds long before the film was even released — many called her perf astonishing based solely on the trailer for her rendition of "I Dreamed a Dream." As with Jennifer Hudson in "Dreamgirls," the role's stage pedigree preceded the performance.
Best scene: Hathaway's is one of those rare campaigns built on a single scene. She may disappear from proceedings by the end of the third act, but her gutsy, tear-streaked performance of the aforementioned ballad, sung live and shot in unforgiving close-up, remains the film's dramatic peak.
Critic's quote: "Hathaway's turn is brief but galvanic. Her rendition of 'Dreamed a Dream,' captured in a single take, represents the picture's high point, an extraordinary distillation of anguish, defiance and barely flickering hope in which the lyrics seem to choke forth like barely suppressed howls of grief," says Justin Chang, Variety.
| HOME | Helen Hunt >>