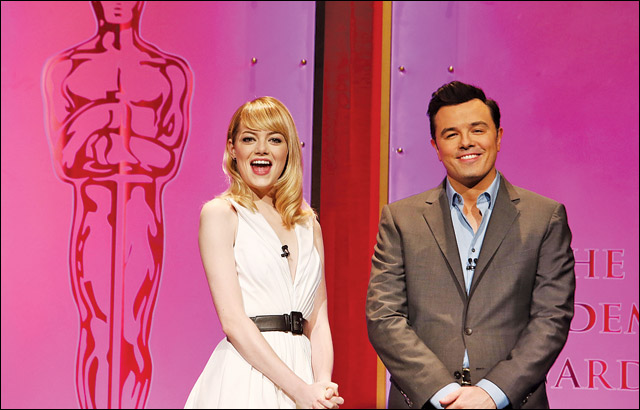 Above: Seth MacFarlane became the first Oscar host in four decades to participate in the nominations announcement (accompanied by Emma Stone). (Photo by Alexandra Wyman/WireImage.)
'Lincoln' tops Oscar noms with 12 |

Complete list of nominees | The scorecard | Reactions to the nominations | Music brings contrasts, global view
It's a new and shocking era at the Oscars.
Three of the five nominees for top director at the 85th annual Academy Awards didn't get similar recognition from the Directors Guild of America, turning the Feb. 24 Oscars at the Dolby Theater into a much different affair than many had expected.
Michael Haneke of "Amour," David O. Russell of "Silver Linings Playbook" and Benh Zeitlin of "Beasts of the Southern Wild" took slots from DGA nominees Ben Affleck of "Argo," Kathryn Bigelow of "Zero Dark Thirty" and Tom Hooper of "Les Miserables," joining Ang Lee of "Life of Pi" and Steven Spielberg of "Lincoln" in Oscar's inner circle.
The disruption is a logical but still surprising consequence of the earliest nominations voting deadline in Oscar history, which meant Academy of Motion Picture Arts & Sciences members turned in their ballots before learning the DGA nom results.
Since 1970, when the DGA settled on five nominees per year, there has never been this much divergence with the Academy in director. The only time in the past decade that even two DGA nominees weren't seconded by AMPAS was the 2006 group, which found Bill Condon ("Dreamgirls") and Jonathan Dayton and Valerie Faris ("Little Miss Sunshine") supplanted by Clint Eastwood ("Letters from Iwo Jima") and Paul Greengrass ("United 93").
In addition to the earlier deadline, the other new wrinkle in this year's nominations was the Academy's introduction of electronic voting, which alternately served as a convenience and a conundrum for the electorate. However, an Academy insider said that despite reports of voting difficulties, turnout was higher than a year ago.
While "Lincoln" might appear to be the dominant force this year with an Academy-high 12 nominations, including acting noms for Daniel Day-Lewis, Tommy Lee Jones and Sally Field and adapted screenplay for Tony Kushner, others grabbed their own share of momentum.
"Silver Linings" impressively scored nods in all four acting categories for Bradley Cooper, Jennifer Lawrence, Robert De Niro and Jacki Weaver — the first such grand slam since "Reds" in 1981 — as well as directing and adapted screenplay for Russell.
"Life of Pi" was left out of the acting race but still finished second behind "Lincoln" with 11 noms, including adapted screenplay for David Magee. Lee is the only director this year tapped by the DGA, Golden Globes, BAFTA and Oscar.
Meanwhile, "Amour" and "Beasts" have become partners of sorts, not only earning screenplay nominations (original and adapted, respectively) but also setting marks for the oldest and youngest lead actress nominations ever in Emmanuelle Riva and Quvenzhane Wallis.
Without directing noms, "Argo," "Les Miserables" and "Zero" were left with the laurel and hearty handshake of a best picture nomination but longer odds for victory, along with Quentin Tarantino's "Django Unchained."
"Les Miserables" matched "Silver Linings" with eight total noms, while "Argo" had seven and "Django" and "Zero" five apiece, tying "Skyfall," which fell short in its campaign to become the first James Bond pic to become a best-film contender.
Still, the quintet of kudos is a substantial jump vs. 007's previous Oscar offerings, which were usually in the music and/or craft races. Nabbing four below-the-line nods, "Anna Karenina" tied "Beasts" in the list of top 10 films with the most Oscar noms.
With room to spare, all those films avoided the shutout that befell "The Dark Knight Rises," the final piece of Christopher Nolan's Batman franchise that was said to have inspired AMPAS' expansion of the best picture category four years ago beyond five films to make room for more mainstream films.
For the second year in a row, no best picture nominee broke $200 million at the box office, but despite the presence of little-seen "Amour," "Beasts" and "Zero," in one respect the new crop is a more mainstream group of best picture nominees. While "The Help" was alone last year in grossing more than $100 million, this year "Lincoln," "Django," "Argo" and "Les Miserables" have all passed that milestone, with "Life of Pi" closing fast.
Other twists occurred in the foreign-language film category, in which France's crowdpleaser "The Intouchables" was ignored in favor of Austria's "Amour," Canada's "War Witch," Chile's "No," Denmark's "A Royal Affair" and Norway's "Kon-Tiki," and in animated feature, which saw "Rise of the Guardians" sidelined while "Brave," "Frankenweenie," "ParaNorman," "The Pirates! Band of Misfits" and "Wreck-It Ralph" took the Oscar field.
Big surprises were more spare in the acting categories, which also featured the only three nominations for Paul Thomas Anderson's "The Master": Joaquin Phoenix, Philip Seymour Hoffman and Amy Adams.
Lead actor nominees Day-Lewis, Cooper, Phoenix, Hugh Jackman ("Les Miserables") and Denzel Washington ("Flight") did nose out such contenders as Screen Actors Guild Awards nominee John Hawkes ("The Sessions"). In lead actress, Jessica Chastain ("Zero") and Naomi Watts (securing the only nomination for "The Impossible") joined Lawrence, Riva and Wallis, at the expense of SAG nominees Helen Mirren ("Hitchcock") and Marion Cotillard ("Rust and Bone").
Christoph Waltz ("Django") replaced Javier Bardem ("Skyfall") among SAG supporting actor nominees at the Oscars, landing a spot in a group with De Niro, Hoffman, Jones and Alan Arkin ("Argo"). SAG supporting actress nominees Field, Anne Hathaway ("Les Miserables") and Helen Hunt ("The Sessions") migrated to the Oscar finals, with Adams and Weaver replacing Nicole Kidman ("The Paperboy") and Maggie Smith ("The Best Exotic Marigold Hotel").
Four of the five adapted screenplays nominated by the Writers Guild of America made it to the Dolby Theater: "Argo" (Chris Terrio), "Life of Pi" (David Magee), "Lincoln" and "Silver," with the "Beasts" script by Lucy Alibar and Zeitlin — ineligible for WGA honors — trumping WGA nominee Stephen Chbosky's "The Perks of Being a Wallflower."
Among the original screenplays, three WGA nominees survived their journey to the Oscars: "Flight" by John Gatins, "Moonrise Kingdom" by Wes Anderson and Roman Coppola and "Zero" by Mark Boal, with WGA ineligibles "Amour" by Haneke and "Django" by Tarantino replacing "The Master" and Rian Johnson's "Looper."
Documentary noms went to "5 Broken Cameras," "The Gatekeepers," "How to Survive a Plague," "The Invisible War" and "Searching for Sugar Man," with "Bully," "Chasing Ice" and "Mea Maxima Culpa: Silence in the House of God" among those left out.
Seth MacFarlane, who became the first Oscar host in four decades to participate in the nominations announcement (accompanied by Emma Stone), got to hear he had received an original song nomination for "Ted." His competition on black-tie night will be tunes from "Chasing Ice," "Les Miserables," Life of Pi" and "Skyfall."
The song nom was one of a bevy of production nominations for "Life of Pi," which boasts nods for Claudio Miranda (cinematography), Tim Squyres (editing), Mychael Danna (original score), production design (David Gropman and Anna Pinnock), sound editing (Eugene Gearty and Philip Stockton), sound mixing (Ron Bartlett, D.M. Hemphill and Drew Kunin) and visual effects (Bill Westenhofer, Guillaume Rocheron, Erik-Jan De Boer and Donald R. Elliott).
Following their race to the nominations vote, Academy members can now take a breather of nearly one month before final voting begins Feb. 8, with a deadline of Feb. 19 before the Oscarcast.