Of this year's five Oscar-nominated toon shorts, only two were conceived with traditional studio backing: Both Disney's "Paperman" and Fox's "Maggie Simpson in 'The Longest Daycare' " were commissioned at great expense and pegged to the studios' animated features in wide release. Such projects get widespread attention, but they remain the exception, while most animators working on shorts take the low-budget, do-it-yourself route, often unsure how the end result will reach audiences or recoup.
In the case of "Adam and Dog," Minkyu Lee (a Disney character designer on "Wreck-It Ralph" who undertook the handdrawn fable as a side project) rented theater space himself to screen his Oscar-nominated "Adam and Dog" — and welcomed donations at the door.
With virtually no business model for shorts, why do animators even bother? Some pursue the festival circuit, where winning multiple cash prizes might help them stay afloat while building name recognition. That worked for fledgling director Tim Reckart, who climbed the festival rungs to an Oscar nomination for his stop-motion student film "Head Over Heels." He's now anticipating his film will screen theatrically in compilations by Shorts Intl.
"They will distribute it on iTunes as well," says Reckart, now a freelance director. "There's huge potential on Netflix and Hulu Plus to distribute short films. I'm hoping we'll see some of that potential play out this year, though it's still early days for the internet model."
One artist who's proving the viability of a Web platform is the stop-motion animator who calls himself PES. His two-minute "Fresh Guacamole" appeared online via Showtime's Short Stories, which commissions toons for its series. "I'm hoping that my Oscar nomination will help them find the support they need," says PES. He also points to Google's Partners Program, which shares ad revenue generated around popular animations posted on YouTube. "When a film connects with millions of people online, a filmmaker can make money. There are lots of people who've been successful with Google's Partners Program by creating content every week. The more you create, the more you build a following," he says.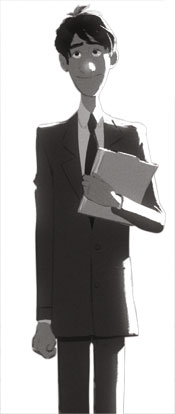 Viral Web success can also be a calling card that enables animators like PES to garner commercial directing assignments and even long-form opportunities. PES is developing an animated feature based on "The Garbage Pail Kids" for Michael Eisner, and he's not alone on that trajectory. Animator Patrick Jean, whose 2010 short "Pixels" has garnered 10 million hits online, sold the film's concept to Sony and hopes to direct a feature version. "Thanks to 'Pixels,' I'm now working on two feature films," Jean says. "Another, called 'Omni Visibilis,' is produced by Chapter 2 in France and is due to come out in 2014."
While both PES and Jean can pay their bills directing commercials until their feature ships come in, both plan to continue posting shorts online. "Shorts are like passion projects," Jean says. "The Internet is really a medium for them now."
Even the much-lauded commercial animation director Pete Candeland maintains an online Vimeo channel where fans (and agency creatives) can follow his work. While Candeland is famous for his Gorillaz musicvideos and opening animation for the "Beatles Rock Band" game, he admits the musicvideo path to success is tougher in today's recording business. Candeland now is more likely to use shorts as "trial versions" of ideas for longer projects, saying, "They're good ways of expressing visually to a producer or studio that boundaries can be pushed."
Eye on the Ocars 2013: Animation
Outsider art draws audiences | Shorts love sparks long careers | The sport of animated shorts