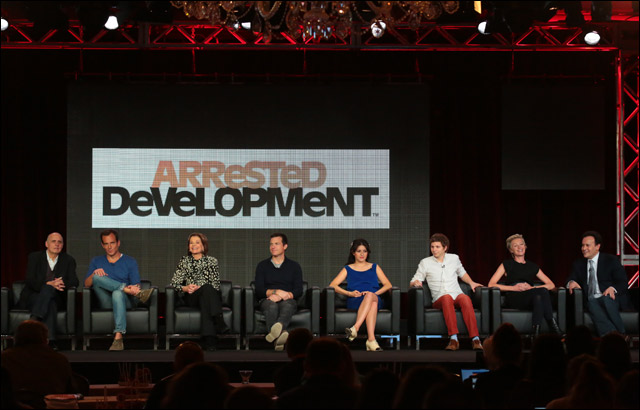 Above: Ted Sarandos and of the cast of "Arrested Development" at TCA. (Photo by Stewart Volland for Netflix.)
It was a Bluth family reunion during Netflix's portion of the Television Critics Assn. tour Wednesday in Pasadena.
Internet chatter about resurrecting a canceled series is par for the course these days, but rarely does that talk translate into a revival. Yet, to the delight of critics who have championed "Arrested Development" since it was a low-rated comedy that debuted on Fox 10 years ago, the show is back.
Creator Mitch Hurwitz, who was joined onstage by the comedy's entire cast except for David Cross and Tony Hale, explained the format for the updated version of the Emmy-winning skein that ran for three seasons: On Netflix, there will be 14 "Arrested Development" episodes, each running slightly less than 30 minutes.
The biggest difference for Hurwitz and his writers in penning episodes for the Fox run vs. the Netflix revival is distinct. In its original run, as with most shows, several characters were often interacting with one another. For the Netflix-viewing experience, however, each episode will focus on one character.
That storytelling device was necessitated by the actors' being already locked into other projects, and their availability to gather all at the same time was limited.
"We dedicated each episode to a different character's point of view," Hurwitz said. "It was a fun and engaging creative challenge."
Because of that difference, star Jason Bateman said fans shouldn't come in with sky-high expectations.
"You should not compare these episode to the series," he advised.
In a nod to how technology and the viewing experience have changed since a decade ago, all episodes of "Arrested Development" will be available simultaneously.
Although auds can watch in any order, Hurwitz said there will be creative connective tissue to entice viewers to watch from the first episode and work their way through. That will deliver "the maximum number of surprises."
There remains hope that there will be a "Arrested Development" film to follow the Netflix endeavor, but that is far from a certainty.
As the panel concluded, Hurwitz, looking over the cast, was nostalgic in seeing what he had borne. He was also quick to realize that both the show, and its actors, have grown in stature over time and the experience was something he could never re-create from scratch.
"We couldn't afford to do the show with what these people are worth now," he said, laughing.