Winning an Oscar for animated short — or even earning a nomination — can lead to a career in features.
During the 1930s, Walt Disney used his Academy Award-winning "Silly Symphonies" to train his artists for his first feature, "Snow White and the Seven Dwarfs." More recently, the acclaimed Pixar and Aardman studios built from shorts to features: The "Toy Story" features — and the Pixar Studio itself — grew from John Lasseter's Oscar-winning "Tin Toy" (1988), while Aardman's "Creature Comforts" (1990), "The Wrong Trousers" (1993) and "A Close Shave" (1995) paved the way for "Chicken Run" and "Wallace & Gromit in the Curse of the Were-Rabbit."
"Our Oscar-winning films opened doors, especially the 'Wallace & Gromit' shorts: They made people take us more seriously," says Aardman co-founder Peter Lord, a co-director on this year's Oscar-nominated "The Pirates! Band of Misfits." "Studio headhunters are willing to give people who have made Oscar-winning shorts some kind of tryout on the basis of that success."
During the '30s, '40s and '50s, Disney, MGM and UPA dominated the animated-short category. When the Hollywood cartoon studios began closing in the late '50s, the Oscar went to independent artists and foreign animators, beginning with John and Faith Hubley's "Moonbird" (1959) and Yogoslav director Dusan Vukotic's "Ersatz" (1961). These artists explored new visuals styles, unusual content and new techniques that were later adopted by the entertainment industry.
Computer animation, which dominates American feature animation, first gained public attention through the Oscar-nominated shorts "Hunger" by Peter Foldes (1974) and Lasseter's "Luxo, Jr." (1986). The Aardman films helped spark a renaissance in stop-motion that extends to three of this year's toon feature nominees, "Pirates," "Frankenweenie" and "ParaNorman."
"Throughout the industry, there is a great, ongoing appetite for novelty. I don't mean just cheap tricks, but novelty. People are looking for the new big idea," Lord continues. "Short films offer artists a place to play and experiment: a young filmmaker can find his or her voice and style, or introduce a technical innovation."
Not every Oscar winner or nominee has parlayed that distinction into a deal with a major studio.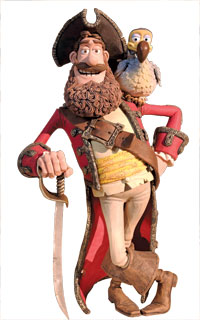 Some artists, like the Hubleys, preferred to remain independent. Others have been perceived as too far outside mainstream taste. Bill Plympton earned Oscar nominations for "Your Face" (1987) and "Guard Dog" (2004), but studio executives looked askance at his often outrageous content, while he chose to keep his hand-drawn operations small.
"The Oscar nominations gave my career a huge boost; I'm a heavyweight now in the animation world," Plympton says. "If anyone introduces me, it's always 'the Oscar-nominated Bill Plympton.' But I'm not a Hollywood person. I'm more of an indie filmmaker and my goal is to make films that appeal to adults. Hollywood is very closed-minded about animation: They want family entertainment."
Plympton has made six feature-length films, and is at work on a seventh. But he's made them on his own, and is conducting a Kickstarter campaign to finance "Cheatin'," which he hopes to complete in June.
"Even though I was Oscar-nominated, Hollywood people were afraid of my content: It wasn't family-friendly, so they felt it wasn't really animation, that there's no market for it," he says. "I think the audience for Tarantino is the audience for my stuff."
Plympton notes that American audiences have grown to accept more diverse visions in animation, citing the critical success of "Persepolis," "The Triplets of Belleville" and "The Secret of Kells": "The U.S. still lags behind Europe in appreciation of graphic novels for adults, and the same thing is happening with animation. I think those films, which were huge successes in Europe, will open more avenues for adult animation here."
Eye on the Ocars 2013: Animation
Outsider art draws audiences | Shorts love sparks long careers | The sport of animated shorts