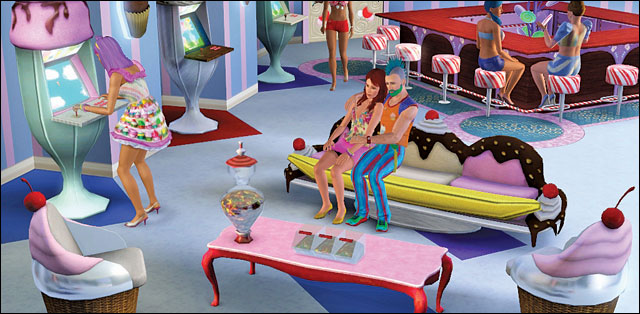 The Sims has long been one of the strongest brands in Electronic Arts' video game catalog. Millions of players form a vibrant, active community whose loyalty to the game hasn't wavered in the franchise's 12-year history.
Among those fans is pop sensation Katy Perry, who has had a long working relationship with EA — and spent the better part of 2012 as an ambassador for the game.
Perry and EA first got together in 2008, when the singer's star was at the start of its meteoric rise — and EA's inhouse music department caught wind of her. The collaboration led to a "Simlish" (the jibberish language of the game) version of her then-burgeoning hit "Hot & Cold" that fans devoured.
Last year, they took the relationship to the next level.
"This is the biggest and best collaboration we've ever done with an artist," says Stacey Brand, director of marketing and partnerships for Electronic Arts. "Katy is very hands on, creative and passionate about making sure the experience is authentic and real to life. And ensuring (it was) true to her."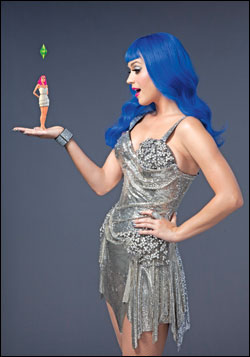 That partnership resulted in a pair of additions to the series. "The Sims 3: Showtime" lets players try to work their Sims' way up the ladder to become stars. And "The Sims 3: Katy Perry Sweet Treats" recreated the candyland theme of her recent tour. "A lot of the fashions and costumes we used in the game were, if not the same, very similar to what she used," says Brand.
The hook in both of the expansion packs was capturing the feel of Perry's unique style, something the singer acknowledges is a pet peeve.
"I like changing my hair color," she says. "On a Sim, I can do it once or twice or three times in one day. I'd have to probably shave my head if I did that in real life."
Of course, the games also feature Simlish versions of her other hits — a process that involves a team "translating" the songs, then having Perry re-record them in that language. ("Last Friday Night," for instance, becomes "Las Frooby Noo.")
The end of 2012 marked an end to the formal relationship between Perry and "The Sims," but Brand says the publisher remains open to continuing it. The fan bases of Perry and the game intersect nicely and the singer's love of the game was obvious.
"We'd love to keep that relationship open," says Brand. "We're always trying to create new content that appeals to our players."