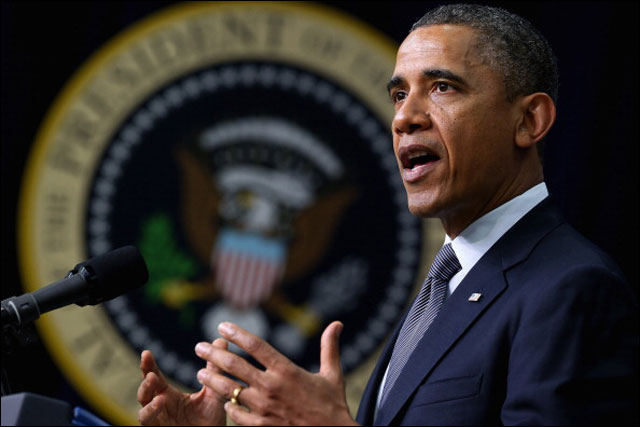 President Obama's announcement of a set of proposals to combat gun violence included a call for more study of the impact of violent videogames and other media, ensuring that the entertainment industry will be part of the debate even if the central focus of the White House was on the proliferation of firearms.
While parents orgs have called for more extensive measures having to do with media violence, including possible limits on the advertising of violent content, Obama's proposals include asking Congress to provide $10 million to the Centers for Disease Control to "conduct further research, including investigating the relationship between videogames, media images and violence." The wording of the plan seemingly leaves room for study of violence on TV and in the movies, as well as on the Internet, but Obama singled out the videogame business in his White House appearance Wednesday. "Congress should fund research into the effects that violent videogames have on young minds," he said. "We don't benefit from ignorance. We don't benefit from not knowing the science of this epidemic of violence."
Several industry associations, including the MPAA and the Entertainment Software Assn., issued statements that pledged cooperation with the administration, even if there is some skepticism over the link between violence in entertainment and real-life mayhem.
The ESA, which reps videogame firms, called the recommendations a "thoughtful comprehensive process" and said its members "concur with President Obama's call today for all Americans to do their part, and agree on the report's conclusion that the entertainment and video game industries have a responsibility to give parents tools and choices about the movies and programs their children watch and the games their children play."
Nevertheless, it noted that the "same entertainment is enjoyed across all cultures and nations, but tragic levels of gun violence remain unique to our country. Scientific research and international amd domestic crime data all point toward the same conclusion: Entertainment does not cause violent behavior in the real world."
A quartet of industry assocations, including the MPAA, the National Assn. of Broadcasters, the National Cable and Telecommunications Assn. and the Independent Film & Television Alliance, also said they "support the president's goal of reducing gun violence in this country," and added that they "stand ready to be part of the conversation and welcome further academic examination and consideration on these issues as the president has proposed."
A bit curiously, two other orgs, the Directors Guild of America and the National Assn. of Theater Owners, did not take part in the joint statement, even though they did lend their name to a statement after Vice President Joe Biden met with industry representatives on Thursday. Representatives for both orgs said they would have no comment.
Obama's proposal for a study was just a small part of a series of legislative recommendations, including a renewal of a ban on assault weapons and limits to high capacity magazines, in addition to 23 executive orders designed to show immediate action in response to the Newtown, Conn., shooting rampage. The executive orders focused on such areas as improving background checks and mental health, as well as one that frees the CDC to conduct research on the "causes and prevention of gun violence." Even though Congress has barred scientific agencies from using funds to "advocate or promote gun control," the administration said such studies would not be advocacy but public health research.
The only other reference to entertainment in the report — titled "Now Is the Time" — came in the final paragraph, a reference to the industry's "responsibility" to give parents "tools and choices" to guide them on entertainment options for their children. Biden's meetings included extensive talk about the voluntary ratings systems for TV, movies and videogames, and has raised speculation that the industry could make further enhancements to the guidelines.
Another factor is the extent to which there may be scrutiny of youth access to digital platforms, which are largely free of the voluntary ratings systems. Although the White House call for a study was vague on this point, there have been complaints for some time among traditional media players that they are being singled out while the Internet sector is free from such scrutiny, even as digital media are a greater and greater part of daily viewing habits. Sen. Jay Rockefeller (D-W. Va.), chairman of the Senate Commerce Committee, said he planned to introduce legislation next week calling for a National Academy of Sciences study of videogame violence as well as video violence. Rockefeller has indicated he would like to address the issue of online video.
Also telling is what Obama's proposals did not contain, like calls to limit marketing of violent content on TV and in movie theaters.
Last week, Common Sense Media, a parents org concentrating on media content, called for a series of measures that included giving the FCC authority to restrict marketing violent videogames, movie trailers and television promotions when significant numbers of children are watching.
James Steyer, the CEO of Common Sense Media, praised Obama's proposals in a statement. "By calling on Congress to direct $10 million to the Centers for Disease Control for the research on the possible linkage between violent videogames and other media images and acts of violence, our country is taking an important first step towards protecting the most vulnerable among us," he said.
In an interview, Steyer said he "believes that this starts with gun control and responsible gun laws." Although he said "much more needs to be done" when it comes to media violence, he recognizedthat there is little that can be done legislatively.
"Much of what needs to be done around more responsible videogame and entertainment conduct needs to be done by the leadership in the entertainment industry," he said. "The real leadership, the stuff would have a real impact, would be when responsible CEOs step forward and put their money where their mouth is."