Ask double Oscar nominee Andy Nelson about his sound mixing work on "Les Miserables" or "Lincoln" and he'll tell you about the subtle or even silent moments in both movies that he loves.
"Even though I've worked on war films, I'm not a whiz-bang kind of guy," laughs Nelson, who won the sound Oscar for 1998's "Saving Private Ryan."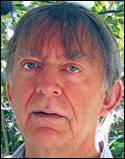 The London native started his career at the age of 16 as a projectionist. He loved movies and wanted to be around them but had no idea where that might take him. He immersed himself in films like "Butch Cassidy and the Sundance Kid" and "Midnight Cowboy" as they unspooled. Then he found his way into sound work at the BBC.
"I've been mixing for years but my heart's always in my throat when the director walks through the door," Nelson says. "And that's good because you never want to take the work for granted."
Eye on the Oscars 2013: Vfx, Sound & Editing
Want better Oscar ratings? Play up visual effects. | Sound editors added true grit to contenders | Sound mixers find balance between effects and music | 'Lincoln' editor Kahn had to juggle massive ensemble | 'Playbook' editor Cassiy followed winding road | Editing 'Pi' was no piece of cake | Double-nominee Goldenberg serves up fine cuts | Double-nominee Andy Nelson likes subtle sounds