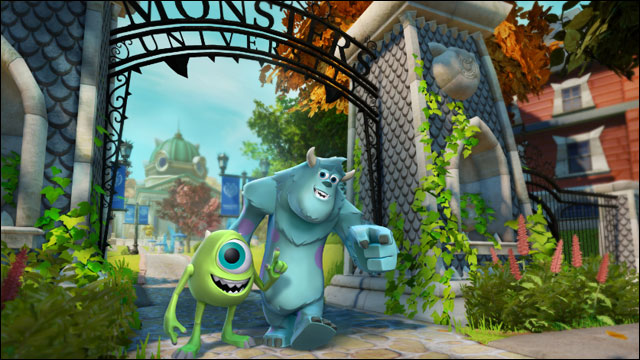 There's a lot of "Toy Story" in Disney's new Infinity game platform the Mouse House plans to launch in June.
Designed as an online toy chest that offers up Disney's characters across a variety of devices, including videogame consoles and mobile devices, Infinity will "bring together the best of Disney IP, past, present, and future," said Disney Interactive co-president John Pleasants, as the company unveiled the platform at the El Capitan Theater in Hollywood on Tuesday.
"Disney Infinity is not a single game," Pleasants said. He emphasized that it is a gaming platform that will grow over time with more characters and worlds in which gamers can interact with Disney's characters.
With Infinity, Disney is clearly looking to capitalize on new forms of gameplay that younger auds are gravitating to, especially as new properties like Activision's "Skylanders" have proved popular with kids, leading to spinoffs like "Skylanders: Giants."
Infinity will also offer up a line of 17 figures kids can collect, and like "Skylanders," players will place Disney characters on a game pad and teleport them into the game they wish to play. Another 40 collectible interactive pieces will enable gamers to customize their experiences.
The characters have been reimagined with a stylized look that better connects the figures into the gaming world.
Players will use the characters and settings to create environments and stories, Disney Interactive said. That will be done through the purchase of themed play sets that will initially be based around "Monsters University," "The Incredibles" and "Pirates of the Caribbean" this summer.
John Lasseter, Disney's chief creative officer, admitted he was resistant to the idea of incorporating all of Disney's characters in one game, but warmed up to the idea when he reflected on how kids play with a variety of toys in imaginative ways, a theme of his "Toy Story" films.
Video game developer Avalanche Software said "Toy Story 3" was the inspiration behind Disney Infinity, with the game's free-form play pattern significantly expanded for the new platform. Idea for Disney Infinity was developed when Disney Interactive wanted to expand the initial idea for a "Toy Story 3" game sequel.
"This is one of the most creative things in the interactive world that I've ever seen," Lasseter said. "I'm really excited."
The Disney Infinity starter pack will come with a $74.99 pricetag, with play sets selling for $34.99, three-figure packs priced at $29.99 and individual figures for $12.99. Power disc packs featuring unique powers, customizations and gadgets will retail for $4.99.