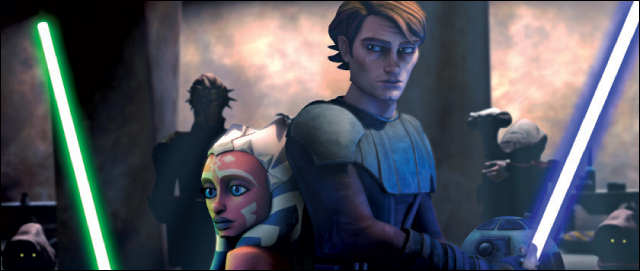 Young fans who first encountered "Star Wars" through the Cartoon Network's series have bonded with new characters like Ahsoka Tano, left, and see Anakin Skywalker, right, the future Darth Vader, only as a hero. But the show's creators have had to balance the tastes of new fans with those of sometimes-skeptical baby boomers who loved the movies first.
"Star Wars" became a global entertainment franchise on the strength of a movie trilogy that told the story of young Luke Skywalker's battle against the evil Galactic Empire and its champion, Darth Vader, Dark Lord of the Sith. The stories captivated baby boomers and Gen Xers. But that was decades ago.
Over the past few years, a fresh generation of enthusiasts have discovered the saga's canon through "Star Wars: The Clone Wars" on Cartoon Network — and they see the franchise very differently, since Anakin Skywalker, who is fated to become the malevolent Vader, is the show's hero.
"These kids grew up watching Anakin, not Luke," says the skein's supervising director, Dave Filoni. "They have a different reaction to the movies that I know very well. When they watch 'A New Hope' (Episode IV, the original 'Star Wars') and hear Darth Vader kills Anakin, they're like 'No way! This guy sucks!' "
Filoni has had to juggle this bifurcated demographic, ostensibly catering to young boys while still offering older "Star Wars" fans content that expands upon a universe they dove into decades ago, through 100 episodes of "Clone Wars" — and counting.
Cartoon Network moved "Clone Wars" from Friday night to 9:30 a.m. on Saturdays for the program's fifth season. The series has been a solid performer for Cartoon Network, and while the Saturday morning transition for the show has shown a dip in overall live viewership, "Clone Wars" still at times ranks as the top telecast of the day among boys 9-14. Lucasfilm did not comment on rumors the skein will transition to Disney XD in the wake of Disney acquiring Lucasfilm.
Young or old, fans of the saga can often approach "Clone Wars" with their personal misgivings.
"You can't always please them," Filoni says. "But I grew up with all of these fanboys, so I'm aware of all of the arguments."
The wrath of the fanboy factored into the casting process for "Clone Wars," particularly when it came to Anakin Skywalker's protege, Ahsoka Tano, a character that wasn't in preexisting "Star Wars" mythology.
"I sat down with Ashley Eckstein, who plays Ahsoka," Filoni says. "And I told her that a lot of people won't like this character and it's not your fault! We needed someone who could smile against any angry fan bashing her and say, 'I appreciate your concerns and I'm doing the best I can.' "
As "Clone Wars" is set between "Episodes II: Attack of the Clones" and Episode III: Revenge of the Sith," the series must inevitably end, and many of its characters — perhaps including Ahsoka — probably won't survive. Filoni says confidently that he and George Lucas "have an endgame in mind."
"We used to joke about it: Who do we kill? Who do we not kill? We have an ending to the whole thing, but I can't say how far out that is in terms of episodes. … We're in a wait-and-see mode."
It is possible, though, that characters who do survive "Clone Wars'" finale could eventually seed forthcoming "Star Wars" movies, now that Disney and Lucasfilm are committed to doing as many as three pics a year.
"These characters are meant to go along with these movies … who knows if it will show up in future movies," Filoni says. "It's all just a part of the 'Star Wars' world you're watching. … I don't think that in 1977 that even Yoda could look into the future and see how exciting it was going to be."

'Clone Wars' spans generations of fans | 'Clone Wars' made galaxy fun again | Moody look of 'Clone Wars' inspired by '70s classics | 'Clone Wars' guest stars galore