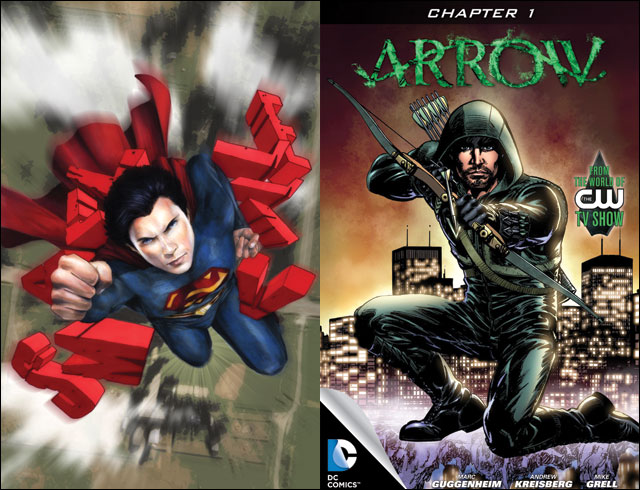 Comic book covers for "Smallville," left, and "Arrow"
Now that its entire lineup of comicbooks is available on mobile platforms, DC Entertainment has found a creative new way to grow its digital publishing biz through spinoffs tied to other media properties like TV shows, videogames and toys that feature its stable of superheroes.
Under the "Digital First" banner, DC has launched comicbooks for the new CW series "Arrow" that continue storylines for characters in-between episodes or when the show's on hiatus. After a 10-season run, "Smallville" lives on as a digital book starring the show's characters and likenesses of its actors. "Batman: Arkham Unhinged" is based on Warner Bros. Interactive's popular Dark Knight videogames.
Business has grown to the point where a new issue is released each day of the week for a title. Each book also launches a new installment each week, whereas readers normally wait a month for print editions of titles.
Demand has surprised even DC, which now has built a new revenue source that's separate from its traditional comicbooks.
"What we launched last year as an experiment, we'll increase the frequency now because it's gotten so popular," said Hank Kanalz, senior VP of Vertigo and Integrated Publishing, who led DC to become the first comicbook publisher to offer its titles in digital and print formats on the same day.
Digital First's success is also showing signs of expanding DC's customer base across the rest of its titles by attracting new readers to the comicbook biz, notably younger women.
When DC launched "Smallville: Season 11," a year after it ended its run on the CW, 42% of its readers were people who had never bought a digital comicbook.
"They were just fans of the show," Kanalz said. Since then, however, DC has found that those individuals have gone on to purchase other digital comics through the DC app. "It was their gateway to other comicbooks."
For "Smallville," DC turned to the show's scribe Brian Q. Miller to continue writing storylines from where the show left off after its finale.
In the digital books, DC is reintroducing characters that appeared in the show and added Batman with a costume designed to fit into the "Smallville" world that was seen on TV.
"He never appeared in the show, but his costume fits with the design sensibilities of the show," Kanalz said.
"Arrow's" executive producers also pen the "Arrow" digital installments.
"If the stories had nothing to do with the show, we don't think the interest would be that great," Kanalz said.
"Arkham Unhinged" is written by Karen Travis, behind the successful "Gears of War" game franchise.
Financially, it costs DC the same to produce the content for digital as it does for print, but it's eliminating production costs with digital, although e-tailers like Apple still collect a 99 cent fee per issue sold.
So far, DC has found that readership is fairly evenly split between smartphone and tablets and across devices that operate Apple's iOS, Google's Android, Amazon's Kindle and the Nook.
It has to be on all devices because "our goal is to broaden the reader base so we want to make sure that no matter what device you have we want to build your library accordingly," Kanalz said. "We have our material available where readers want it."
That's also good for the bottomline.
"The more new readers we pick up the better the business is in general," Kanalz said, adding that "digital purchases also often lead to people wandering into a comicbook store to pick up print books."
In fact, since going day-and-date with its comicbooks across all platforms, DC has seen a 12% increase in print sales within a year, far more than rival Marvel or other smaller publishers. Digital, alone, grew 197% from September 2011 to 2012, the company said.
DC hopes to spur additional sales through cross promotions where there's a natural fit.
"Smallville" readers are presented with suggestions to read DC's other Superman books, for example, while "Arrow's" TV-based books are paired with DC's other titles that feature the Green Arrow character.
Company plans to put more resources behind Digital First throughout the year.
It will give "Arkham Unhinged" a break Jan. 15 to launch a new book based on "Injustice," another high-profile WBIE game featuring DC's core superheroes. Book will feature a backstory leading up to the game's launch later this year.
DC also spun off its "Batman Beyond" animated TV series into "Superman Beyond" and "Justice League Beyond" through digital books. And it will launch "Batman: Li'l Gotham" for a younger readership, and "Ame Comi Girls" based on the line of anime-styled vinyl figures produced by DC Collectibles, in February. "It's a great way to get in and out of something and test people's desire to have more of the material," Kanalz said.