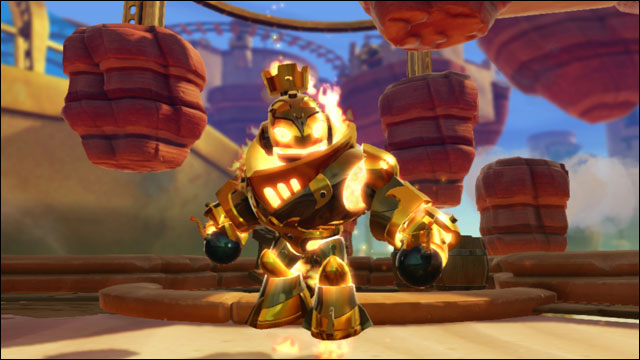 Activision is ready to keep kids interested in its "Skylanders" franchise with a third installment, "Skylanders SWAP Force."
The game, which the industry's top videogame maker will introduce at Toy Fair, in New York, next week, will feature 16 new characters with interchangeable top and bottom halves, enabling 250 unique customizable combinations. The top half, for example, determines how the character attacks and battles other beasties while the bottom determines how it moves through the "Skylanders" world.
Game will bow this fall, although Activision has not yet released a launch date.
New installment, which includes HD graphics for the first time as it introduces new worlds and storylines, was designed around customization to grow the appeal of the characters and their individual powers and abilities, Activision said.
The idea was to let kids customize their characters in the physical world and have their creations recognized in the digital world, said Eric Hirshberg, CEO of Activision Publishing.
"The idea that kids can customize their own characters in the physical world, and have their unique combinations recognized in the virtual world, is an idea as big as the concept of bringing toys to life itself," Hirshberg told Variety.
While swap-able bodies may seem like a no-brainer, "it's not something we had planned for all along" during the franchise's development," Hirshberg said. "When we started developing this year's game a few years ago, we knew we couldn't rest on our laurels and kept thinking of new ideas and innovations."
Last year's "Skylanders Giants" introduced larger characters and lights built into the characters, along with new powers.
New title features characters sized in between the classic and giants figures.
Players will be able to incorporate their entire collection of characters from the "Skylanders Spyro's Adventure" and "Skylanders Giants" games in "SWAP Force," which is expected to boost its appeal.
Not that Activision has had much difficulty in grabbing kids' attention.
Last month, "Skylanders" crossed the $500 million sales mark for Activision in the U.S. since it debuted in October 2011, reaching the milestone faster than any other kids gaming property, according to NPD Group.
"Skylanders Giants" is developed by Toys For Bob, an Activision studio located in Novato, California.
Toy Fair takes place Feb. 10-13 at the Javits Center in Gotham.
After launching "Skylanders" as a way to create a new category for videogames, "this is our third Toy Fair now," Hirshberg said. "It wasn't too long ago that people asked what the heck is Activision doing at Toy Fair? Now everyone knows."