This year, the nominees offer a more diverse array of frame-by-frame techniques than the features category, which is divided between stop-motion and CG films, all of them in 3D. All five shorts unfold without dialogue and serve as compelling reminders of how powerful animation can be in mime: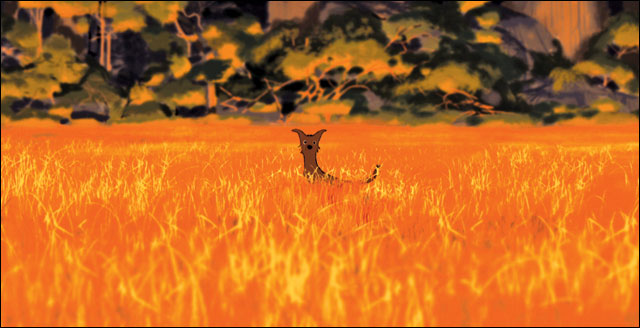 "Adam and Dog"
Disney Feature Animation designer Minkyu Lee evokes two of man's oldest relationships in "Adam and Dog." Frolicking through an over-scaled, brilliantly colored Eden, Dog pays little attention to the outsized mammoths and hippos around him. Then he meets a curious two-legged character: gentle, rather scruffy Adam. The two quickly bond, sharing the world's first game of "fetch." When Eve appears, Dog feels neglected, but follows his new friends into exile. "Adam and Dog" boasts some of the most appealing drawn animation to appear on American screens this year. Dog exhibits the eager-to-please exuberance of a real canine; Adam conveys bewilderment, pleasure and resignation through his expressions and body language.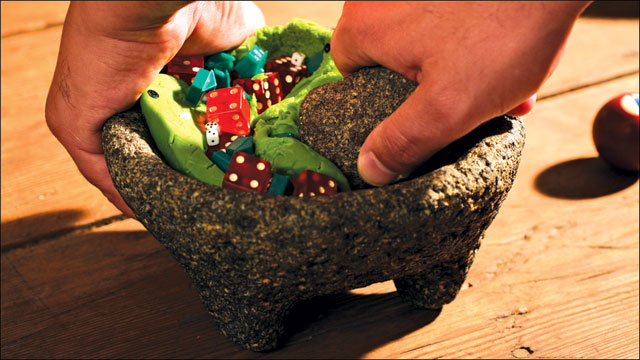 "Fresh Guacamole"
Although its creator, PES (Adam Pesapane), has cited Czech surrealist Jan Svankmajer as an influence, "Fresh Guacamole" recalls the stop-motion films of pioneer animator J. Stuart Blackton. In 1907, Blackton's "The Haunted Hotel" dazzled audiences with scenes of a knife that appeared to slice a loaf of bread by itself. More than a century later, PES shows viewers an offbeat array of objects transforming into a popular party dip. A hand
grenade
-avocado has a pool ball for a pit and green clay for pulp. A cook's hands literally chop a baseball-onion and a pincushion-tomato into dice. Naturally, a poker chip snaps off in the finished guacamole.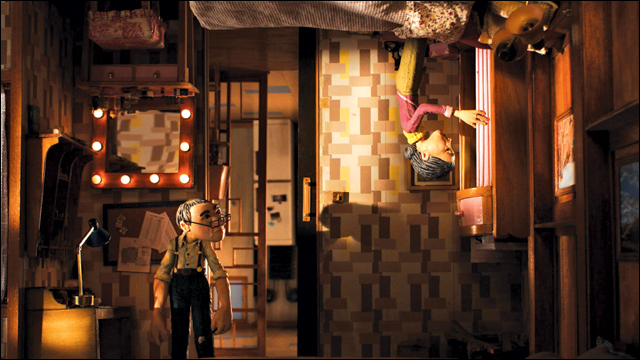 "Head Over Heels"
In the award-winning student film, Timothy Reckart and Fodhla Cronin O'Reilly use stop-motion animation of clay figures to depict an older couple who are on such bad terms, they can no longer agree which way is up. Gravity is suspended in their floating house; each partner's floor is the other's ceiling. They share the space reluctantly, keeping interaction to a minimum. A clumsy but well-intended attempt at reconciliation devolves into a fight that ends the house's flight — and their curious way of life. Like previous Oscar winners "The Big Snit" and "Bob's Birthday," the duo suggest that love can flourish in the oddest circumstances.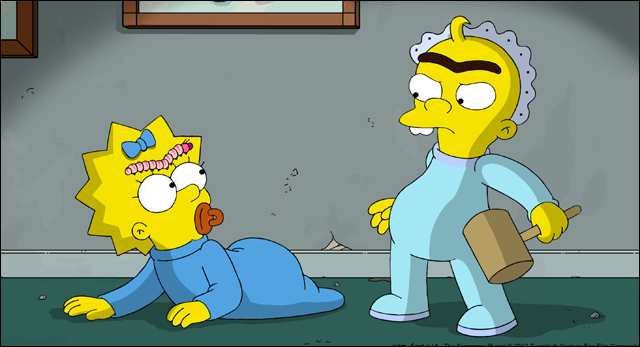 "Maggie Simpson in 'The Longest Day Care'"
TV's fave dysfunctional toon family returned to the bigscreen for the first time since their hit 2007 feature with a Simpsons-themed short before "Ice Age: Continental Drift." As Maggie wends her way through the Ayn Rand Day School for Tots, she finds a blue butterfly. She makes it her mission to protect the delicate creature from her arch-enemy, mono-browed Baby Gerald, who wants to squash it. The characters' flat designs make a successful transition to 3D without looking like squeak toys, while director David Silverman uses the extra dimension in long tracking shots that follow Maggie as she navigates a facility that might have been imagined by a pre-K Kafka.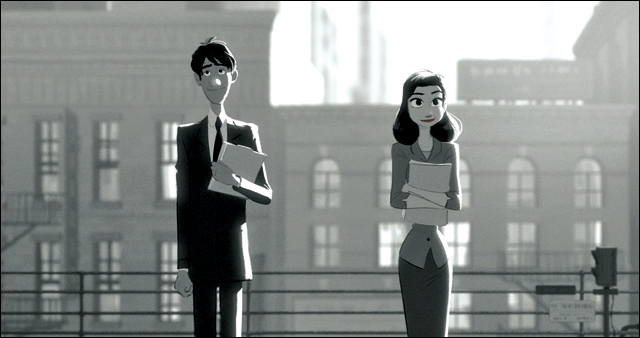 "Paperman"
A pleasant young office worker and a pretty secretary meet when the morning breeze blows one of the forms he's carrying against her face in
John Kahrs
' "Paperman." As the monochrome couple share a laugh over the bright red lipstick print left on the page, the attraction is immediate and mutual, but they both have to go to work. Stuck at his desk, the young man launches an armada of paper airplanes in an effort to get her attention. Near-misses leave her unaware and him frustrated, until the paper planes unite to bring them together. Disney's traditional animators worked with the CG crew to give the unnamed pair livelier, more appealing expressions than purely computer-animated characters.
Eye on the Oscars 2013: Animation
Drawn to century old technique | Disney hits the comeback trail | A look at the short film Oscar contenders