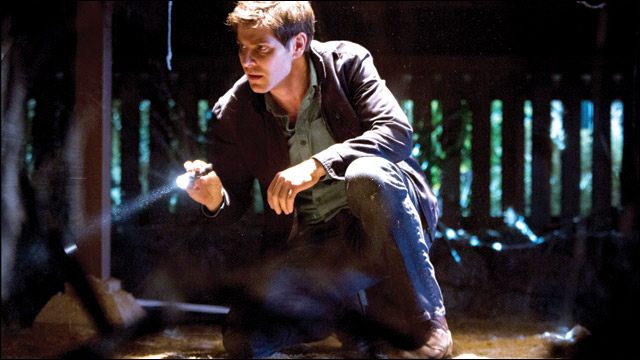 (Above: NBC is tapping into its online fanbase, producing a "Grimm" Web series that preems Jan. 25 on NBC.com.)
A growing online fanbase is encouraging NBC to dramatically increase the volume of original digital content it produces to keep viewers of its TV shows engaged in between seasons, while also giving young writers a platform through which to launch their careers.
To complement the Peacock's procedural-fantasy drama "Grimm," the net tapped Nicholas Peet, a writer's assistant on the show, to produce a Web series that will bow on NBC.com on Jan. 25. ("Grimm" is currently on hiatus and will return to NBC's air in March.)
As the show's head Digital Writer, Peet is producing four short webisodes that he penned and directed. Series centers on fan fave character Monroe and Rosalee's Spice Shop.
"The junior writers really are our point people" for digital content, Rob Hayes, NBC's exec veep of digital media, told Variety.
By tapping junior writers to create digital material, NBC is giving them practice runs as TV content creators, while letting senior scribes tackle the on-air realm without the sometimes taxing demand for additional online material. During creative staff meetings, for example, young scribes tasked with a show's digital presence keep their ears perked for Web inspiration.
"It's really exciting to let these young writers create video content," Hayes said. "They are even our point people when it comes to digital extension. For example, if a show is going to reference a website, (NBC's digital team) get the heads up early on so we can create that site…'Grimm' has such a strong fanbase, and we felt that while we're on hiatus we wanted to put content out there to keep the fans engaged. We were in development with Nick to figure out what we could do."
Peacock has experimented with digital content for years, logging its first big success with the series of webisodes tied to "The Office." "Heroes" took the online space as an opportunity to extend the show's mythology. For programs looking to bridge the quiet gap between seasons and keep fans engaged, the Internet offers a wealth of opportunities to keep a skein visible.
In terms of NBC's other programming, net will debut "Ask Lauren" webisodes for its frosh comedy "Go On," which were also handled by a junior writer. Online content is also in the works for "Revolution."
"This season we have digital writers and comprehensive strategies on almost all of our shows," Hayes said. "Every show has a way of living online in their own way for fans based on what they're looking for…The goal is to have a substantial amount of shortform video content for fans on a variety of platforms."