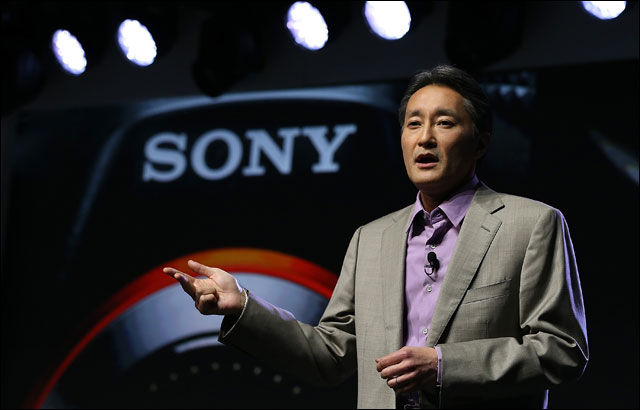 Above: Sony CEO Kazuo Hirai speaks during a Sony press conference at the 2013 International CES at the Las Vegas Convention Center (Photo by Justin Sullivan/Getty)
As Kazuo Hirai looks to revitalize the Sony brand, he's not turning his back on Sony Pictures, replicating what former chief Howard Stringer did well: showing off some of the studio's upcoming projects to charm throngs of CES crowds with a little Hollywood razzle-dazzle to tout the electronics company's newest products.
This time, however, there were no celebs onstage. Instead, Hirai took a more conservative approach and spoke of M. Night Shyamalan's sci-fi epic "After Earth" and Sony's efforts to lead the entertainment industry's conversion to digital 4K, as well as upcoming titles "Elysium" and "Oblivion." Over the past two years, Springer brought Will Smith and Seth Rogen on stage to promote "Men in Black 3" and "The Green Hornet." Smith and his son star in "After Earth" but were absent Monday night.
Hirai said Sony wants to expand 4K production into TV drama and commercials and to make it the industry standard. In addition to native 4K movies, SPE and Sony ColorWorks are getting ready to re-release library titles remastered on 4K Blu-ray. "Another world's first," Hirai said. "I hope you can see 4K is not the future, it's now, and Sony is leading the way."
Company announced it is launching a 4K video distribution service, making 4K movies from Sony and other companies available for download.
Separately, Sony Pictures Home Entertainment announced "Mastered in 4K," a new line of Blu-ray titles, including "The Amazing Spider-Man," "Total Recall" and "The Karate Kid," which will be offered in high-bitrate 1080presolution on Sony's new 4K Ultra HD TVs.
"When I was named CEO," Hirai said, "I made a commitment to revitalize Sony's electronics business." He identified three core business essential for that turnaround: "Digital imaging, games and mobile."
The lack of focus on Sony Pictures may not help quell rumors of a potential sale of the studio as Hirai looks to turn around Sony while dealing with struggling TV sales.
He touted the 84-inch Bravia 4K TV, new investments including EMI music, and new alliances, notably Olympus for medical imaging.
Sony Electronics prexy-COO Phil Molyneux took over to introduce the Xperia Z smartphone. Unit has a 5-inch 1080p screen, 13 megapixel camera for both stills and video and near field communication (NFC) for sharing content wirelessly with other Sony devices. He also introduced wireless speakers, sound bars and the "Personal Content Station," which downloads content when another Sony device is touched to it.
Sony is introducing a 4K consumer video camera and TVs with upscaling to "near 4K resolution," said Molyneux.
The first mention of Sony Pictures Entertainment came 25 minutes into the event, when Molyneux talked about the remastered 4K content available with the 4K Bravia TV. "We realize an 84-inch TV isn't for everyone," said Molyneux. New 4K TVs include 55-inch and 65-inch models "at a more accessible price range."
Molyneux introduced "TV SideView," a program guide app for smartphones and tablets that doubles as a universal remote control. At that point, some 17 minutes into the presentation, he used "Skyfall" as an example of something a viewer could get information on.
Sony's presser was presented at its CES booth — if a space approaching 100 yards wide can be called a "booth" — located as usual in a corner of the Las Vegas Convention Center. A circular projection screen loops above the entire space, with a stage at one end. Journos jammed in to take in the latest gadgets from the Japanese conglom.
Sony, like other TV makers, is making 4K UHD TV a big part of its pitch. The demo at the Sony booth asks viewers to stand one and a half screen-heights from the screen — much closer than TV viewers normally sit — to show how immersive the experience can be.
Hirai unveiled a prototype 56″ OLED 4K TV. The combination of OLED and 4K should produce a startling picture — if and when it makes it to retail.