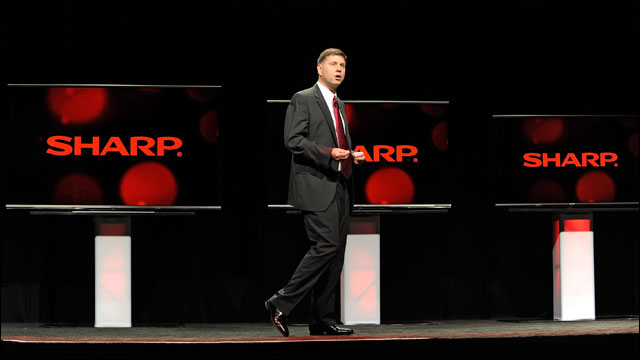 Above: Sharp Electronics Vice President of Strategic Products Marketing Jim Sanduski unveils a new line of Sharp high definition televisions Monday in Las Vegas.
Sharp is doubling down on giant TVs in 2013, and plans to enhance them for the second screen.
The manufacturer announced its 2013 lineup with 22 models that were 60-inches or larger at its press conference at the International CES, in Las Vegas on Monday.
"For U.S. consumers, bigger is absolutely better," said John Herrington, president of Sharp Electronics Marketing Co of America.
So, apparently, is brighter as Sharp unveiled a new screen mode called "Super Bright" that detects bright areas from a signal and enhances them, resulting in a 50% brighter screen.
With the rise in second screen usage by consumers, Sharp will also renew its focus on regaining user attentions. All Internet-enabled sets in its 2013 lineup will feature a split screen mode, allowing users to watch TV and surf the Web simultaneously. Those same sets will include built-in WiFi, a dual-core processor and support for both HTML 5 and Flash files.
For users that refuse to put down their phones or tablets, Sharp plans to offer an app allowing consumers to use their iOS or Android device as a remote control. The app will also allow them to "beam" music and other content from their mobile devices to their sets.
And rather than having people turn off their sets when they're not in use, Sharp will offer an optional "Wallpaper mode," showing off works of classic art (or allowing users to showcase their own pictures) with a low power consumption level and the same brightness level as a painting hanging on the wall, according to the company.
Company also unveiled its Ultra High Definition/4K line of sets, but again showed off an 85-inch 8K set (which made its debut last year).