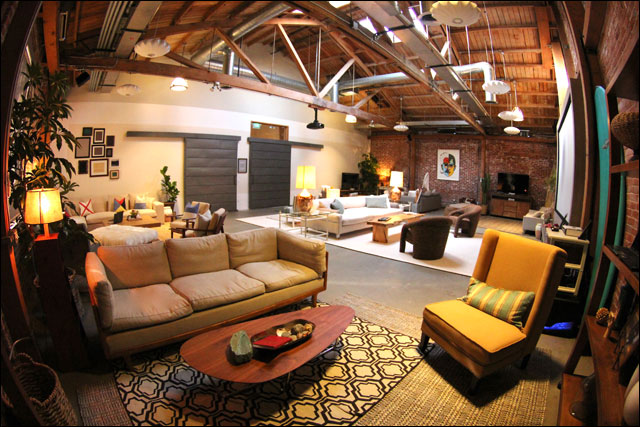 In the midst of a corporate makeover, opening new stores and rolling out new software for its videogame console, mobile devices and personal computers that emphasize a fresher design, Microsoft is also trying to change the way Hollywood views the company in its own backyard.
In October, the company opened the doors to a new private meeting space in Venice, Calif., as a way to demonstrate how Microsoft's technology, including Windows 8, Xbox Live, Office, Bing and Skype powers various platforms from TVs to set-top boxes.
At the end of Abbott Kinney Boulevard, dotted with hipster-filled restaurants and boutiques, and just a short walk to the beach, the space is a far cry from the stuffy beige boardrooms of most corporate office buildings.
Designed to look like a living room with leather couches, designer furniture, a fireplace and slick screens of various sizes, "the Microsoft Experience space is very close to my heart," said Shawn Sanford, senior director of lifestyle marketing for Microsoft, "When it comes to technology it's always about showing off product." The company felt the Venice outpost was a creative way to introduce Microsoft's products to the broad range of individuals that make up the entertainment community in a setting in which they're comfortable.
And there are no Power Point presentations, just hours of Kinect on screens as large as 155 inches.
"Rather than tell people what our technology can do, you actually walk in and do it," Sanford said. "You can imagine it like your living room and see all the pieces work the way they're supposed to."
Furniture and other pieces in the room came from local artists.
"When you merge art and science, there's something that's really magical," Sanford said.
Sanford considered various buildings around Los Angeles before moving into a former furniture warehouse for designers Charles and Ray Eames.
"When you think about technology and you're forward looking, it's always important to have that nod to the past," said Sanford, who only found out about the building's historical past after moving in. "I wish I could have planned it, but we got lucky."
Space will also be used to support local organizations, hosting fund raisers, for example.
"We do a lot of work with causes and charities and this is a space to give back," Sanford said.
Microsoft plans to stay in Venice for the next three years and has its sights set on new Microsoft Experience locations in other parts of L.A., as well as New York City — places where there are "cultural revolutions," Sanford said.
But he concedes, "It all depends on how this one goes."