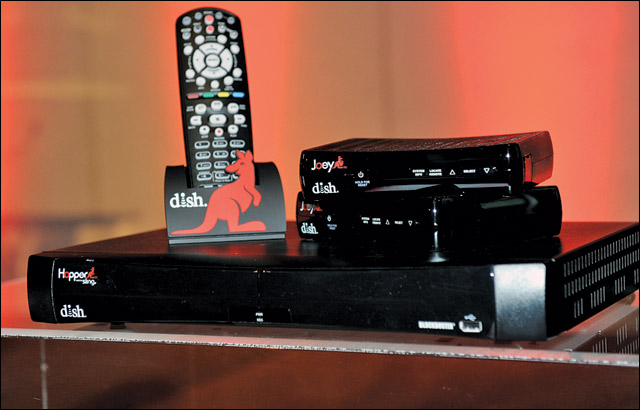 Above: Dish Network complained that CBS denied CNET its editorial independence when it asked the site not to award the Best of CES prize to the Hopper with Sling DVR, which allows ad-skipping.
While Dish Network's execs have been exchanging barbs with broadcasters over its commercial-skipping DVRs, one unexpected victim wound up in the middle of the war of words: CNET.
Although CNET named Dish's Hopper with Sling Whole-Home HD DVR a finalist for its "Best of CES Awards," the product wound up being denied the chance to win the final prize by CBS.
CBS owns CNET, and made the executive decision because the network believes Dish's ad-skipping technology could hurt future revenues. It didn't want one of its divisions supporting a potential threat to its bottomline, as a result.
In fact, network is in litigation with Dish regarding Hopper's Prime Time Any Time and its AutoHop commercial-skipping features.
With online news services increasingly influencing consumer purchases of electronics and other services — and any potential kudos helping sales — Dish was naturally irked by the move.
It alerted the media on Thursday of its disappointment with "CBS' interference," saying "We are saddened that CNET's staff is being denied its editorial independence because of CBS' heavy-handed tactics," Dish CEO and president Joe Clayton said. "This action has nothing to do with the merits of our new product. Hopper with Sling is all about consumer choice and control over the TV experience. That CBS, which owns CNET.com, would censor that message is insulting to consumers."
CNET's review, entitled "Dish Hopper with Sling: HD DVR almost has it all," praised the device's integration of Slingbox and its ability to "transfer recorded programming to your iPad for viewing on the go without an Internet connection."
"DISH is not afraid to stand up for consumer rights and we think that Hopper with Sling will do well, despite the network's questionable actions," Clayton said. "We have had a long, productive relationship with CNET's editorial staff and we look forward to continuing that relationship. We welcome their unbiased evaluation and commentary of our products and services."
CBS had no comment but CEO Leslie Moonves has been clear in his position against Dish's devices.
"Hopper can't exist," Moonves said at an investor conference last September, where he promised to pull CBS from the satcaster's lineup if Dish prevailed in court where ABC, Fox and NBC also have separate cases against its commercial-skipping technology. "If Hopper exists and Dish wants to eliminate our commercials, we will not be in business with them. It's pure and simple."