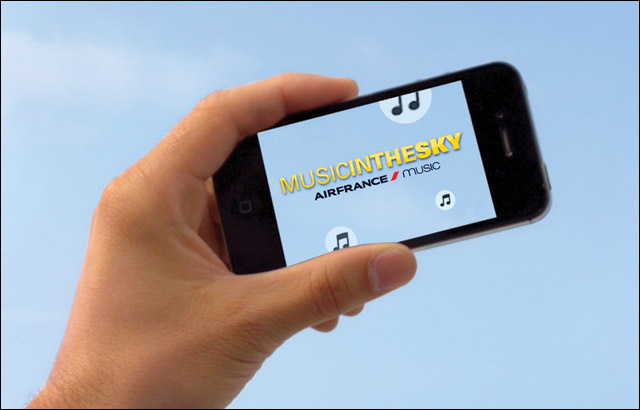 Above: Air France's Music in the Sky app is accessed by pointing a mobile device up in the air and aiming for the track users want to hear.
Airlines increasingly are finding themselves in the same position as the auto industry, having to come up with new ways to adapt to their customers' obsession with screens and apps.
Last year, Air France launched a free "Music in the Sky" app, created by agency BETC, that gives users access to hundreds of songs, including exclusive unreleased tracks, chosen by the airline's Air France Music arm that could previously only be listened to onboard flights.
Naturally, with the app coming from an airline, users must hold up the iPhone screen to the sky and aim for the track they want to listen to in order to access it. Available tracks, which have featured Francois & The Atlas Mountains, Eugene McGuinness, Villagers, Melody's Echo Chamber and Tomorrow's World, depend on the country the user is in.
"For the past 10 years, music has been an integral part of Air France's identity. Chosen to evoke the relaxed serenity of air travel, music plays a central role in brand communication," said Adeline Challon-Kemoun, senior VP of corporate communications at Air France.
App will be available for Android devices this year.
The airline said it needed to upgrade its mobile entertainment offerings because 99% of its frequent passengers use a mobile device which they have close to them at all times of the day.
But the airline also has been overhauling its in-flight entertainment systems in all of it classes — from first to economy — with new larger touchscreens (15 inches in business on the giant Airbus A380, and around 10-inches in economy) in the back of seats that offer movies and TV shows, for example, as it refreshes the brand and expands routes with larger planes like the A380. Some systems can cost as much as $3 million to install, airline industry execs say.
"For our new aircraft and existing aircraft that we upgrade we make sure we will offer new hardware that is at least in line or even better with what competition is offering," said Air France spokesman Ulli Gendrot.
At the same time, it's been upgrading seats, installing power outlets, so passengers can recharge their devices while traveling.
While other carriers also offer outlets, Air France is unique in also installing USB ports that enable flyers to download audio and video content produced by the airline, along with other programming like travel tips or documentaries about the city where it travels.
Air France is the only carrier that currently offers the service.
Still Air France finds that the most popular entertainment on its flights remain its movies and TV shows. During a flight from Los Angeles to Paris over the holidays, airline offered "The Avengers," "The Dark Knight Rises," The Amazing Spider-Man, "Magic Mike," "Prometheus," "Moonrise Kingdom," and "The Campaign" for example, but also a large collection of French titles.
"We make sure we always have a good range of the latest movies from both big studios as well as the independent on board very quickly after their cinema releases," Gendrot said. "Next to the latest movies we also have a large collection of older movies, classics as well as world movies. As we provide AVOD (Audio Video On Demand) we will make sure that we offer the passenger and especially the frequent flyers a large choice and put the customer in control for enhancing their in-flight experience."
With Wi-Fi also finding its way on board more planes, Air France will also plans to test Internet connections on one longhaul flight and whether it can offer streamed entertainment to the customers' own devices through a central server on board.
"Entertainment on board is and remains extremely important for Air France, especially during longer flights, and is one of the most important aspects for our passengers," Gendrot said. He said the airline is investing in hardware such as bigger screens and a better user interface with an iPad-like experience.