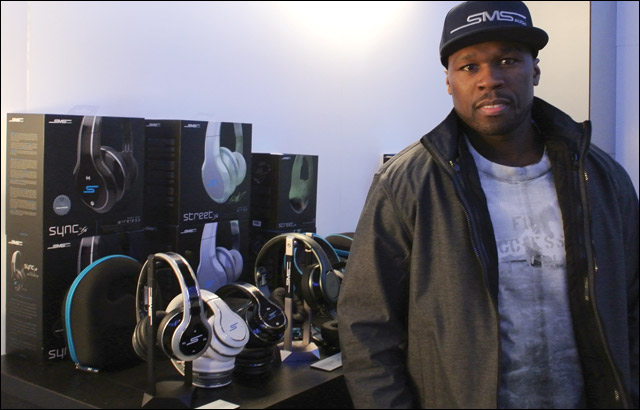 Above: 50 Cent set up Studio Mastered Sound last year and introduced his new line of headphones at CES.
While he first burst onto the scene as a music artist, 50 Cent has quickly become just as influential in the world of business.
The man born as Curtis James Jackson III joined the long line of artists with their own headphone line, founding Studio Mastered Sound (SMS) last year, which has rung up strong sales at retail. At this year's Consumer Electronics Show, he introduced Street by 50, a new high-end line ranging in price from $180 to $300.
SMS wasn't 50 Cent's first attempt at headphones.
"I've bumped my head in this space before," he said. "I invested in a company that was the wrong company. I came to CES for the first time in 2010 and presented the concept of what I wanted to do. It didn't work out with that company, so I acquired Kono Audio, which specialized in child safety products, so they understand how the ear registers sound."
He's also inviting his music industry friends to help expand the company.
Earlier this week, SMS announced mega-producer Timbaland had come on board as an investor and partner in the company.
The venture is a return to the music industry for 50 Cent, an entrepreneur whose other successful investments include Vitamin Water and Street King energy drinks, as well as his deals with Reebok and Right Guard for a variety of licensed products.
That diversification helped him break public perceptions that formed after the release of his breakthrough album "Get Rich or Die Tryin'" in 2003.
"I became that to the general public," he said. "It makes it difficult to be the guy who should be endorsing major corporations. "
Beyond his business dealings, 50 Cent has a new album due out Feb. 26 — his first in four years. And he confesses he ended up writing some 70 tracks, before whittling it down to 13-14 for the release.
He's also appearing in two upcoming films, thriller "Frozen Ground," with Nicolas Cage and John Cusack, and "The Tomb," with Sylvester Stallone and Arnold Schwarzenegger. He also recently completed filming the Robert DeNiro/Morgan Freeman holiday release "Last Vegas."
"I like to keep myself in good company," he said.
At heart, though, the rapper is a technology nut. He's tethered to his smartphone and carries a Canon camera to document his travels and a MacBook Air, which he admits can be a bit frustrating due to it's lack of optical drive.
"We're going to live completely different in the future," he said. "The general public should be more excited about CES."