Nearly every commercial for a smartphone or tablet boasts what a great job it can do with your favorite TV or film content. But network execs are still watching and waiting to see how viewers actually use the devices and what it will mean for their programming.
Recent research from Google, working with market analysts Ipsos and Sterling Brands, found that people surveyed tended to spend the short spurts of 17 minutes with a cell phone screen and about 30 minutes with a tablet but that 77% of those questioned would use a smartphone or tablet while watching television.
Albert Cheng, exec VP and chief product officer of digital media for Disney/ABC television, isn't quite ready to go along with those numbers, though.
"What we're seeing is that people are definitely spending longer time (on digital devices), consuming entire episodes, and that younger members of the household may be watching on their computers, a tablet or smart phone while others who are a little older are still watching on a television screen," he says.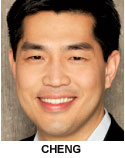 Cheng's research shows the consumption is often taking place in the home, where users can hop on their own home networks, thereby avoiding slower connections outside the home and additional fees that may exist when they use an exterior network.
"The audience is definitely in control," Cheng says. "But they've always been in control and they'll continue to tell us what they want to watch and how they want to watch it."
And, though Cheng won't say the influx of a multiscreen lifestyle will impact programming choices for the network as much as solid content, others think it's already giving some types of programs a distinct edge.
"Shows like 'Big Brother,' which lend themselves to audience participation on many different screens — you watch the show on TV and then tweet about it on your smartphone while you're watching — probably have an advantage," says Marc DeBevoise, exec VP and g.m. of entertainment, news and sports for CBS Interactive. "It becomes easy to take these types of shows across all the screens."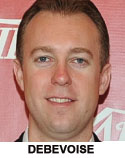 DeBevoise believes there will be a gradual evolution in how people take in their content as the number of screens in homes increases and people become more familiar and comfortable with them.
DeBevoise also agrees with Cheng that the audience will show them how they want to use the many screens now available to them.
"Younger consumers aren't as attached to only watching TV on a television, but people still want to watch things like sports on the biggest screen they can find," says DeBevoise. "We know they want to participate in things like live programming but ultimately they're going to choose how to use these screens and it's up to us to find a way to reach them there."
Multiscreen consumption is Hollywood's latest reality show
With the vast number of new screens — tablets, smartphones — coming into homes in 2012, many predicted that it would be the year the multiscreen lifestyle would become a reality. And so far the numbers bolster that idea.
Futuresource Consulting expects the number of tablets shipped in 2012 to hit around 137 million in the total global market. The international Data Corp. believes the total number of smartphones shipped in 2012 to be 1.7 billion.
"You could make a good case for multiscreen being a reality now," says Paul Erickson, senior analyst, consumer electronics and media for IMS Research. "It's not going away any time soon and people are just finding more ways to get content on screens other than their TV."
It's another matter entirely to find ways to reach consumers on these new screens, though.
"People are always interested in good content but there are new opportunities with new screens," says Erik Moreno, senior VP of corporate development for Fox Networks Group and co-general manager of the Mobile Content Venture. "I think we're looking at a time when multiscreen is a reality and we have to adjust to that."
To that end, Moreno has been working on Dyle, which is a mobile TV service that picks up special TV broadcasts of local TV channels.
"I think people want to be able to consume more of the content they like," he says. "They have the devices now but there are roadblocks like slow networks or cost and we'll have to find a way around that if we want to meet consumers on all these screens."
Highlights
1:30-2:15 p.m.: Keynote Conversation with writer-director-producer Morgan Spurlock
2:15-3 p.m.: The Digital Content Big Leagues, moderated by Xavier Kochhar, managing partner at MediaLink
As digital channels, apps, social media and more re-define entertainment for audiences, digital media leaders mull how to best engage auds today and into the future, and best monetize new digital content vehicles.
Confirmed Speakers: Vivi Zigler, president of Digital Media at Shine America; Jeff Berman, GM at NFL Digital Media; Kinsey Wilson, chief content officer, NPR; Keyvan Peymani, head of digital strategy at ICM Partners; Mark Young, VP, mobile strategy and business development at NBCUniversal Entertainment and Digital Networks
3-3:15 p.m.: Networking Break
3:15-4 p.m.: The Future of Television, Moderated by Andrew Wallenstein, TV editor at Variety
With social TV apps providing increased opportunity for viewer and advertiser engagement, the TV biz strives to improve accessibility of content over new platforms. Nets, distributors, brands and tech outfits analyze how they are staying ahead of the trends to ensure future growth.
Confirmed Speakers: Ross Honey, GM entertainment and advertising, Xbox Live; Mike Hopkins, president of distribution, Fox Networks Group; Tonia O'Connor, president of distribution sales and marketing at Univision Communications; Joan Hogan Gillman, exec VP and president, Time Warner Cable Media; Mike Fitzsimmons, CEO of Delivery Agent
4-4:45 p.m.: Masters of Creativity in Storytelling and Digital Media, moderated by Gordon Paddison, Stradella Road
How is technology opening the doors for the creative and audience engagement process? Top online, TV, gaming and app creatives share stories of how they are now best utilizing digital media to connect their content with fans.
Confirmed Speakers: Colum Slevin, VP, head of studio operations, Lucasfilm; Mike Farah, president of production at FunnyorDie.com; Erik Martin, GM of Reddit; Gale Anne Hurd, exec producer of "The Walking Dead"; Kay Madati, head of media and entertainment at Facebook