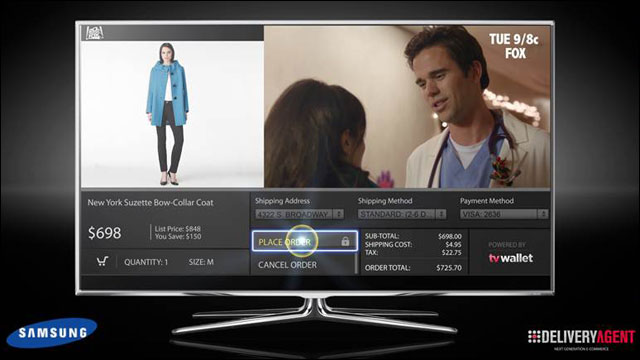 Giving TV viewers the ability to buy the products they see on TV while they're watching is about to get a crucial boost.
Delivery Agent, which handles so-called T-commerce for dozens of media companies, announced a deal Monday to embed its patented technology on a wide variety of connected TV sets manufactured by Samsung in the U.S.
Owners of Samsung sets will now have the ability to make transactions via remote control on the same screen for hundreds of TV shows, whether it's a product actually being displayed or something like a DVD of a program being watched. Delivery Agent enables this with a database of offerings matched to the content via automatic content recognition.
Samsung already is an investor in Delivery Agent, having made a $5 million infusion via its venture capital arm last year.
Delivery Agent has done customized T-commerce work of late for series including Fox's "New Girl" and FX's "Sons of Anarchy." The company, which also has investment from Intel, counts NBCUniversal, CBS, Discovery Communications, A+E Television Networks and HBO among its clients.
Given the hype over second-screen tech from smartphones to tablets these days, there's something almost counterintuitive about having the content and the transaction both take place on the TV itself. And yet that one-screen solution holds the most promise for turning T-commerce into a more robust revenue stream for all participants of the TV ecosystem, according to Delivery Agent CEO Mike Fitzsimmons.
"We think Samsung, as the largest TV manufacturer in the world, is a great catalyst for this becoming mainstream," he said.
It's not that Delivery Agent is seeing sluggish sales on other fronts, be it mobile, social or the Web. But the company was emboldened by single-screen trials it has conducted over the previous year with the likes of distributors Cablevision and Verizon in which Fitzsimmons estimated the engagement levels are approximately 10 times higher than with two-screen solutions.
The Samsung pact will help overcome technical barriers that were in place with pay-TV providers. Growing penetration for smart TVs in U.S. households is also an encouraging sign. Other Delivery Agent technology partners include Rovi, Viggle and Shazam.