June Foray's house is a museum of her career. It's also a museum of animation history. Essentially, the two are synonymous. Original drawings and cels by such artists as Chuck Jones and Friz Freleng line the walls and, nestled among countless other memorabilia, sits an Emmy, which she won just last year for her work on Cartoon Network's "The Garfield Show." At 95, she's still working. "I'm still going," she says. "It keeps you thinking young."
Foray has been a force for animation in her 70 years in showbiz, and nowhere has her influence been felt as much in ASIFA-Hollywood's Annie Awards.
Foray had been the voices of Witch Hazel, Tweety & Sylvester's Granny, Rocky the Flying Squirrel and his nemesis, Natasha Fatale, for almost two decades when the org that would become ASIFA-Hollywood came to be. At the time, "we never did anything," she says. "Sometimes we'd have lunch together, call each other on the phone."
Then Foray came up with the idea for the org to honor lifetime achievement in animation. "I was thinking that there are the Grammys, the Tonys, the Oscars, but nobody recognizes animation." So she suggested to the board that they host a dinner. Some said, "Nah, it's not going to happen. Nobody will come,'" she says. But they went ahead and rented the space at the Sportsmen's Lodge in the San Fernando Valley to honor animation pioneers Max and Dave Fleischer, not expecting much. "Four hundred people showed up," Foray says. And the Annies were born.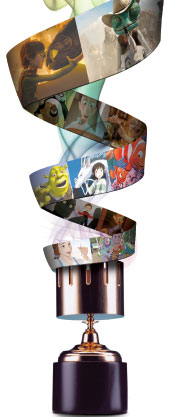 The Fleischers were the first recipients in 1972. Over the next 20 years, such industry legends as Walter Lanz, Tex Avery, Walt Disney and all of his Nine Old Men, William Hanna, Joeseph Barbera, Mel Blanc and Foray herself were among the dozens of honorees. "We just went on and on and on, and it became bigger and bigger and bigger."
In 1992, then-prexy Antran Manoogian changed things up. "Antran took it much further," says current prez Frank Gladstone. "He saw it as an opportunity to generate income and also as a way to generate interest in our organization." That's when the Annies became more of a traditional awards show.
Now ASIFA is looking to take the Annies even further. After streaming the show live online last year and again this year, it's looking for a home on TV. Gladstone's also eyeing a more, ahem, animated roster. "Another thing I'm hoping for down the road is that some of our presenters are animated, especially if it's televised," he says. "Not all of them, but in key spots. I'd like the studios to vie for those slots."
Foray's just glad to see auds continue to embrace animation with the current toon boom. "They had some wonderful films this year. Animation is becoming so big and making so much money now. It has finally gotten a hold of people."
And as for the Annie Awards, she says they "are quite an achievement now. I'm pretty proud of that."
Annie Award Nominations: