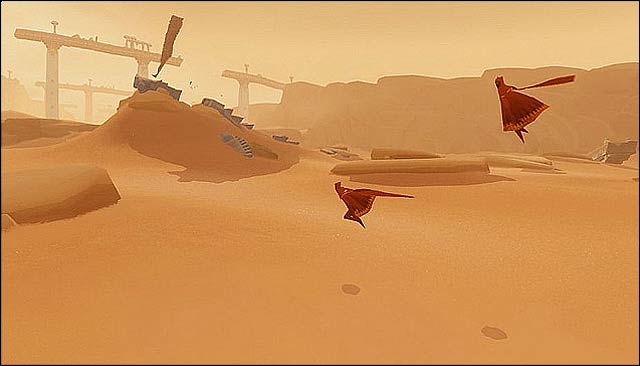 Thatgamecompany's "Journey" will make the trek to the D.I.C.E. Awards, the videogame industry's version of the Oscars, with 11 nominations, the most for any title.
Noms were announced by the Academy of Interactive Arts & Sciences today. Nerdist's Chris Hardwick will host the Feb. 7 kudocast, to be held at the Hard Rock Hotel and Casino in Las Vegas. Event, which Machinima will live stream, will take place during the 2013 Design, Innovate, Communicate, Entertain (D.I.C.E.) Summit, which Variety will co-produce.
The AIAS nominated 63 games that launched on consoles, websites and mobile platforms last year.
"Journey" will compete for game of the year against 2K Games' "Borderlands 2," Ubisoft's "Far Cry 3," Telltale Games' "The Walking Dead" and 2K Games' "XCOM: Enemy Unknown."
"The Walking Dead" received eight noms, followed by seven for "Far Cry 3," six for "Halo 4" and five each for "Borderlands 2" and "Dishonored." Last year's top-seller, "Call of Duty: Black Ops 2," was not nominated in top categories.
Hardwick founded Nerdist Industries, now owned by Legendary Entertainment, and hosts AMC's "Talking Dead," which follows episodes of "The Walking Dead," and will soon headline "The Nerdist" on BBC America, based on his popular podcast.
"The D.I.C.E. Awards are very important to me," Hardwick said. "I have been playing video games since there were video games. I hope there is some type of Dovahkiin Shout that will make sure I don't mess this up. I will find one! If not, I'll just look like a psychotic, screaming asshole leading up to the awards."
Martin Rae, president of the AIAS, called Hardwick the "ultimate representation of our industry: a nerd at heart with a wicked sense of humor and a deep appreciation for the immense talent and creativity that keeps our industry thriving," adding that the list of the finalists for 2012 "strongly reflects the D.I.C.E. Awards moniker — Design, Innovate, Communicate, Entertain. Across all platforms and through deeply immersive experiences, our industry continues to outdo itself year over year, finding new and interesting ways to evolve and engage audiences."
Titles were played and evaluated by members of the Academy's Peer Panels to determine final nominees. These panels, one for each award category, are comprised of the game industry's most experienced and talented men and women who are experts in their chosen fields. All Academy members are eligible to vote for the winners in every category.
In December, Variety parent Penske Media Corp. announced a multi-year deal to co-produce the D.I.C.E. Summit and Awards Show and feature exclusive gaming content in Variety throughout the year as part of its expanding coverage of the biz.
To attend the 16th Annual D.I.C.E. Awards, please visit http://www.dicesummit.org to purchase tickets.
Game of the Year:
— "Borderlands 2:" 2k Games; Gearbox Software
— "Far Cry 3": Ubisoft
— " Journey": Sony Computer Entertainment America; Thatgamecompany
— "The Walking Dead": Telltale Games
— "XCOM: Enemy Unknown": 2k Games; Firaxis Games
Outstanding Achievement in Game Direction
— "Journey": Sony Computer Entertainment America; Thatgamecompany
— "Dishonored": Bethesda Softworks; Arkane Studios
— "Far Cry 3": Ubisoft
— "The Unfinished Swan": Sony Computer Entertainment America; Giant Sparrow
— "The Walking Dead": Telltale Games
Outstanding Innovation in Gaming
— " Journey": Sony Computer Entertainment America; Thatgamecompany
— "Nintendo Land": Nintendo of America; Nintendo
— "Sound Shapes": Sony Computer Entertainment America; Queasy Games
— "The Unfinished Swan": Sony Computer Entertainment America; Giant Sparrow
— "The Walking Dead": Telltale Games
Action Game of the Year
— "Borderlands 2:" 2k Games; Gearbox Software
— "Far Cry 3": Ubisoft
— "Halo 4": Microsoft Studios; 343 Industries
— "Hitman: Absolution": Square Enix; IO Interactive A/S
— "Sleeping Dogs": Square Enix; United Front Games
Adventure Game of the Year
— "Assassin's Creed III": Ubisoft
— "Darksiders II": THQ; Vigil Games
— "Dishonored": Bethesda Softworks; Arkane Studios
— "New Super Mario Bros. Wii U": Nintendo of America Inc.; Nintendo
— "The Walking Dead": Telltale Games
Mobile Game of the Year
— "Fairway Solitaire": Big Fish
— "Hero Academy": Robot Entertainment
— "Horn": Zynga; Phosphor Games Studio
— "Rayman Jungle Run": Ubisoft; Pastagames, Ubisoft Montpellier