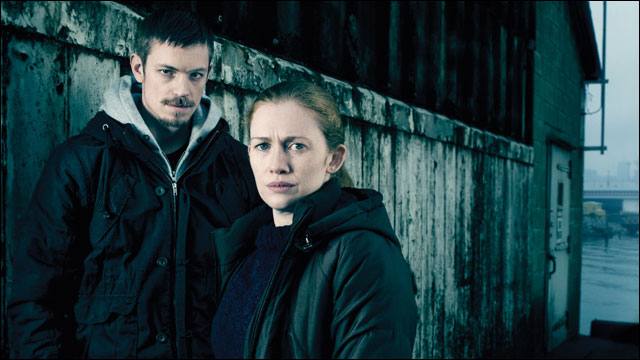 The mystery of whether "The Killing" will be brought back to life has been solved: The show is returning to AMC.
Though neither the cabler nor producer Fox Television Studios would confirm, showrunner Veena Sud and exec producers Dawn Prestwich and Nicole Yorkin went back to the writers' room this week to begin work on a third season of the moody drama.
The new season will likely launch in late May, with production set to begin in a few months. Earlier reports had the drama also being made available on Netflix following its initial run on AMC, but those negotiations have not yet been finalized. Series, starring Mireille Enos and Joel Kinnaman as a pair of Seattle cops trying to solve the murder of a high school girl, was canceled in July. However, rumors persisted that the show might be revived on Netflix or another alternative platform. The lingering interest in "Killing" from outside outlets likely helped convince AMC to give the show a second look.
After a series premiere in May 2011 that generated strong ratings, numbers began to fall and there was an uproar from many viewers after the first-season finale failed to solve the show's central murder mystery. The "Killing's" second season ended in June with only 1.9 million viewers tuning in.
At that point, it wasn't looking likely that a third season would ever happen, but in the ensuing months AMC topper Charlie Collier and programming senior VP Joel Stillerman changed their minds, probably swayed in part by the prospect of a partner coming in to help shoulder the cost of licensing the show.
There's no word yet on which cast members will return, although undoubtedly producers aim to retain stars Enos and Kinnaman. Billy Campbell, who ended season two as the newly elected mayor of Seattle, could be a possibility, but Michelle Forbes and Brent Sexton, who played the murder victim's parents, may not be back.
WME, which recently signed Sud, was said to be instrumental in getting "Killing" back on the air.