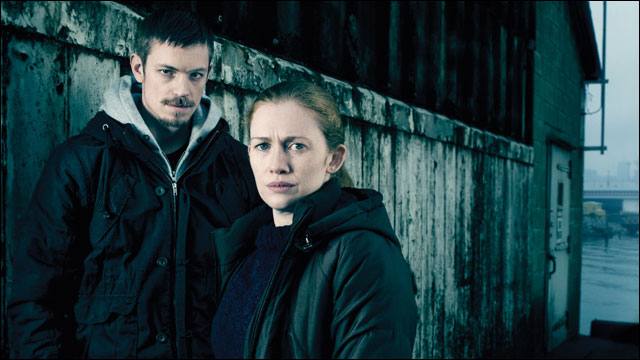 If "The Killing" is indeed resurrected by AMC and Netflix, it would represent an ingenious new twist in the rapidly evolving world of windowing TV programming.
As first reported on Deadline, the canceled AMC drama series that started out with strong reviews last year but was then villified by critics for how it ended its first season, may return to the cable network, followed by a second window on the streaming service months later.
The series would follow a distribution pattern set by drama "Friday Night Lights" in 2008 when NBC made an unprecedented pact with DirecTV to keep the ratings starved but critically accalimed series alive. The two shared production costs, with NBC airing the show several months after it first aired on the satcaster.
The AMC-Netflix deal could reverse the "Friday" model but the spirit of the preceding deal is very much intact. It's going to take this kind of innovative dealmaking to support a show like "Killing," which gave little reason for AMC to keep it on its schedule. Even successful niche cable networks are hard-pressed to afford a televise series that only a small number of viewers love.
Ratings for "The Killing" had been falling steadily in season two, a comedown from its robust 2.7 million premiere last April. Only 1.4 million tuned in for the first showing of the finale, which was down a hefty 39% from the season one finale.
Contrast that woeful performance with the strong ratings for the most recent seasons of two other AMC series, "Mad Men" and "Breaking Bad." Their success have been at least partly attributed to Netflix, which has exclusive rights to the previous seasons of both series. That's allowed uninitiated fans to use the service to catch up on all the prior episodes in time to carry over to the latest season back in its premiere window on AMC.
What better way for AMC to revive "Killing" than to use Netflix to hook a whole new wave of viewers who may have missed it on cable, then drive them to a third season premiere.
If Netflix goes in with AMC on a third season of "The Killing," expect the Los Gatos, Calif.-based firm to also make a move to license the second season of the series (the first is already there). A Fox Television Studios rep declined comment.
It would make perfect sense for Netflix to license the second and help finance a third because pre-sold concepts are far less risky than gambling on launching an entirely new property, as the streaming service is already doing next year with several productions, including "Orange is the New Black."
Note that two of the bigger bets Netflix is making next year, "House of Cards" and "Arrested Development," come with some established precedent of success. "Cards" was a BBC drama and "Arrested" was an Emmy-winning Fox comedy.
Leave it to a network that scored with a zombie thriller like "The Walking Dead" to understand the value of bringing deceased programming back to life.
Creative windowing is becoming a necessary part of the game these days. Netflix has already had a somewhat similar arrangement with its first original series, "Lilyhammer," which premiered in its native Norwegian market in January before airing a subtitled version a month later. Rival streaming service Hulu struck a comparable deal in July with BBC for the comedy series "The Thick of It," which will arrive on the website months after a run on BBC2 (and before going to a third window on BBC America).
The reason "The Killing" makes sense particularly on Netflix, as opposed to say a Hulu or Amazon Instant Video, is that the libraries of "Mad Men" and "Breaking Bad" are among the biggest draws on Netflix. What better show for Netflix, which is all about using algorithms informed by massive amounts of subscriber data, to cross-promote to than another AMC property?
AMC may also need even a marginal performer such as "The Killing" as it looks at its future primetime lineup, which only includes one more season of "Breaking Bad" and two more of "Mad Men" left.
Sources were unsure as when production might begin on a third season, but the network would have to get all the actors back on board.
The two leads remain busy. Joel Kinnaman is currently shooting "RoboCop 3" while Mireille Enos recently shot Brad Pitt zombie thriller "World War Z" and is currently working on "Ten," with Arnold Schwarzenegger and Sam Worthington.
Kinnaman and Enos starred as a pair of Seattle cops who hunted for the killer of a high school teenage girl. The series, from Fox Television Studios and based on the Danish skein "Forbrydelsen," also starred Billy Campbell as a politician running for mayor. Michelle Forbes and Brent Sexton portrayed the distraught parents of the murdered girl.
It is unlikely Forbes and Sexton would return, since a new murder mystery would be set to unravel.
After the second season ended, several of the actors said they didn't anticipate a third season would be ordered. AMC officially canceled the series in July.