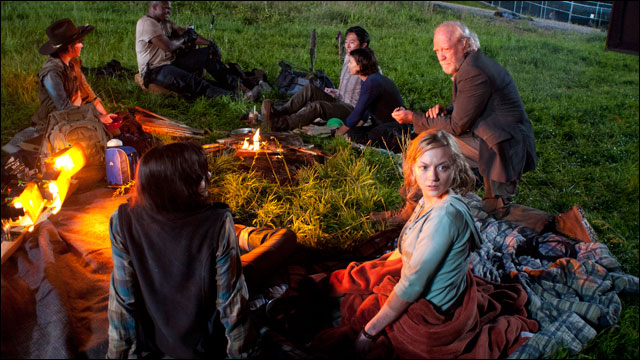 AMC's "The Walking Dead" opened its third season Sunday with a staggering 10.9 million viewers for its initial 9 o'clock telecast and 15.2 million for the night.
The third-season premiere now reigns as the most-watched episode in series history as well as the biggest telecast for any drama series in basic cable history. It also shattered the cable record for adults 18-49, which it had set with last season's finale.
The zombie skein aired without carriage on Dish Network, therefore eliminating another potential 14 million viewers. Dish and AMC have been embattled in a months-long carriage fight.
Sunday's premiere compares to the 7.3 million who tuned in to the first telecast of the season-two premiere last October and the 9 million for the season finale in March. Those telecasts, however, had the benefit of AMC airing on Dish.
"The Walking Dead" had plenty of drama competition Sunday night, including ABC's "Revenge," CBS' "The Good Wife," HBO's "Boardwalk Empire" and Showtime's "Dexter."
And there was also NBC's "Sunday Night Football" game between Green Bay and Houston, which will likely have garnered between 18 million and 20 million when the final numbers are tabulated.
In adults 18-49, "The Walking Dead" earned 7.3 million viewers and a premiere-telecast national rating of 5.8 — better than the deliveries for top broadcast shows such as comedies "Modern Family" (5.5 rating) and "The Big Bang Theory" (5.0) and top broadcast drama "Grey's Anatomy" (4.4).
In adults 25-54, the initial telecast of "The Walking Dead" drew 6.1 million viewers.
"Thank you to the fans for making 'The Walking Dead' such a tremendous success. We are honored and humbled that television's largest adult audience resides on AMC. So many people on both sides of the camera worked tirelessly on this project, and I thank and congratulate each of them for their amazing contribution," said AMC president Charlie Collier.