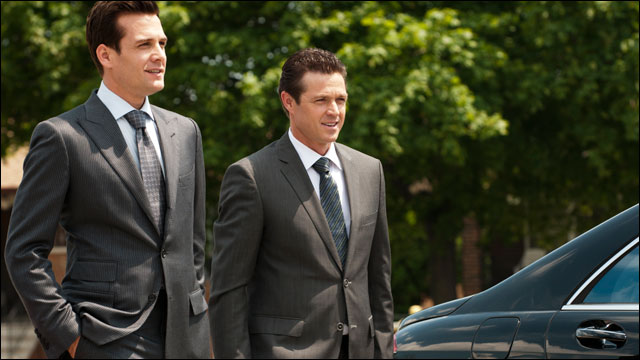 Above: USA was led by new drama "Suits," which drew 4.5 million in the first telecast of its summer finale in August.
The year-end ratings stats offer more proof that top cable nets are facing some of the same problems as the Big Four networks. With so much competition out there, it's hard for cablers to stave off audience erosion from year to year, let alone post gains.
USA Network ends the year as the No. 1 cabler in primetime in total viewers and adults 18-49 — a crown it has held for the past seven years. But compared to 2011, USA is off 10% in viewers (to an average of 2.97 million) and down 13% in adults 18-49 (to 1.09 mil).
TNT, FX, ABC Family, Disney Channel, Bravo, TLC and Syfy posted modest year-to-year declines in primetime. MTV, Comedy Central, Spike TV, Nick at Nite, BET and Hallmark Channel were among the established channels facing double-digit declines in both viewers and 18-49, according to live-plus-7 Nielsen data from Dec. 26, 2011, through Dec. 9.
AMC was among the year's big winners, thanks to the boost provided by eye-popping numbers posted by cable's top scripted series, "The Walking Dead." AMC saw its 18-49 primetime average spike 11% (660,000) while its total viewer tally upticked 1% (1.19m).
The zombie phenomenon's Oct. 28 telecast drew more viewers than any other series episode (14.1m). Among the top 50 cable telecasts of the year, nine were "Walking Dead" segs.
TBS also had a banner year. Buoyed by "Big Bang Theory" reruns, Turner's comedy cabler soared 20% in 18-49 (1.06m) and 23% in viewers (1.96m). USA is undoubtedly hoping for a similar boost next fall when it begins airing reruns of ABC crowd-pleaser "Modern Family."
A&E, History and Lifetime were in the plus column, with Lifetime notching a notable 14% gain in adults 18-49 (531,000). The presidential race boosted viewership at Fox News (2.03m, up 10% in viewers) and MSNBC (893,000, up 16%) and likely helped CNN (664,000, down 4%) avoid steeper declines. CNN sibling HLN, on the other hand, hit the skids with 30% drop in viewers (340,000).
Topping the list of all cable telecasts for 2012 was the Jan. 9 BCS championship football game, in which Alabama defeated LSU to take home the national crown, seen by 24.4 million viewers, making it the most-watched cable telecast of the year.
A week earlier, the Rose Bowl between Wisconsin and Oregon was the second most-watched college game of the year and drew 17.9 million. Both contests were on ESPN.
Off the field, History's venture into scripted fare with May miniseries "Hatfields & McCoys" was a massive success. The third installment of the three-part series garnered 17.9 million viewers, making it the highest nonsports telecast of the year.
Other than "Walking Dead," the only series telecast to make the top 50 of the year list was the Jan. 6 finale of Disney Channel's "The Wizards of Waverly Place," which drew 11.3 million. Football, basketball and election coverage dominated the rest of the list.
Top series for USA was season two of "Suits," which drew 4.5 million in the first telecast of its summer finale in August, and 6.5 million when live-plus-7 data is included. Network is also helped by "Royal Pains," "Burn Notice" WWE wrestling and offnet dramas "NCIS" and "Law & Order: SVU."
Among other nets that logged double-digit increases from 2011 were Discovery ID, VH1, Nat Geo Channel and OWN. Oprah Winfrey's cabler is well into its turnaround with a 27% improvement in total viewers (326,000).
In the 18-34 demo, TBS was best with an average of 553,000 viewers, followed by ESPN (543,000) and USA (509,000). USA was tops in 25-54 (1.17m), followed by ESPN (1.05m) and TBS (1.03m).
Among children 2-11, Disney Channel ruled with an average of 1.4 million in primetime, nearly tripling second-place Nick Jr.'s 535,000. Nick at Nite suffered major ratings erosion in 2012, down 41% among kids 2-11 in primetime.
In the total day ranking, Nickelodeon (1.8m) remains on top with kids 2-11, but Disney Channel (1.68m) is closing the gap, despite falling 4%.