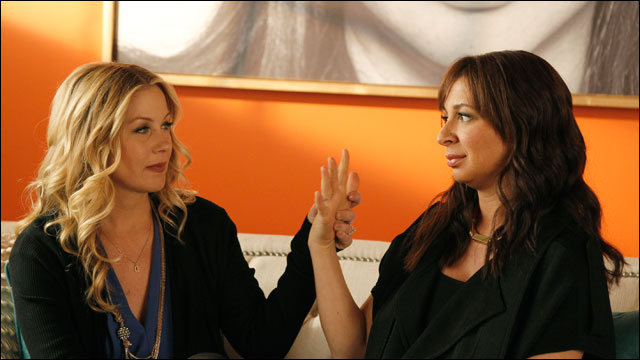 NBC is taking the unusual step of switching halfhour laffer "Up All Night" from a single-camera format to multicam in the middle of the season.
The second-season comedy, starring Christina Applegate, Will Arnett and Maya Rudolph, will finish producing its 11th episode of 2012-13 next week, then go on a three-month hiatus, during which its stage will be converted for filming before a live audience.
Those first 11 episodes will finish airing in December, at which point the show's 8:30 p.m. Thursday timeslot will potentially be available for the belated return of fourth-season comedy "Community," though that has yet to be determined.
"Up All Night" is then scheduled to go back into production in February for five multicam episodes that will begin airing in April, giving it a total of 16 episodes on the year.
"This was an idea we and (exec producer Lorne Michaels) came to in order to infuse the show with more energy," NBC entertainment chairman Robert Greenblatt said. "We know what the multi-camera audience does for the live episodes of '30 Rock,' plus after seeing both Maya and Christina do 'SNL' within the past few months, we knew we had the kind of performers — Will Arnett included — who love the reaction from a live audience."
Series showrunner Tucker Cawley, whose resume includes multicam stalwart "Everybody Loves Raymond," will remain on board, as will creator and exec producer Emily Spivey (whose roots include "Saturday Night Live"). No cast or producer changes are planned.
The decision extends NBC's ongoing attempts this year to broaden its comedy approach, as seen in "Guys With Kids" and the recently short-circuited "Animal Practice." Another multi-cam show, "Whitney," makes its second-season debut in the "Animal Practice" timeslot Nov. 14.
"We think ('Up All Night') we can make a seamless tradition to the new format," Greenblatt said. "Also, we're committed to the multi-camera form, and this will give us another show to consider for next season in this new format."
Interestingly, Applegate's last series, "Samantha Who," almost made a similar transition. After two seasons on ABC, the network and ABC Studios in 2009 considered converting the show to a format resembling "How I Met Your Mother" — shot multi-cam over four days without a studio audience — in order to save money (Variety, May 14, 2009). Instead, ABC chose not to renew "Samantha."
Other shows have also switched formats — "Happy Days," for one, began its life as a single-cam show for its rookie season in 1974-75 — but to make the conversion midseason is exceedingly rare.
"Up All Night" had a 1.6 rating and 5 share among viewers 18-49 in its most recent airing Thursday.