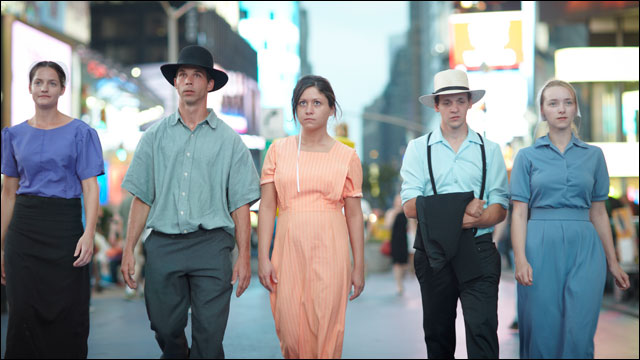 TLC has found itself in hot water over allegations that its latest reality skein, "Breaking Amish," may be a fraud.
Program, which bowed Sept. 9, follows five Amish and Mennonite young adults as they leave their isolated communities for the Big Apple. "Breaking Amish" has drawn strong ratings, averaging 3 million viewers for its two Sunday 10 p.m. airings to date. Its debut was the most-watched series bow for TLC in three years, even topping that of "Here Comes Honey Boo Boo."
Reports have surfaced, however, claiming that cast members from the show had not only left the Amish/Mennonite community years ago but have been married, had kids and been divorced. Old photos from social media sites like MySpace and Facebook showing cast members in modern clothes have circulated on the Internet, arousing suspicion from viewers and putting TLC and the skein's production company, Hot Snakes Media, on the defensive.
In a joint statement TLC and Hot Snakes said: "There is a lot of information floating around about the group featured on 'Breaking Amish.' Much of it is not true, but some of it is — and is addressed in upcoming episodes."
Hot Snakes Media also responded to questions regarding the production of the show earlier this week, before the skein's controversy began to go viral. "Our Amish and Mennonite producers that we hired introduced us to Amish and Mennonite men and women who were already determined to leave," the company told Variety. "They had already made the decision to go out and see the world, with or without us. They courageously allowed us to follow them on this journey."
Skepticism has become common in the reality TV space. Allegations of staging have emerged with regard to shows from "Storage Wars" to "The Bachelor," but the contentions against "Breaking Amish" seem more severe given that they undercut the authenticity of the skein's overall concept and cast doubt on the cast members' depicted naivete with respect to modern city life. An industry source remarked that in reality TV, "Oftentimes networks turn their head and play the 'we didn't know' card" when it comes to the staging of a show, especially if it draws high ratings.
TLC noted that it does not advertise that the cast of "Breaking Amish" is leaving the community for the first time. Hot Snakes Media's official website, however, states the program "follows the lives of courageous young Amish men and women as they experience life, for the first time, outside of the Amish community."