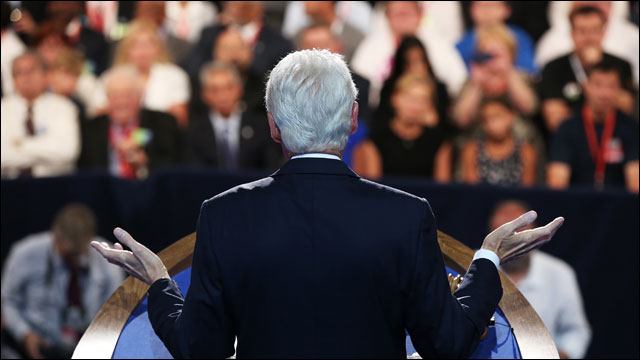 Above: Former U.S. President Bill Clinton speaks on stage during day two of the Democratic National Convention in Charlotte, North Carolina (Photo by GettyImages)
CHARLOTTE, N.C. — Tampa saw street corners with SWAT teams and officers with automatic rifles; Charlotte has been a zoo of traffic tangles and checkpoints.
Even as the political parties defend their conventions as their first and best chance to garner public attention, as well as to rally their faithful before the fall campaign, there is an unmistakable sheepishness among many attendees on whether a creation of the 19th century still makes sense in the 21st.
Where conventions once held suspense as the party picked a nominee and running mate, their purpose has morphed — or should that be warped? — into a combination of news media showcase, fundraising opportunity, lobbying event and primetime informercial. The delegates, the actual people who officially select the nominees of both parties, are becoming an afterthought, a studio audience that is part of the show.
After former President Bill Clinton's barnburner of a speech on Wednesday night, the DNC actually took care of the business of officially nominating Barack Obama, although it was by then in the wee hours.
These days, the measurement of a successful convention is not just a post-convention poll "bounce" but how effectively the party staged, casted and executed a "narrative."
"I walked in here on Monday night thinking, 'Why are we still doing this?' And I am walking out of here thinking, 'There's a real point to it,'?" said John Podesta, chair of the Center for American Progress and chief of staff in Clinton's administration. "I watched the convention in Tampa and couldn't figure out what their storyline was there.
"But at this convention, you get a real sense not just of energy, but of argument, of the fact that the argument for President Obama's re-election is building, it is serious, and I am not sure that in today's media environment you could do that short of doing a couple of concentrated days," he said. "The secret now is to truncate it and really making it about that going forward."
The Tampa convention was sealed off from the rest of the city behind a security perimeter that extended for about 0.6 of a mile around the Tampa Bay Times Forum, leaving the rest of the city like a ghost town save for clusters of armed police. Charlotte has a much different vibe, as the venues are closer, residents wander near main hubs mixing with political and media celebrities, and security is a tad toned down. A line of anti-abortion protesters picketed through some of the streets on Wednesday, but they filed through with little attention, as if just an expected part of the event.
But both events had the same mixture of private concert events, exclusive cocktail parties, donor pampering and red velvet ropes with bouncers manning doors. It can be thrilling if you have the right ticket, but not so much if you are stopped at the door.
As much as Democrats pitched Charlotte as an "open" convention, for all practical purposes neither convention ever will be, given the necessary security precautions (The Republicans called theirs "a convention without walls."). The Obama campaign had sought the bigger Bank of America Stadium for the final night, opening up to a much larger crowd of 65,000 people, but even had weather not canceled their plans, the security logistics were "tough," as Obama himself said on Thursday.
Congress allocates each convention $50 million for security, and another $18.2 million comes from the Federal Election Commission.
The result was a not-too-surprising degree of zealousness.
In Charlotte, there were piles of umbrellas next to security checkpoints, as they were banned from the Time Warner Cable Arena.
When Mike Huckabee showed up at an event to advocate for arts funding at the Tampa Theater, he quipped that he was grateful that he got in "without having to do a security pat-down." Nevertheless, even with a theater a quarter full of genial arts council chiefs, guards lined up in front of the stage and peered out at the audience.
"Let's face it, modern political conventions have become extravagant infomercials staged in a setting deliberately designed to seal them off from any intrusion not scrubbed and sanitized," Tom Brokaw wrote in the New York Times last week, before both party gatherings started. He argued for scaling them back to just one night, with satellite hookups to rallies across the country.
As he predicted, unscripted moments tend to be blown out of proportion, as was the case with Clint Eastwood's speech and, this week, a fracas over Democratic references to "God" in the party platform.
"I think the conventions are always worth it, but there's always room for modification," said Michael Steele, former chairman of the Republican National Committee. "Look, this is an exercise in grassroots organization, at the end of the day. This is grabbing those folks who have worked all year, in a central location, to have a good time, rallying the troops. But I think there is a legitimate argument to be made for shortening the time."
Audience tune-in is down for both conventions from 2008, which is not much of a surprise given the historic nature of that race, and the broadcast networks have been scaling back the number of hours they devote to the gatherings.
The real battle for viewers is no longer between the broadcast networks but between the cable news channels. Fox News won the first night of the Republican National Convention, and MSNBC won the first night of the DNC. So are conventions just preaching to the choir?
Much effort this year was invested in drawing in viewers online, via social media and streaming. Both parties tried to play up those digital aspects of their gatherings, and the Republicans even had a scrolling ticker of tweets that ringed their arena. Twitter is playing a role in gauging real-time reaction to speeches, and even perceptions of how they played, perhaps signaling a shift away from the proliferation of pundits at these events.
These developments, however, are just alterations to events that may need major adjustments.
"This still is the kickoff of the campaign," said California Lt. Gov. Gavin Newsom. "We focus on this day in and day out like a sport. But most people don't, so it is a focusing mechanism. It is important for the average person across this country to start paying attention. The old, four-day staged convention, I don't see that existing 10, 15 years from now."