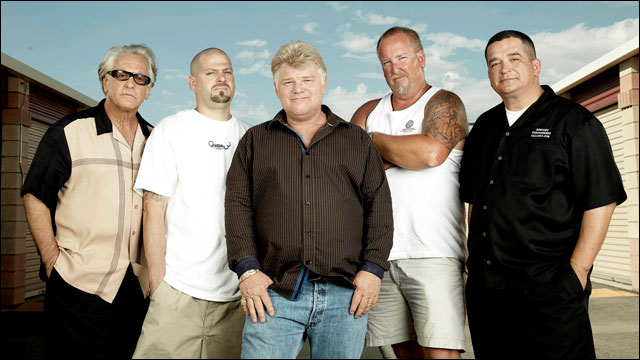 A lawsuit over the A&E series "Storage Wars" brought by a former cast member in the show could raise some potential complications for the popular and burgeoning reality-TV subgenre.
Former "Storage Wars" star David Hester has filed a lawsuit against Original Prods. and A&E for wrongful termination and breach of contract, alleging he was fired from the reality skein after blowing the whistle on the show's purportedly staged and "fraudulent" elements.
Complaint states A&E "would like the public to believe that the series presents a genuine and accurate portrayal of the abandoned storage locker auction process. The truth, however, is that nearly every aspect of the series is faked, even down to the plastic surgery that one of the female cast members underwent in order to create more 'sex appeal' for the show, the cost of which was paid for by Original."
Hester alleges specific examples of fraud on the show, mentioning that Original Prods., the shingle responsible, "regularly 'salts' the storage lockers…with valuable or unusual items to add dramatic effect."
According to Hester's lawsuit, he complained to producers about the planting of items and was fired from the skein.
The contention that "Storage Wars" is potentially staged is not exactly fresh news. The series has already inadvertently spawned a host of YouTube clips by amateur sleuths highlighting the shoddy editing and continuity errors that reveal the supposed "salting" of the storage lockers.
Nevertheless, Hester's lawsuit — filed by high-powered entertainment litigator Marty Singer, whose list of celebrity clients includes Arnold Schwarzenegger, Sylvester Stallone and John Travolta — has somewhat wider implications because it invokes a wider legal argument governing rules surrounding gameshows.
The complaint contends A&E has "committed a fraud on the public and its television audience in violation of the Communications Act of 1934," which guards against gameshow rigging with the "intent to deceive" the viewer.
"Storage Wars" and other programs of this variety are generally not considered gameshows, but rather typically labeled a follow-around docuseries. Yet, while "Storage Wars" has no contestants, per se, it does feature cast members winning valuable items in auctions that, according to the lawsuit, are at times provided and rigged by the shingle and net.
The original act defines "contest" as "any contest broadcast…with which any money or any other thing of value is offered as a prize or prizes to be paid or presented by the program sponsor."
It's debatable whether a program that features cast members winning items discreetly provided by a network could be categorized as a gameshow. But employing that argument should make the case noteworthy to a number of programs in a similar vein.
Some producers within the reality world have tacitly acknowledged the salting trend, which offers a number of advantages. Foremost, it's often a cheaper, less-time-consuming production option with a more satisfying entertainment payoff, and a bigger reveal.
The spread of YouTube videos seeking to expose examples of salting has not deterred audiences, and "Storage Wars" ranked as A&E's highest-rated series before being eclipsed by another unscripted show, "Duck Dynasty."
As with many structured reality shows, the question usually shifts from "Is this show staged?" to "Does the audience care?"
More often than not, the answer has been "no," given past scandals pertaining to the genre.
It is possible reality producers and networks will continue to become more cautious about using disclaimers to identify some of the sleight of hand used in assembling the programs. More detailed disclaimers are already cropping up within the unscripted realm, such as Discovery's "Amish Mafia," which lets auds know that many scenes in the reality show are reenactments; and Showtime's "Gigolos," which states at the end of each episode that no money was exchanged for sex.
Both disclaimers allow the shingles and nets to dodge the legal bullet and potential stigma associated with any "intent to deceive."
As for "Storage Wars," staging allegations may stoke ratings fire as seen with TLC's "Breaking Amish." "Storage Wars" recently entered its third season and pulled over four million viewers in its premiere episode broadcast last Tuesday.
When contacted for comment, A&E said it does not comment on pending litigation.